Dapo Adu dominates Africa's Zone 4.4 Championships
The Ghana Chess Association, under the auspices of the African Chess Confederation and the World Chess Federation held 2016 Zone 4.4 Individual Chess Championships in Accra from 28th March to the 6th April 2016 at Tenko Plaza Hotel. Thirty-two players from the following seven federations were represented: Cameroon, Côte d'Ivoire, Ghana, Liberia, Nigeria, Sierra Leone and Togo. The arbiters were IA Abdel Fattah Akkour of Morocco with FA Enyonam Sewa Fumey (Togo), NA John Solarays (Ghana) and Rabiu Olabisi (Nigeria).
Nigeria's IM Oladapo Adu controlled the proceedings throughout the event with an undefeated 8/9, a truly dominating performance. Ceding draws to IM Francis Anquandah and CM Oluwafemi Balogun. Balogun, also from Nigeria, also had a strong showing with 7/9. Nigerians dominated affairs taking the top seven positions. Adu hopes to make a good showing in the African Individuals and make a return to the World Cup.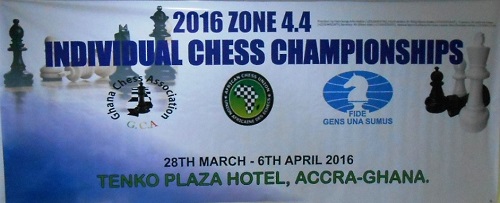 Chess-Results (4.4 subzonal): https://chess-results.com/tnr214419.aspx?lan=1&art=4&fed=GHA&turdet=YES&flag=30&wi=821
2016 Candidates Tournament
March 11th-March 27th, 2016 (Moscow, Russia)

Participants

#

Name

Title

Federation

Flag

Rating

Pts.

1
ADU Oladapo
IM
NGR

2281
8.0
2
BALOGUN Oluwafemi
CM
Nigeria

2249
7.5
3
KIGIGHA, Bomo
FM
Nigeria

2363
7.0
4
ANWULI, Daniel
GM
Nigeria

2365
6.0
5
OSUNFUYI, Abimbola
FM
Nigeria

2780
6.0
6
ODEH, Kenneth
Nigeria

2031
6.0
7
ERHABOR, David
Nigeria

2104
6.0
8
MANAN, Yoboue
Ivory Coast

2104
5.5
9
ANQUANDAH, Francis
IM
Ghana

1993
5.0
10
EBOSSE, Kingue
FM
Cameroon

2047
5.0
11
ONOVUGHE, Ochuko
FM
Nigeria

2166
5.0
12
MENSAH, Joseph Jamena
CM
Armenia

1986
5.0
13
ADU, Lionel
Ghana

1877
4.5
14
THOMPSON, Edward
CM
Ghana

1890
4.5
15
EPHOEVI-GA, Adama
Togo

1861
4.5
16
ATTAH, Elikem Kofi
Ghana

0
4.5
17
KAMARA, Ansumana
CM
USA

2015
4.5
18
CHARLES, Haji Kiadii
Liberia

0
4.5
19
SOSU Edward
Ghanian

1729
4.5
20
AKINLEYE, Akinseye
Nigeria

0
4.5
21
JACOB, Jallah
Liberia

0
4.5
22
OYAMA, Ekok
CM
Nigeria

2762
4.0
23
DEGONDO, Simplice
FM
Ivory Coast

2757
4.0
24
OFOWINO, Toritsemuwa
Nigeria

1793
3.5
25
HUSHIE, Carlton
Ghanaian

1761
3.5
26
EBONGUE, Emile
Cameroon

1802
3.5
27
THOMAS, Saah
Liberia

0
3.5
28
NKUM, Michael
Ghanaian

0
3.0
29
ARKO-DADZIE, George
Ghanaian

2780
3.0
30
BODJONA, Abalou
Togo

1370
2.0
31
TANDOH, Charles
Ghanaian

2762
1.5
32
AYIKU Angela
Ghanaian

1523
0.0

Tournament Details