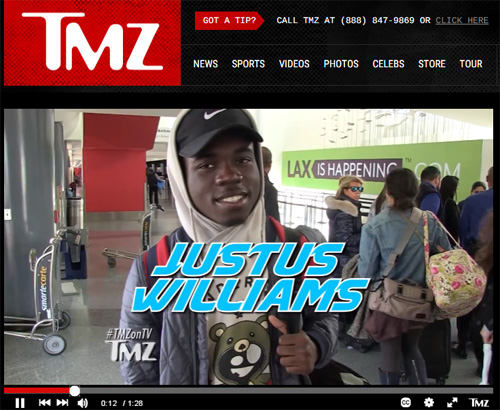 Justus Williams has capitalized off of his "Brooklyn Castle" fame and was spotted by TMZ to do a segment "Coolest 17-year old Chess Champ Ever". It appears as if the media is still intrigued by these type of stories as if it is still hard to find a cool chess player. Nevertheless, they've found the right one in 17-year old Williams, FIDE Master (2305 Elo).
It seems like yesterday that we saw Justus being featured on the award-winning "Brooklyn Castle" a movie about the chess team at IS-318 Middle School. Now a senior at Bronx School of Science and Technology, he was in Los Angeles shooting a commercial for Cadillac! I suppose that would rank him as a cool since the automobile brand has long moved from its old-fashioned, stodgy look to their sleek, stylish models of today. How many 17-year olds can say they have a contract endorsing cars?
Justus flashes his million-dollar smile as they ask him a few questions. No… not the "how many moves can you think ahead" questions, but "are there any chess groupies at the tournaments"!?!? Not sure which question is worse, but TMZ is basically a fun show about celebrity gossip looking for a laugh. It was a nice segment until someone on the show mentioned the word, "nerd". TMZ just defeated the theme of the segment. Oh well. It was fun anyway.
Take a look!