Dear friends and supporters,
Today (February 12th, 2016), The Chess Drum is 15 years old! It's been a long journey. Most probably cannot imagine how difficult it is to maintain a website for this length of time. It is not an easy task requiring copious amounts of "sweat equity". There have been many interesting stories in the past year. Of course, The Chess Drum audience is still reeling from the loss of pioneer Emory Tate, an International Master who made a tremendous impact on the chess community.
I had known Emory since the late 70s and had an amicable and brotherly relationship with him. When I first started The Chess Drum in 2001, you could barely find any information on him apart from these pages and his games on chessgames.com. Most of the online information on Emory has been posted after his death. Shame. Years ago, I had encouraged him (twice) to do a book of annotated games. He balked at the idea initially, but warmed to it shortly thereafter. Thus, I am in the process of publishing his life and selected games story. This book will contain his beginnings, subsequent rise to stardom in the chess community, his dashing chess conquests and who he was as a person. Reading some of our exchanges and his old e-mail (one was 2500 words long) stirs emotions and touches the soul.
Over the past weeks, it has been amazing coming across the games, photos and stories I have encountered. He was a treasure. Most of the tributes I've seen focused on his games. His signature attacking style emanated a vibrant energy. As amazing as his games were, it really misses who he really was.
Emory was a whole person with a hard shell, yet delicate soul. I hope to continue promoting this once-in-a-lifetime talent and was glad he allowed me a front seat to view his theater of life. He was a fan of The Chess Drum and the The Chess Drum was, in kind, a fan of his. This site was created 15 years ago for people like him.
In other news, The Chess Drum will continue to cover chess news and to give publicity to neglected segments of the chess community… particularly the African Diaspora. Last year, we provided on site coverage of the Sinquefield Cup which was exciting indeed. While The Chess Drum will not be in Moscow for the Candidates Tournament, we hope to be in Baku, Azerbaijan for the Chess Olympiad.
In addition, there are plans to visit chess communities abroad. Traveling to Singapore and the Philippines this year was a wonderful experience and even got a chance to meet with Ignatius Leong. If you are in-tuned to chess news, you'll know this VIP. There are so many stories we miss in the chess world and it was clear in our three-hour conversation that there is so much more to do. What other stories
Daaim Shabazz with Ignatius Leong.
Singapore was memorable. Where will the drum beat next?
There will be a third Millionaire Chess Open this year and The Chess Drum plans to be on hand to provide live coverage once again. Maurice Ashley and Amy Lee will be announcing the new format in a couple of weeks. Speaking of Maurice, he (along with Gata Kamsky) will be inducted into the U.S. Chess Hall of Fame in April and his foresight has resulted in new ways to promote chess.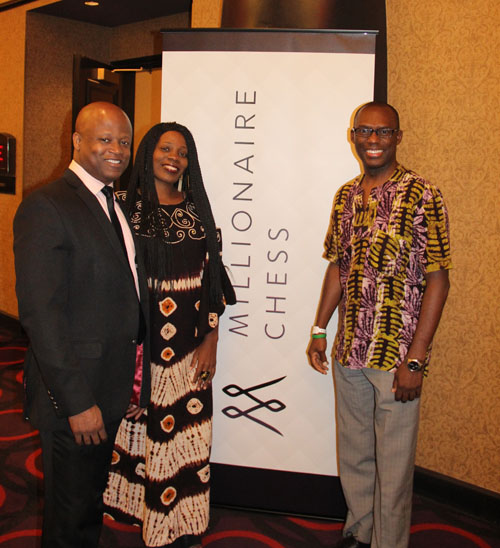 Maurice Ashley, Adia Onyango, Daaim Shabazz
at 2015 Millionaire Chess Open.
Photo by Daaim Shabazz.
The chess community is very fragmented these days with an emphasis on micro-communities and social networking. Information is more pervasive, but it is harder to gather it in a convenient format. There is the tendency to "grab at" information these days and if you rely on Facebook, so much information is missed. Instead of checking several Facebook groups and social networking groups, there is still a place for websites and blogs. Thus, The Chess Drum will focus on fewer high-impact stories as opposed to many low-impact stories that are passed over or simply missed.
In the future, The Chess Drum will take on a new role in terms of publishing chess materials. Perhaps that includes providing publishing services and offering opportunities for journalists looking to make an impact. After 15 years, The Drum will never be all things for all people, but it is a chess site with a veritable niche. In coming years, there will be some interesting literary book projects. There may be a chance for collaboration as well. The Chess Drum will continue its niche for covering players of the African Diaspora while focusing on selected major events in the international segment. Stay tuned!
The "eternal" birthday cake presented to me in 2003 by Kay Umeakunne. I always bring this cake out every birthday. It was delicious, but the memory was even sweeter! Thanks Kay! 😀
Thanks to those of you who have supported the site over the years… whether 15 years or one month. Pass along the word… Emory Tate book coming! As the creator of The Chess Drum concept, I encourage you to comment on the blog posts and establishing a connection through Facebook and Twitter. Thanks for your support and…
…keep the beat going!
Dr. Daaim Shabazz, The Chess Drum
8 Responses to "15 years for The Chess Drum!"
on 12 Feb 2016 at 4:50 am

1

Dabilani

I wish The Chess Drum a happy anniversary. Daaim, continue with the same vigour and positive spirit.

on 12 Feb 2016 at 10:34 am

2

Guy

The ChessDrum has been thumping way beyond its teen years for a long time and I wish it plenty more success. Happy Birthday!

Thank you for everything you do for chess Daaim!

on 12 Feb 2016 at 10:57 am

4

IAN WILKINSON (JAMAICA)

Daaim,

My illustrious BROTHER! Thank you for the years of yeoman service to the world chess community, especially those in the African diaspora. We in Jamaica are very proud of your accomplishment/anniversary and truly appreciative of this monumental effort. Your contribution has already been immortalized in the pages of history. May the Chess Drum "live" to see many more.

on 12 Feb 2016 at 1:02 pm

5

Lionel Davis

HBD CHESSDRUM from the ULTRAMODERNIST , fascinating site!!!

15 years of hard work. Keep it up Daaim. It is refreshing to find sites like yours that focus on African chess.
http://www.kenyachessmasala.com was inspired by your work as well. We have been going on for 5 years now1

Kind regards
Kim

on 18 Feb 2016 at 5:14 pm

7

Jim Ratliff

Looking forward to your book on Emory!

I was surprised I couldn't find Tate-Baldursson at chessgames.com, but the interested reader can find the full game at https://chesstempo.com/gamedb/game/778311

on 23 Feb 2016 at 12:56 pm

8

Lionel Davis

Deepest Gratitudes, TRUE GENIUS!!!
Leave a Reply!