Drum beats in Singapore-Philippines!
There are interesting stories to be found all over the chess world. For two weeks, I was part of CIBER Faculty Development Tour of southeast Asia designed for faculty from the U.S. to understand the intricacies of the political, economic and social environment of the region. It is funded by the Department of Education in its initiative to international business curricula in colleges and universities. I had always wanted to visit both Singapore and the Philippines and eschewed a similar trip to the UAE and Egypt. I traveled with 15 faculty members from various states.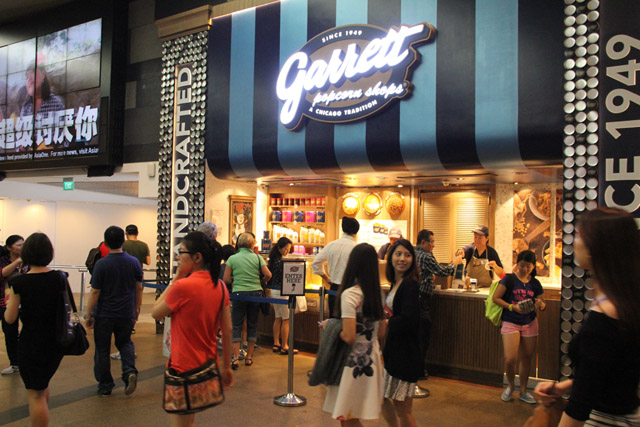 Surprisingly, they had Garrett's Popcorn, a Chicago favorite!!
Perhaps a month prior to traveling, I had contacted Ignatius Leong and told him I was coming to Singapore. I had originally met Ignatius at one of the Olympiad, but I cannot remember which one. Nevertheless, I always wanted to make contact with the chess community whenever I travel. Ignatius has had many high-profile positions within FIDE and I was honored to meet him. He agreed to meet me. When I sent him my schedule, he stated, "You'll be quite busy."
The tour was a very intensive one with company visits to Deloitte and Touche, Asian Institute of Management, IBM, DBS Bank, Singapore MRT and of course cultural visits to Merlion Park and Garden by the Bay. I contacted Ignatius after settling into the Hotel JEN at Orchardgate. I was in a bustling area and was in close proximity all any type of business I wanted to visit. For such a small place, there was quite a few landmarks worthy of seeing.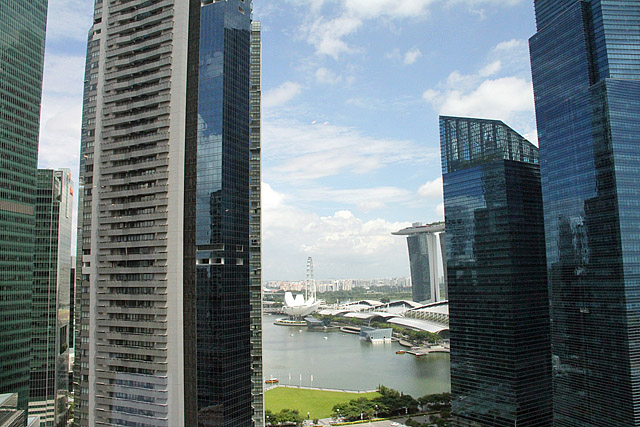 A peek at the Marina Bay between stunning architecture.
Marina Bay Hotels
Lotus Art Science Museum
Garden by the Bay
After touring the city with the CIBER group, I sent Ignatius a Facebook message. We agreed on a meeting time of 11:30pm! He arrived early so I hurried down where he was seated. I presented him with a Wilbert Paige Memorial booklet, commemorating a tournament featuring players of African descent. We exited the hotel, walked a short distance from my hotel and searched for a spot. At almost midnight on a Tuesday, the area was still bustling. We settled on the rather elegant lobby of another nearby hotel. There was a live jazz band playing.
What would have been a quick outing for a drink turned into a delightful three-hour conversation about chess, its culture, its peculiar politics, Singaporean chess, FIDE titles and of course, the last election. I did not record any of it nor did I conduct an interview. It was simply two men from different parts of the world who shared their passion of chess. You had to be a fly on the wall.
Daaim Shabazz with Ignatius Leong.
Ignatius shared his background and his rather fortuitous discovery of chess as a youth. I also shared my background and the evolution of The Chess Drum. We talked a bit about developing regions in chess. In between sips of hot chocolate, Ignatius gave a very frank view of where FIDE stands. There is no love lost here. Of course, it is known that both he and Garry Kasparov have been suspended by FIDE for alleged ethical violations. Over my chamomile tea, I lamented on the turmoil that the last election caused between Africa federations.
All in all, it was a pleasant outing. With the clock pushing 2:30am, Ignatius got a taxi, we exchanged our good-byes, shook hands and I watched him take off. Memories are many, but only a few have enduring quality. Two individuals from opposite sides of the world enjoying the language of chess. I have many memories of Singapore, but I also included a few pictures from the Philippines. Unfortunately, attempts to connect with an Filipino chess players failed. Like Vietnam in 2014, Singapore and the Philippines show signs of growth, but the ASEAN countries are very different… all with promise and hope. GENS UNA SUMUS!
The famous "jeepney" or "jitney" buses… a kind of relic from World War II.
Now a Filipino icon.
The sun setting is a daily attraction.
Filipino hostesses at the Fairmont Hotel in Makati, Philippines.
Photos by The Chess Drum.