2015 London Chess Classic (Round #1)
Round #1: Friday, 4 December 2015
Veselin Topalov 0-1 Anish Giri
Alexander Grischuk ½-½ Hikaru Nakamura
M Vachier-Lagrave ½-½ Magnus Carlsen
Fabiano Caruana ½-½ Levon Aronian
Viswanathan Anand ½-½ Michael Adams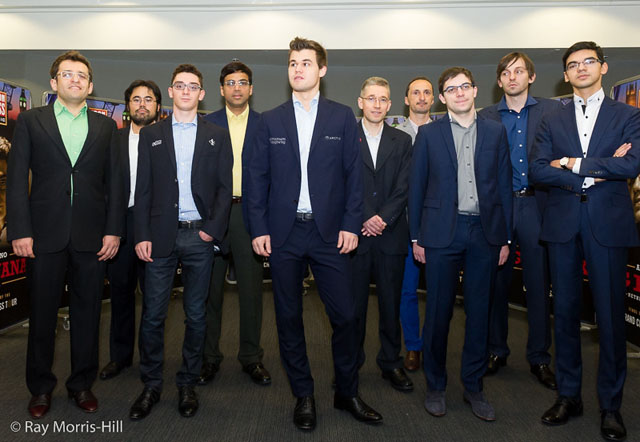 2015 London Classic participants: Levon Aronian, Hikaru Nakamura, Fabiano Caruana, Viswanathan Anand, Magnus Carlsen, Michael Adams, Veselin Topalov, Maxime Vachier-Lagrave, Alexander Grischuk, Anish Giri. Photo by Ray Morris-Hill.
The first round of the London Chess Classic kicked off with very tense play. Although there was only one decisive game, there was drama in a few of the games. Anish Giri mounted a sparkling comeback after being outplayed by Veselin Topalov. Afterwards, Giri attributed his winning to his eye for "cheapos" but it was serendipity that won the order of the day.
Veselin Topalov and Anish Giri had an epic climax.
Photo by Ray Morris-Hill.
Picking up the action in the middlegame, 12…e5!? was an interesting break with pressure on the a1-h8 diagonal for black. Aesthetically, it appeared that black had the advantage with a knight ensconced on the queen six square. This was followed by a quick mobilization of his pieces. After 20…Qxd4 fans were saying that black was crushing, but it was an illusion. After 21.a5! Nd7 22.Ra4 Qe5 23.Nxd5 white was fighting for the initiative.
Giri threw cold water into Topalov's face with 33…Nxf2! with a scintillating attack to follow. Black's 35…Qd5! makes the idea clear. White is mated.
A brawl ensued after 26…g5!? After 27.Qb4, the "cheapo potential" tactics were developing on the board. There were pieces splayed all over the board, but after 32…Ne4, it appeared the game would fizzle out if white played the natural 33.Bxe4 eliminating the dangerous knight. However, the Bulgarian chose to pluck a pawn with 33.Qxa7?? and got a cold shower after 33…Nxf2! Suddenly black is winning! After 34.Bxe2 the intermezzo 34…Nxh3+ was decisive.
After his 35.Kf1, Topalov may have missed 35…Qd5! threatening mate. It is well-known that the queen and the knight make a deadly combination since they cover a wide range of squares in a close distance. This was illustrated perfectly and white went down in flames after the innocuous 36.Bh5. Black mates in eight after 36…Qh1+.
Hikaru Nakamura missed his chance.
Photo by Ray Morris-Hill.
Hikaru Nakamura wants to make a move to compete for the Grand Tour title and had a chance to get off to a good start, but faltered after developed a winning advantage. In a Berlin Defense, Nakamura got the edge after white's ambitious 21.f4?! After two minutes, the American belted out 21…f5 and grabbed an advantage after 22.Rad1 g6 23.Ne6 fxg4 24.Nxc7? However, after 24…Rc8! black played 24…Ra7? and started floundering with knight checks and settled for a three-fold repetition. Black's best path to victory would have been 28…Bxd7! Nakamura appeared to be very disappointed at the result.
Viswanathan Anand played an uncharacteristic 1.c4 against Michael Adams and got absolutely nothing out of it. Perhaps he is saving his preparation for a particular player… or maybe he is concerned about devastating flooding wreaking havoc in Chennai. Regardless of the reason, Anand effectively got an easy day at the expense of a white game.
Video by IM Sagar Shah.
Fabiano Caruana and Levon Aronian entered a Ruy Lopez, but there were none of the usual fireworks that burst after a positional struggle. A comical position resulted with an impenetrable barrier created by the pawns. Yasser Seirawan and Alejandro Ramirez brought up an interesting case of a player who invoked a ruling that a player cannot lose in such a game unless there is a position that can produce a loss. For example, K+R vs. K+N could still be declared a win despite it being a "book draw". With the pawns creating such a barrier.
Carlsen trotted out the Sveshnikov and held comfortably.
Photo by Ray Morris-Hill.
Maxime Vachier-Lagrave and World Champion Magnus Carlsen played the minimum amount of moves and the game flatlined. In a well-known line in the Sveshnikov Sicilian, but ended up in a perpetual check. Moral victory for the champion at the expense of a few Elo points.
Games of Round #1 (Notes by IM Sagar Shah)
Games (Round #1): https://www.thechessdrum.net/palview7/london15-1.pgn
Video by CCSCSL.
Official Site: https://www.grandchesstour.com (live games)
Video Archive: https://livestream.com/accounts/3913412/events/4518826
Drum Coverage: https://www.thechessdrum.net/blog/2015/11/29/2015-london-chess-classic-london-england/