2015 Rwabushenyi Memorial (Uganda)



FM Harold Wanyama's great start of 7 wins in the first 7 rounds enabled him to win the Rwabushenyi Memorial Chess Championship that ended on Sunday 18 January 2015 at Pope Paul Memorial Hotel in Rubaga, Kampala. For his exploits, the winner walked off with a prestigious trophy and a cash prize of one million two hundred thousand shillings from event sponsors, Civil Aviation Authority.
Wanyama set the pace from round one and put himself in total control to the extent that his only loss in the eighth round to third placed Haruna Nsubuga did not deter him from winning the event with a better tie break. Such was the high level of competition in the event to the extent that three players tied on 7 points at the top, the other being IM Elijah Emojong, who finished in second position on tie break and walked off with shillings 600,0000/- and a trophy. Third placed Nsubuga won himself 300,000/- and a trophy too.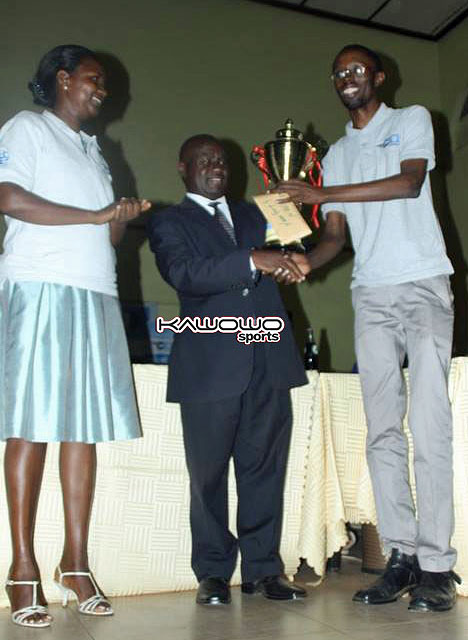 FM Harold Wanyama receives winner's trophy and cash gift from representatives of Civil Aviation Authority.
To win the event, Wanyama beat Makumbi Deo, Muluya Sadati, Elijah Emojong, Mukasa Patrick, Lubega Solomon, Ssali Julius and Farouk Fauza. His only loss was to Haruna Nsubuga. Nsubuga's tie break could have been affected by having had a bye in one of the rounds against Ssegwanyi and an early loss to inferior opposition.
Cash prizes were given out up to the eight in the Open category. The other prize winners were Solomon Lubega in fourth position with 6.5 points, Emmanuel Mwaka in fifth position with 6 points, Daniel Bagaadde with 6 points in seventh and ex Olympian Shadrack Kantinti with 6 points in eighth position. Branded T-shirts were also given out to the players. A total of 161 players participated in the FIDE rated event.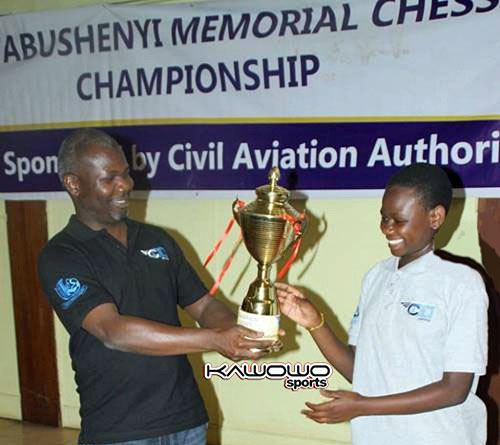 Vianney Lugguya presents Gloria Nansubuga with winner's trophy.
The ladies category was won by 13 year old Gloria Nansubuga. This is her first major victory at the highest level. She finished with 7 points out of a possible 8 and walked off with a cash prize of 700,000/- and a trophy. On her way to victory, she beat WFM Ivy Amoko, Robina Namwanje, Esther Nakitende, Jacinta Nantume, Joan Nakimuli, Rhoda Namuswe and Olympian Goretti Angolikin. She only lost to WCM Phiona Mutesi. In second position was Amoko and Mutesi finished in third position.
The Under 15 Boys Category was won by Wilson Serunjogi followed by John Kyobe and Abbey Mukiibi. The three got trophies for their exploits.
The Under 15 Girls Category was won by Grace Musisiwaza with 5 points, in second position was Gloria Nakiwala with 4.5 points as Lydia Nakato finished in third position. The three walked off with trophies.
Six trophies were given out in the under 15 years age category and another six in the under 10 years age category.
Link: https://www.kawowo.com/index.php/others/chess/item/20515-nansubuga-wanyama-clinch-2015-rwabushenyi-chess-top-accolades.html