2015 Tata Steel Masters: Round #5
Round #5 – Thursday, 15 January 2015
Masters
Maxime Vachier-Lagrave – Loek van Wely, ½-½
Radaslaw Wojtaszek – Fabiano Caruana, 1-0
Ding Liren – Vassily Ivanchuk, ½-½
Wesley So – Hou Yifan, ½-½
Anish Giri – Baddur Jobova, 1-0
Magnus Carlsen – Levon Aronian, 1-0
Ivan Saric – Teimour Radjabov, 0-1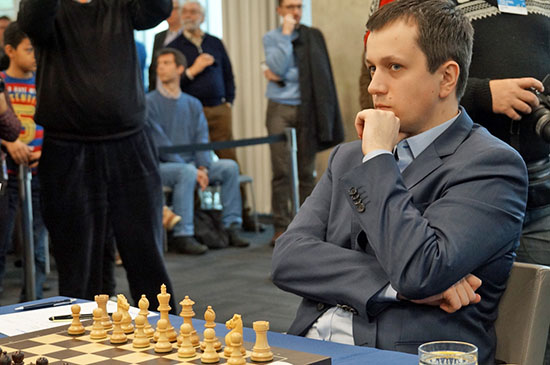 Radoslaw has toppled both Carlsen and Caruana.
Photo by Nadja Wittmann.(ChessBase).
More blood spilled on the boards today as the race got tighter after the first rest day. Vassily Ivanchuk holds the slimmest of leads after drawing with Ding Liren in a somewhat uninspiring draw. Meanwhile, Radoslaw Wojtaszek beat Fabiano Caruana giving him victories over the top two players in the world… in consecutive rounds. He pulls within half-point of the lead. Caruana suffered his first loss, but remain one point out. Carlsen closed within one-point with a rather convincing win over Levon Aronian. The post-game commentary was impressive. Watch.
Perhaps we will see another comeback from his typical sluggish starts. There is plenty of time. Unfortunately for Carlsen, Anish Giri seems to be on excellent form and is also on +1. Giri was fortunate to win today's game against Baadur Jobava after the Georgian threw 22…Nh4!! on the board with a menacing attack. Giri had to donate an exchange to cool the attack. However, the tide turned when Jobava saw a ghost and missed the simple combination costing him a rook.
The Asian battle between Wesley So and Hou Yifan that turned into a seesaw affair. Hou won a pawn in the opening, but unfurled a sham sacrifice with 19…Nf3+!? After 20.Kh1 Qh4 21.gxf3 Bh5. So was ready and countered with 22.Bxe6+ Kh8 and 23.Bg4 ready to return the piece. The battle continued with white holding a slight edge with an active king but black was able to attack with her rook and held the balance.
Standings after Round #5 (Masters)
1st: V. Ivanchuk, 4; 2nd-3rd: R. Wojtaszek, L. Ding, 3½; 4th-7th: F. Caruana, W. So, M. Carlsen, A. Giri, 3; 8th-9th: T. Radjabov, M. Vachier-Lagrave, 2½; 10th: I. Saric, 2; 11th-13th: L Aronian, L. Van Wely, Y. Hou, 1½; 14th: B. Jobava, ½.
Challengers
Salem Saleh – Erwin L'Ami, 0-1
Robin Van Kampen – Samuel Shankland, 0-1
Bart-Michiels – Anna Haast, 1-0
Valentina Guinina – Samuel Sevian, 0-1
Vladimir Potkin – David Klein, 1-0
Jan Timman – Ari Dale, 1-0
David Navara – Wei Yi, ½-½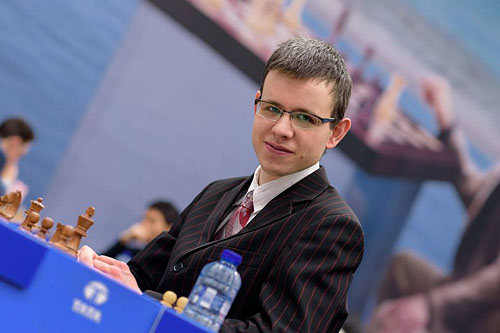 The usually dapper David Navara sharing the lead.
Photo by Alina L'Ami.
Continuing the trend, the Challengers section has had 20/35 decisive games meaning resulting in a field where only two points separates the top from the bottom. No one has been able to put together a streak to away from the pack. Erwin L'Ami has won his last two games to pull out front along with top seed David Navara and the stable Wei Yi. Anything can happen in this section!
Standings after Round #5 (Challengers)
1st-3rd: E. L'Ami, D. Navara, Y. Wei, 3½; 4th-5th: R. Van Kampen, S. Shankland, 3; 6th-9th: J. Timman, S. Sevian, B. Michiels, V. Potkin, 2½; 10th-11th: D. Klein, S. Salem, 2; 12th-14th: A. Dale, V. Guinina, A. Haast, 1½.
Video by GM Daniel King.
Official Site: https://www.tatasteelchess.com/
Tata Steel (YouTube Channel): https://www.youtube.com/
Drum Coverage: https://www.thechessdrum.net/blog/2015/01/04/2015-tata-steel-chess-wijk-aan-zee/