"Living Like Kings" panel… HOT!!!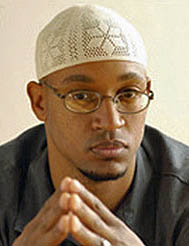 Adisa Banjoko has a life which if it was a book would be an exciting drama/romance/thriller. That's how rich his experiences have been. Having navigated through many turbulent times, but finding an outlet in hip-hop, Adisa knew that this genre possessed magical and mystical powers. He wrote two volumes of a book Lyrical Swords which spun off a revolution of how hip-hop plays a larger role in society apart from its musical contribution.
The fusion of hip-hop along with other subjects such as sociology, politics, business were already apparent, but to look at chess and martial arts spawned a new revolution leading to the founding of the Hip-Hop Chess Federation in February 2007.
RZA (left) has been on board with the HHCF from the beginning. Here he is speaking on the "Mind Over Matter" panel with actor Emelio Rivera. Photo by Paul Moran.
Seven years later, he has been the subject of media attention and has had an audience at universities from coast-to-coast. His latest project was launched in the chess capitol of America, St. Louis. Coinciding with the "Living Like Kings" exhibit was the panel featuring Adisa and the RZA of Wu Tang Clan. They addressed an audience and dropped some pearls of wisdom… or more precisely, jewels of wisdom. RZA gave his own story with many lessons of life including something he called, "Twelve Jewels of Life". Adisa talked about his days as a hardened young man in the hip-hop game, but with many life lessons to share.
The video was very insightful and worth the hour of time it takes to watch it! The exhibit started October 9th and will go on through April 26th 2015. Bill Kaplan is the artist who put Adisa's vision into an artform. If you're in St. Louis please stop by. The Chess Drum will report on the exhibit in November.