Drum Interviews @ Millionaire Chess Open
The Millionaire Chess Open has come and gone, but will not be soon forgotten. The four-day festival culminated with an exciting playoff and in the end GM Wesley So came out victorious. The 21-year old Filipino was expressive at the closing ceremony and could be seen milling out in a jubilant mood.
Varuzhan Akobian (right) helping Wesley So celebrate.
All photos by Daaim Shabazz unless otherwise stated.
GM Wesley So (Manila, Philippines) – The Chess Drum had an opportunity to chat with the Webster University student and he proceeded to give most of the credit to his coach, GM Susan Polgar. The Hungarian legend has built an Olympiad-strength program since leaving Texas Tech University. It consists of players from every corner of the planet and So is the latest example of how successful Webster has been. Listen to his impressions after winning the Millionaire Open. 6:09 minutes
Amy Lee (Vancouver, Canada) – This event would not have come to fruition without the largess and energy of Amy Lee. This energetic and dynamic woman certainly put on a event that will be talked about in the coming years. Combined with the charisma and chess acumen of GM Maurice Ashley, the two staged the first US$1,000,000 tournament in open history.
Amy Lee and Daaim Shabazz
The event was a rousing success and put shame to all the naysayers who speculated that the event would fail. Certainly there will be a number of improvements Lee was able to clarify some of the issues and some of the 11:31 minutes
FM Ylon Schwartz gave a very insightful interview.
FM Ylon Schwartz (Brooklyn, NY, USA) – One of the celebrities mentioned in the Amy Lee interview was FM Ylon Schwartz, World Series of Poker (WSOP) professional. He came in 4th in 2008 WSOP winning a hefty $3,774,974 and four years later was the winner of bracelet in the 2012 WSOP. It was refreshing to see the Brooklyn native competing and he seemed to enjoy it immensely. He gave a very insightful interview and discussed his views of the Millionaire Chess tournament, the format and spoke on the chess/poker analogy.
Poker star Ylon Schwartz lost in the playoffs to NM Jimmy Canty. Photo by lasvegasvegas.com
What is shocking is that after the interview he expressed how the mentality of top players in both games are totally different. Top poker players, he stated, are used to losing and the loss rate is 83%. Conversely, top chess Grandmasters rarely lose. However, 17% of the time, a top poker player may win a large amount and nullify the other loses.
He also mentioned after the interview that he feels much more passionate about chess than poker. He is still seeking IM norms and was disappointed that he was forced to compete for a higher prize rather than vie for an IM norm. His interview gives quite a lot of food for thought. 10:30 minutes
Frank Johnson (Atlanta, Georgia, USA) – Right before the blitz tournament, The Chess Drum grabbed one of the tournament directors charged with keeping the players happy, basically. Apart from a couple late starts, the staff did a wonderful job in running the tournament. Johnson runs two locations of the 64 Squares Chess Club in Atlanta, Georgia and is a coach and promoter through chess-coach.net. 2:13 minutes
The directing was first class apart from a few pairing glitches and a couple of late starts. Atlanta's Frank Johnson (right) directing India's Sandhya Goli. Check out chess-coach.net!
IM John Bartholomew (center) on route to 5/9.
IM John Bartholomew (Minneapolis, Minnesota, USA) – This Minnesota native was a standout high school player who won a scholarship to the famed University of Texas at Dallas. After a year of law school in Denver, he moved to New York for a short stint to focus on chess. Later he returned to Minneapolis where he is now a successful coach.
A long-time supporter of The Chess Drum, Bartholomew came to vie for his second GM norm. He ended with 5/9 playing six GMs (2/6) and 2378 performance rating. John talks about the ebbs and flows of his life and how he has now found his passion. 9:15 minutes
GM Isan Reynaldo Suarez Ortiz (Cuba)
GM Isan Reynaldo Suarez Ortiz (Holguin, Cuba)
– This Cuban national comes from a strong chess tradition. A member of the Cuban Olympiad team, the 25-year old from the city of Holguin has an ELO of around 2600. This was his second tournament in the U.S., but the Cubans have recently been making regular trips to compete in America.
Ortiz scored 6.5/9 and stated that he enjoyed the event. He showed me a scintillating game against FM Li Ruifeng, shown below. He will compete in the Pan-American Zonal in Brazil which is a world championship qualifier. This interview had the help of translation by IM Joshua Ruiz of Colombia. 9:16 minutes
Amina Sherif and Daaim Shabazz
Amina Sherif (Dusseldorf, Germany) – An enchanting 15-year old girl is of Egyptian (paternal) and German (maternal) heritage and came with her parents to the Las Vegas as part of a family vacation. This talented girl has been representing Egypt for a couple of events after being approached by one of the chess officials during a visit to Egypt. Her father is from the Nubian province, Aswan. The aspiring economist has such a sweet personality and her parents beam with pride when watching their tall and stately daughter. The family stays near Dusseldorf, Germany. (Note: We actually played in the blitz tournament splitting a pair of games.) 6:23 minutes
Dr. Jones Murphy (Dominica) – This brilliant physicist comes from the small island of Dominica, but spent his formative years in New York City. He attended City College of New York helping to win the Pan-American Collegiate Championship. This was his first tournament in more than 10 years. While Jones was pleased with the turnout, its diversity and the organization, he was critical of the naysayers who he found to be illogical in their rationale for not supporting the historic event.
Jones Murphy (right) analyzing his game with Aderemi "Remi" Adekola. This was the sixth win in a row for Remi who Jones called "talented". Remi would come in 2nd overall in the under-2000 with 6.5/7 and then go on to playoffs to take 2nd. He won $20,000.
Jones gave some interesting suggestions for the next MCO including having playoffs after the nine rounds so that one can vie for norms as well. He also articulated why sponsors would be interested in such an investment in MCO and ends with what it means for the impact of chess around the world. Excellent interview!14:10 minutes
New York stand up! Jones Murphy with FMs Ylon Schwartz and William Morrison. All three have known each other for more than 25 years.
Dr. Maria Carolina Blanco (Venezuela) – Certainly one of the players who may have been mistaken for a celebrity or model is incidentally an orthodontist from Venezuela. A 15-time national champion of Venezuela, the Women's International Master (WIM) and has represented Venezuela in several Olympiad, but left the country 10 years ago. She has now resided in Atlanta, Georgia for eight years and has a number of chess students. She mentioned that her students were watching result. She emphatically expressed her love for chess and has decided to work in orthodontist office only on a part-time basis. Check her website at https://www.drcarolinablanco.com 9:51 minutes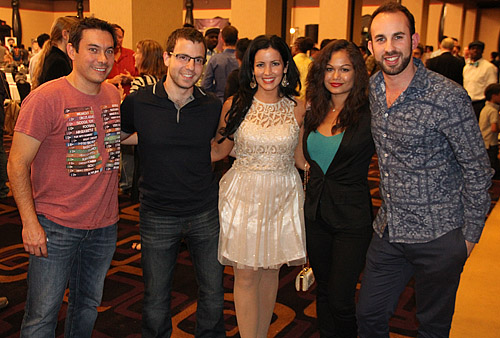 United Nations! IM Carlos Perdomo (Argentina), GM Robert Hess (USA), WIM Dr. Carolina Blanco (Venezuela), WIM Arianne Caoali (Australia), IM Lawrence Trent (England) at the Millionaire Open.
Mbugua Githoro (Houston, Texas, USA) – This player of Kenyan ancestry was born in Texas, a place where everything is big. With his third place showing, "Bo" would win big as well. With his $10,000 haul, he will have an opportunity to expand his Dark Knights (www.DarkKnightsChess.com) chess organization. When the question came up about his Kenyan ancestry, he stated that he was unaware of the chess community, but would love the opportunity to play for his ancestral country in future events. 10:01 minutes
Mbugua Githoro analyzing his 7th round game which he won.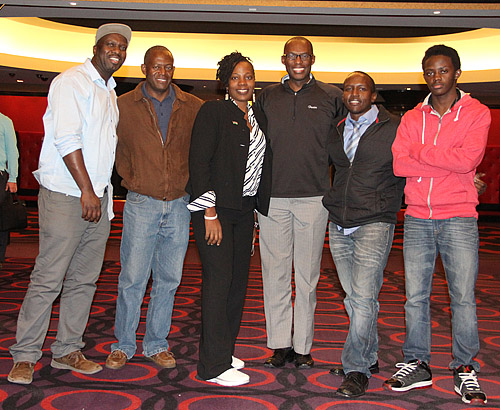 Daaim Shabazz with Kenyans at Millionaire Chess Open. Pictured from left to right are: Akollo Odundo, James Apiri, Adia Onyango, Daaim Shabazz, Mbugua Bo Githoro and Collins Apiri. All photos by Daaim Shabazz unless otherwise stated.
CONTACT: MILLIONAIRE CHESS
email address: contact@millionairechess.com
official website: https://millionairechess.com/
Twitter: https://twitter.com/HighStakesChess
Facebook: https://www.facebook.com/millionairechess
YouTube: https://www.youtube.com/MillionaireChess
Photos: https://www.flickr.com/photos/advancedphoto/sets/