2014 Sinquefield Cup: Round #4
2014 Sinquefield Cup
August 27th – September 7th, 2014 (St. Louis, USA)
Round #4 – Saturday, 30 August 2014

1
Caruana, F

ITA

1-0

Aronian, L

ARM
2
Carlsen, M

NOR

½-½

Topalov, V

BUL
3
Vachier-Lagrave

FRA

½-½

Nakamura, H

USA

Official Site
Caruana is now at 2820 on live list.
Photo by uschesschamps.com.
A tremendous tsunami is moving through St. Louis in the Central West End area. That demolishing force is called "Fabiano". No… it is not particularly a name that will strike fear, but he is making a presence at the Sinquefield Cup. Playing in his first American tournament in eight years, he is currently on 4/4 against the strongest field ever assembled. With a tournament average of 2801.67 his performance rating is certainly around 3500. Perhaps a new star is born, perhaps without the same media hype Magnus Carlsen has received.
In fact, Caruana has risen up the rating charts in a very quiet manner. Never the focus of extensive media coverage, the American-born GM has had to carve out his own identity apart from all the other top ten players who are widely covered and showered with attention. It was only ten years ago that Caruana was competing in scholastic tournaments as a talented, but diminutive star. Now the chess media will finally be forced to pay attention. Some media outlets still do not realize that Caruana was born and raised (until 12) in America.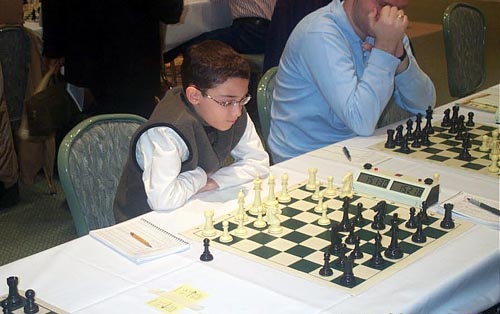 Seems like a short while ago when a rising star emerged. Here is a 10-year old FM Fabiano Caruana playing at 2003 Foxwoods Open (Connecticut, USA). Photo by Daaim Shabazz.
Today Caruana outplayed Levon Aronian with a daring piece sacrifice (29.Na5!) for lasting pressure. It was a masterful understanding that the black knights lying wayward on the queenside would not be able to make it back into play for many moves. During this time, white would dominate kingside play with a steamroller of pawns after 40.g4 followed by f5-f6-f7. Black's clumsily-placed rooks became fodder.
---
I'm very satisified with it (the result),
but I'm trying not to get ahead of myself."
~ GM Fabiano Caruana after his fourth straight win
---
The other games featured fighting chess as well, but neither resulted in a decisive result. Carlsen-Topalov was another game in which white got nothing from the opening despite being a bit more ambitious than his last round with the Bishop's Opening. Is Carlsen hiding preparation for the match or is he simply playing uninspired chess? Maybe both. In this game he had no winning chances and the game was roughly level throughout. Topalov was still fighting until a humorous end occurred.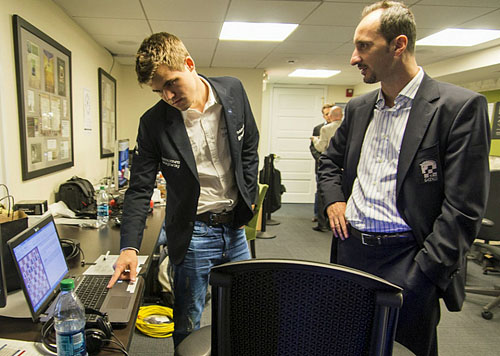 Magnus Carlsen and Veselin Topalov going over the post-mortem on a laptop to see if they've missed something. Maybe they are conspiring against Fabiano Caruana. Photo by uschesschamps.com.
MVL-Nakamura had none of the dynamic play that both players had essayed in the tournament. When asked about the play of Caruana, Nakamura spoke of the rest of the field having to "gang up" on him to stop him. Nakamura will have the next crack at it before the first rest day. Certainly, in the second half Caruana hopes to shake his reputation as a poor finisher. Caruana has climbed to 2820 in the live ratings pulling to less than 40 ELO points within Carlsen. He has compiled the 4th highest rating in history!
A caption may answer the question, "How do we stop Fabiano?" Levon Aronian, who was near resignation, seems to be saying, "You're asking me?" Someone will have to find the answer in the next couple of rounds. Photo by uschesschamps.com.
Standings after Round 4
1st: Fabiano Caruana 4; 2nd: Maxime Vachier-Lagrave, 3rd-6th: Hikaru Nakamura, Veselin Topalov, Levon Aronian, Magnus Carlsen, 1½.