The Rise of Fabiano Caruana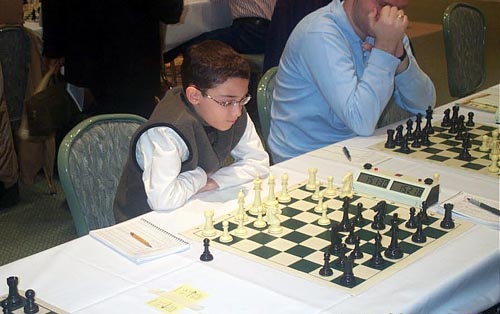 Seems like a short while ago when a rising star emerged. Here is a 10-year old FM Fabiano Caruana playing at 2003 Foxwoods Open (Connecticut, USA). Photo by Daaim Shabazz.
Fabiano Caruana has quietly risen to #8 on the FIDE rating list at 2772. There is suddenly a lot of intrigue since the American of Italian ancestry was not one of the highly-touted prodigies on the world stage. Caruana got a provisional USCF rating of 473 in his first tournament at the Susan Polgar Chess Center in New York in 1998. The Miami-born, Brooklyn-bred youngester would begin to cut his teeth on a steady diet of American Swiss-style tournaments where fighting skills are tested.
Budding star Fabiano Caruana playing Kimani Stancil at the 2004 World Open in Philadelphia (1-0). Photo by Daaim Shabazz.
While he was known throughout America as a prodigy, his international exposure was primarily representing the U.S. in youth tournaments. Early on, American players saw a glimmer of talent in this scholastic sensation. He always tested his limits by playing in the higher sections and people began to take notice of the diminutive bespeckled boy. However, no one predicted his meteoric rise… except his parents.
At age 12, his parents began to position him for a full immersion in his chess endeavors. Shortly thereafter his family migrated from Brooklyn, New York to Europe where he was able to get stronger tournaments. He became a regular at the First Saturday norm tournaments in Budapest, Hungary hosted by László Nagy. He earned his GM title at age 14 practically breaking all of Hikaru Nakamura's age records along the way.
Representing Italy, Fabiano Caruana facing off against Macedonia's Vladimir Georgiev at 2012 Olympiad in Istanbul (1-0). Photo by Daaim Shabazz.
It is strange that European chess media had assumed that Caruana suddenly rose out of Italy's ashes to soar to stardom. While having dual citizenship in the U.S. and Italy, several interviews (including one by Evgeny Atarov), seem to have no idea that he was born and raised in the USA.
An interview posted at Chessdom showed surprise at his good English until he revealed he was born and raised in the U.S. Since moving to Europe, Caruana has actually lived in Spain, Hungary and now in Switzerland. He plays for his father's homeland of Italy, but there is no indication whether or not he will ever play alongside of Hikaru Nakamura for the USA. He now has a gaudy USCF rating approaching 2900.
Caruana is mild-mannered and soft-spoken, but an intelligent young man who has matured very evenly. Not saddled with high expectations, nor lathered by the fame of some of his peers such as Magnus Carlsen, Nakamura, Teimour Radjabov or Sergey Karjakin, he has shown that perhaps the slow and steady approach works.
Fabiano Caruana against GM Levon Aronian (1/2-1/2).
Photo by Albert Silver.
Just having turned 20, he recently reached his rating height of 2785 (live rating). He is currently leading the Bilbao Grand Slam tournament with play resuming in a couple of days. It remains to be seen whether he will continue to plot a course of progression. If he holds on to win the Bilbao tournament, it would be he biggest win to date (since Dortmund) and perhaps people will begin to put him in the conversation of potential championship contenders.