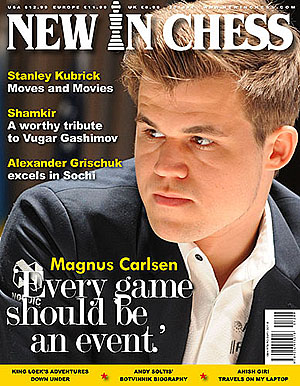 While Magnus Carlsen has settled into his role as World Champion, he is faced with defending his title in a few months. Since then he has played in only a handful of tournaments… albeit successfully. One of these was the Gashimov Memorial in Shakmir, Azerbaijan. Gashimov died of a brain tumor in January at the age of 27 and was a pillar in the Azeri chess community and represented his nation with honor.
Carlsen bagged another victory despite a streak of inconsistency. His score included another loss against Fabiano Caruana and another win over Hikaru Nakamura. All will assemble again in the Sinquefield Cup to be held just after the Olympiad in Tromso, Norway.
---
"I feel like every tournament should be an event, it should be something I look forward to."
~Magnus Carlsen
---
In an interview with NIC, Carlsen discussed a variety of topics about the venue, his competition, his preparation, his attitude, his games. There was even a mention of his football encounter where he fouled 73-year old Chief Arbiter Faik Gasanov. Not sure if he was booked for a yellow card, but he should have been.
Nigel Short recently tweeted a question of whether anyone know any top players with relgious devotion. It became apparent that the motive of this tweet was an article he penned in NIC titled, "I'm a believer". It was a attempt to draw on the inspirations of player, but it may appear to be awkward to some.
To conserve on magazine space, there was a piece covering three different tournaments… Poikovsky, Havana and U.S. Championship. Alexander Morozevich is not quite done as an elite player as his victory proves. Wesley So has been in the news lately given his transfer from the Filipino federation to the U.S.
GM Wesley So at 2012 Olympiad.
Photo by Daaim Shabazz.
The Filipino was the victor in the Capablanca Memorial tournament, one that Vassily Ivanchuk traditionally wins. The U.S. Championship had previously got its own pages, but the abridged version seem to give writer Anish Giri some inspiration. He decided to focus on one of Gata Kamsky's masterful squeezes against Alex Lenderman.
Loek Van Wely gave an account of a tournament in Australia, but more importantly his visa fiasco that has become widely-known. It was an adventure that landed him in detention. Lastly, we get a glimpse of GM Dmitri Reinderman and another permutation of hair fashion.
The Dutchman's answers in "Just Checking" are entertaining and consistent with the flair of his purplish hair. Unpretentious and practical his favorites are iced tea, his pet cats, vegetarian food and when ask who is favorite player was he writes, "Loek van Wely. He's the coolest!" What no Morphy, Capablanca, Tal, Fischer or Kasparov? Nope! Perhaps these World Champions are not worthy in his sphere. After all, he believes the nationality of the 2050 world champion will be… hold onto your hats… "Transnistrian". Check out this place. I did. 🙂
CONTENTS
Raising Awareness
Your Move
NIC's Café
Interview: Magnus Carlsen
Beware: Brilliancy!
Fair & Square
Grischuk Rises from the Stove
I'm a Believer
Stanley Kubrick
Travels on my Laptop
An Early 13
Down Under
A Venerable Tradition
A Man of Iron Logic
Just Checking
Link: https://www.newinchess.com/Shop/ProductDetails.aspx?ProductID=497
Leave a Reply!