Smirin conquers '14 World Open
The World Open remains America's premier open tournament as players from around the world assemble to compete for the nation's largest prize fund of $250,000 of which $200,000 is guaranteed. The tournament was held June 30-July 6, 2014 at the Hyatt Regency Crystal City, 2799 Jefferson Davis Highway, Arlington, Virginia.
Ilya Smirin (center left) found himself ahead of the pack.
There are always surprise appearances at the World Open and this year's surprise was a strong contingent of Cubans who have been touring the U.S. and punishing the opposition. Israeli GM Ilya Smirin came out on top in the field of 95 participants after besting GM Illia Nyzhnyk of the Ukraine in an Armageddon game. Both players tallied 7/9 along with America's GM Conrad Holt, who scored a career-best finish. GM Yuniesky Quesada Perez in contention throughout, but had to settle for fourth place after drawing with Smirin and Nyzhnyk the last two rounds. The official report stated,
In order of tiebreaks Ilya Smirin was 1st, Illia Nyzhnyk was 2nd and Conrad Holt was 3rd. The top two on tiebreaks played a special Armageddon blitz playoff, white had 5 minutes, black had 3 minutes and draw odds (a 5-second delay was used). Smirin had the best tiebreaks of the three, chose white, won the game and therefore received the title of 2014 World Open Champion and an additional $254 bonus prize.
The 42nd World Open attracted more than 1100 players to Arlington, Virginia with 95 in the Open section, 112 in the under-2400, 180 in under-2200, 193 in under-2000, 171 in under 1800, 125 in under-1600, 78 in under-1400, 72 in under-1200, 71 in under-900/unrated and 19 in the unrated/provisional section. There a number of side tournaments as well.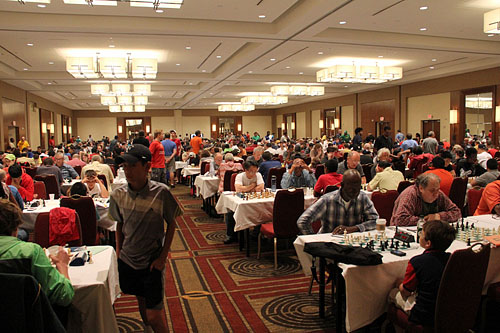 The Crystal City Hyatt in Arlington seems preferable to the Philadelphia Sheraton in Center City. There were not many complaints on the hotel itself.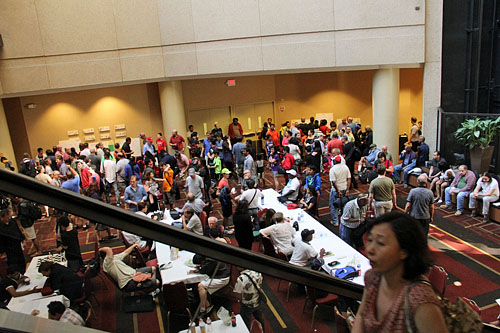 There were plenty of places to socialize and analyze games without disturbing the games in progress.
One of the newest features of CCA tournaments is the mixed doubles teams that are composed of one male and one female whose tandem rating average is less than 2200. The end result is an increase in female participation. If one observed the tournament hall, 40-50% appeared to be less than 21 years old and a good number in the lower sections were female. The open section featured some of the best and brightest American scholastic players with several earning norms.
The list of norms is as follows:
FM Sean Nagle, IM Norm (3rd IM Norm)
Christopher Gu, IM Norm
FM Atulya Shetty, IM Norm
Mika Brattain, IM Norm
Ethan Li, IM Norm
FM Kevin Wang, IM Norm
FM Denys Shmelov, IM Norm (3rd IM Norm)
FM Kassa Korley, IM Norm (3rd IM Norm)
FM Razvan Preotu, GM Norm (played 8 GMs)
FM Kassa Korley earned his second IM norm in a matter of a couple of weeks. These will go with his first in 2011 for the required three norms and his 2400+ ELO rating. The title will be conferred in Tromso, Norway.
FM Atulya Shetty got an IM norm and will be attending the University of Michigan in the fall.
Standings: https://chesstournamentservices.com/
Photos: https://www.thechessdrum.net/