FIDE Women's Commission busy in Africa
There are many debates circulating in the chess world about its direction and that will be the emphasis in the coming months as the FIDE Presidential election picks up steam. One of the important questions that always seems to get attention is the plight of women in chess. While the strength of women players is gradually increasing, there are still a disproportionate number of men competing. This could be for various reasons.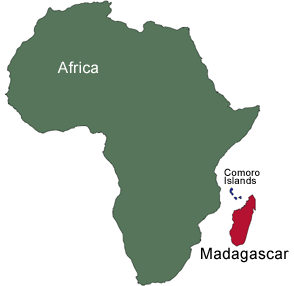 To help explore these reasons the FIDE Commission for Women's Chess (WOM) was created. While there is no description on the objectives of the commission in its website, or even when it was founded, it appears that the 13-member body's charge is to address the scarcity of women in chess and also lobby for equality in tournament conditions.
GM Susan Polgar is the commission's chair and they have made visits to targeted countries and held FIDE online seminars. Polgar has been a long advocate of women's chess and what better person to lead the commission than one who is historically known to be one of the most successful women's players in history.
Her sister GM Judit Polgar is known as the strongest female chess player ever and ascended to #8 in the world. Susan, the oldest of the famous "Polgar Sisters," has had a tremendous impact in American chess and runs the Susan Polgar Institute for Chess Education (SPICE) which has a number of initiatives for girls.
As part of the FIDE Commission for Women's Chess, WGM Nino Maisuradze of the Republic of Georgia traveled to Madagascar and is received by Dr. Luc Andrianarisoa (right) and enthusiastic chess players.
The commission visited the African country of Madagascar as part of a promotional tour. WGM Nino Maisuradze traveled from Georgia, a traditional powerhouse in women's chess, to conduct the seminar. She was met by Dr. Luc Narda Andrianarisoa and an excited cadre of women. To the surprise of the guest, many of the participants had a decent standard of play (1900-2000 ELO), but were simply unrated. There was at least one titled player in WFM Sabi Ravelomanana.
WFM Sabi Ravelomanana expressing her feeling about
the WOM Promotional Tour in Madagascar.
Maisuradze presented lessons on middlegame strategy and endings, but what perhaps was most important was the history lesson. Many of the participants had no concept of history and knew little about the great women players of the past.
None of them knew who was the world's first Woman Champion (Vera Menchik), neither the second or third. Some of them never even heard about Hou Yifan or Judit Polgar. Now everybody knew the name of "Susan Polgar" as the chairman of the Women Commission and initiator of my trip, but it was funny to see their surprised faces when discovering that Susan was also one of the World's Champions!
The trip seemed to be a successful exploratory survey of Madagascar's chess community and its potential growth. The impact will only be apparent after a follow-up, but certainly visits like this can certainly pique the interest. Yet there are still wide disparities in terms of women excelling in chess.
Participants in the WOM seminar. Bright smiles! 🙂
WGM Nino Maisuradze conducts a simultaneous exhibition.
Judit Polgar is identified as the only female player to have ever reached the elite levels of chess. The question is why? There are many views about why more women have not reached the highest levels of chess. Some may say there are not enough women, but that does not seem to be the most comprehensive reason since the Polgar sisters excelled when there were even fewer women competing than today. There are no known physical or intellectual disadvantages. So we beg of the following questions…
Why are female players dropping chess in alarming numbers?
Can women afford to take chess or other board games as seriously as men? as careers?
Are women made uncomfortable in a predominately male competitive environments?
Will separate tournaments help women adjust to open tournaments?
Does women's titles help or hurt the development of women?
So far there have been no comprehensive studies looking at these questions. However, healthy debates show that the numbers of women playing chess may be less important than finding the precise reason they drop off in high numbers. Susan Polgar wrote a seminal article giving her personal views on the subject.
While her article appears to be based on anecdotal evidence, she stated that girls can excel as boys can if certain conditions are ideal. Some of the issues she cited were social acceptance, family acceptance, opportunities, intimidation, differences in physiological/physical differences, incentives and others.
Tshepiso Lopang
Chair of Botswana Women's Chess Commission
Photo by © Arman Karakhanyan.
Objectively, girls may simply choose to channel their energy into other activities after learning chess! Chess is not going to be attractive in many cases and abandoning it may not be due to any of the stated reasons. It is perhaps hard for chess players to understand why people cannot see the inherent beauty in chess.
Part of what the commission is doing is to investigate these issues further. It is interesting that the first region of focus has been Africa. The commission also sent WGM Anastasiya Karlovich to visit Botswana, a country with much more of a chess infrastructure than Madagascar.
The Botswana women had participated in Olympiad tournaments since 1982 and have a number of titled players including WGM Tuduetso Sabure. One of the most active is WIM Tshepiso Lopang, a national player and chair of the newly-formed Women's Commission in Botswana. It becomes the first branch of the FIDE body.
Anastasia Kharlovich discussing women's issues with President of Botswana Chess Federation Tshenelo Marautona (in red jacket) and other members of the Botswana Sports Council and Botswana Chess Federation.
Anastasia Kharlovich giving lessons to Botswana girls…
… and sharing historic photos of women's champions.
Kharlovich, who is known as FIDE's Press Officer, seeks to figure out way to encourage women to dedicate their lives to chess… even making a living. One of the problems in Botswana is the lack of growth in young players. There tends to be the same women dominating chess in Botswana for many years and that does not bode well for future growth. Botswana's Chess Federation President Tshenelo Maruatona is leading a charge to have chess in the primary schools and the new commission in Botswana will help further this cause.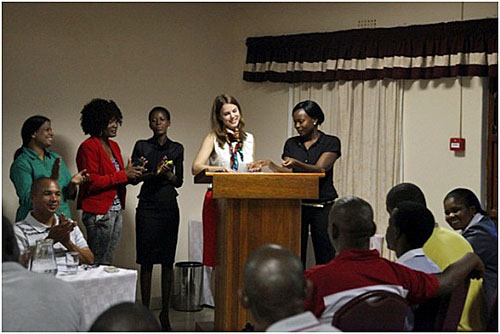 Inauguration of BCF Commission for Women's Chess
All photos FIDE Commission for Women's Chess (WOM).
This may be the opportunity for the FIDE commission to get an independent study done to investigate this phenomenon. While some may believe that girls are intimidated, socially-isolated and not as results-oriented as boys, these may not be significant factors in the issue. In fact, they may not even be true! Doing an empirical study and extensive statistical analysis on which factors that may cause this gap may be the most valuable research to tackle this problem.
LINKS
FIDE Women Commission on Chess (Facebook, Twitter)
Madagascar
https://www.chessdom.com/promotional-tour-of-women-chess-in-botswana/
Botswana
https://womenchessfide.com/index.php/en/news/africa/1962-wom-christmas-mission-in-madagascar