Kamsky, Krush lead at the break
Going into the second half of the tournament, odds-on favorites Gata Kamsky (4.5/5) and Irina Krush (5/5) lead the 2013 U.S. Championship after five rounds. While this is not particularly surprising, there are some efforts that have impressed, most notably the young talent that is on display. Kamsky actually beat two of the young upstarts in IM Kayden Troff (2.5/5) and GM Conrad Holt (3/5). Other surprises self-admittedly was Joel Benjamin's strong start (3.5/5). Benjamin has played in a record 26 U.S. Championships.
GM Gata Kamsky gets set for another epic battle with Alexander Onischuk. This was from their 2009 encounter.
Photo by Daaim Shabazz.
With Hikaru Nakamura competing in a Super-GM event in Norway, Kamsky has run the tables thus far. Nakamura calling in from Norway remarked that of course Kamsky was the favorite of the event but was impressed by the play of Troff and John Bryant (3/5). He also mentioned that while he is missing this year's event, he plans to compete in future editions. In the meantime, Kamsky leads the field by a slim half-point margin with Alexander Onishuk on his heels. Onischuk will play Kamsky today as play resumes after the rest day.
In the women's field, Irina Krush is on a perfect score, but there is no $64,000 prize for the women's event. A player (in the overall championship) earning a perfect score would have win the so-called "Fischer Prize" reminiscent of Bobby Fischer's incredible 11/11 performance back in 1963-1964. Most of the women's players have played on national Olympiad teams with only the youngest contestants Alena Katas and Sarah Chiang having yet to enter that realm. Chiang is making her debut and has had a tough going losing all five of her encounters… shades of Hana Itkis years ago.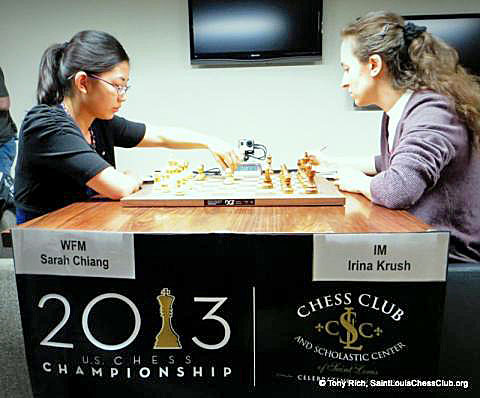 WFM Sarah Chiang (left) is on the other end of the spectrum from tournament leader IM Irina Krush. Krush will attempt to continue her winning streak against WGM Camilla Baginskaite. Photo by uschesschamps.com.
Selected Games
2013 U.S. Chess Championship

St. Louis, Missouri, USA

Standings

Rank
Name
Score
M/F
Rating
TPR
W-We
1
2
3
4
5
1
GM Kamsky, Gata
4.5
M
2741
2884
+0.61
1
1
1
1
½
2
GM Onischuk, Alexander
4.0
M
2666
2776
+0.62
½
½
1
1
1
3
GM Ramirez, Alejandro
3.5
M
2551
2673
+0.82
½
1
0
1
1
4
GM Benjamin, Joel
3.5
M
2534
2807
+1.83
½
1
½
1
½
5
GM Gareev, Timur
3.0
M
2674
2625
-0.32
1
0
½
½
1
6
GM Christiansen, Larry M
3.0
M
2579
2667
+0.61
1
1
0
1
0
7
GM Holt, Conrad
3.0
M
2513
2660
+0.99
1
½
1
0
½
8
FM Bryant, John Daniel
3.0
M
2442
2647
+1.38
½
1
1
0
½
9
GM Robson, Ray
2.5
M
2620
2519
-0.67
½
0
0
1
1
10
GM Akobian, Varuzhan
2.5
M
2616
2510
-0.70
½
½
1
0
½
11
GM Shankland, Samuel L
2.5
M
2612
2540
-0.49
0
½
1
1
0
12
GM Kaidanov, Gregory S
2.5
M
2593
2477
-0.78
1
½
0
½
½
13
GM Shulman, Yury
2.5
M
2570
2524
-0.30
½
½
½
½
½
14
GM Stripunsky, Alexander
2.5
M
2570
2513
-0.38
0
½
1
0
1
15
Norowitz, Yaacov
2.5
M
2451
2568
+0.79
0
½
½
1
½
16
IM Troff, Kayden W
2.5
M
2421
2565
+0.90
1
0
0
½
1
17
GM Hess, Robert L
2.0
M
2595
2444
-1.03
½
0
½
0
1
18
GM Shabalov, Alexander
2.0
M
2544
2511
-0.24
0
1
1
0
0
19
GM Khachiyan, Melikset
2.0
M
2518
2541
+0.14
½
½
½
½
0
20
GM Ivanov, Alexander
1.5
M
2529
2393
-0.92
½
0
0
½
½
21
GM Finegold, Benjamin
1.5
M
2505
2422
-0.57
½
½
0
0
½
22
FM Sammour-Hasbun, Jorge
1.5
M
2463
2374
-0.59
0
0
1
½
0
23
FM Sevian, Samuel
1.5
M
2371
2361
-0.07
½
½
0
½
0
24
GM Arnold, Marc T
0.5
M
2538
2227
-1.63
0
½
0
0
0

Women

1
IM Krush, Irina
5.0
F
2470
2982
+1.17
1
1
1
1
1
2
WGM Abrahamyan, Tatev
4.0
F
2280
2526
+1.54
1
1
½
1
½
3
IM Zatonskih, Anna
3.5
F
2466
2427
-0.14
1
1
0
1
½
4
WGM Baginskaite, Camilla
2.5
F
2278
2246
-0.22
½
0
1
½
½
5
WIM Zenyuk, Iryna
2.5
F
2243
2278
+0.23
1
0
1
0
½
6
WGM Foisor, Sabina
2.0
F
2300
2141
-1.08
0
0
0
1
1
7
WGM Belakovskaia, Anjelina
2.0
F
2263
2247
-0.14
0
1
1
0
0
8
WIM Ni, Viktorija
2.0
F
2262
2207
-0.41
½
½
0
0
1
9
WFM Kats, Alena
1.5
F
2144
2169
+0.10
0
½
½
½
0
10
WFM Chiang, Sarah
0.0
F
2098
1605
-1.05
0
0
0
0
0

All PGN Games (Men, Women)
Official Site: https://www.uschesschamps.com/live
Drum Coverage: https://www.thechessdrum.net/blog/2013/05/03/2013-u-s-championships-st-louis/