World Candidates 2013-1: Peaceful Beginnings
Round #1
Friday, 15 March 2013
Is this Vassily's last chance?
Photo by Ray Morris-Hill.
Preview: Tough matchups today with Aronian-Carlsen headlining the round. The two have played 32 matches with Carlsen on +3. Aronian lost to Carlsen at the 2013 London Classic before holding a draw in 2013 Tata Steel. He will be attempting to surprise Carlsen in the opening. Gelfand-Radjabov looks to be an interesting match with two fierce fighters unafraid to enter complications. Radjabov has a +4 score against Gelfand with four wins coming with black. In Ivanchuk-Grischuk, we have two of the most enigmatic figures in the field. The first three rounds will determine which Ivanchuk will show up… the world beater or someone who is unsure of his place in the field. This may be his last shot at the world title and while deserving, he will have to earn it. Consolation is that he has never lost to Grischuk. Svidler-Kramnik… interesting matchup. Svidler has a two game winning streak against Kramnik winning in the 2011 Tal Memorial and 2011 Russian Superfinal giving Svidler his 6th Russian title.
2013 World Championship Candidates
March 15th-April 4th, 2013 (London, England)

Round #1

#

Name

Flag

Rating

Result

Name

Flag

Rating

1.1
Aronian

2809

½-½

Carlsen

2872
1.2
Gelfand

2740

½-½

Radjabov

2793
1.3
Ivanchuk

2757

½-½

Grischuk

2764
1.4
Svidler

2747

½-½

Kramnik

2810

Games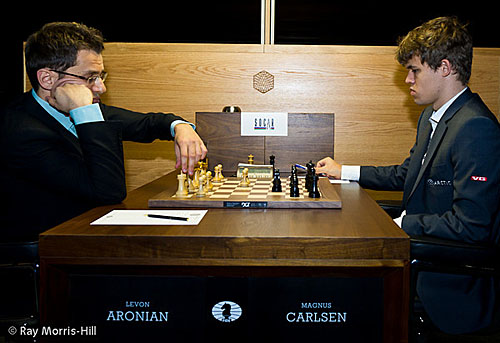 Aronian and Carlsen trot out opening moves. The battle was anti-climatic and drawn in only 31 moves. Photo by Ray Morris-Hill.
Overview: There were four draws in the first round of the World Chess Candidates as it appeared that no one took any real risk this early in the tournament. Svidler-Kramnik finished in a spartan 23 moves as the two repeated moves in a Grunfeld (without …Bg7). Aronian-Carlsen was the next game to finish shortly after the required 30-move limit for draws. Carlsen played a Bogo-Indian, deviating from the King's Indian that almost cost him a point at the Tata Steel tournament. The two waded the waters but made no real waves. Aronian's 17. a4 Qxb4 18. axb5 axb5 19. Qb1 forced a rather rapid liquidation and they shook hands at move 31. In another Bogo-Indian Gelfand-Radjabov had dynamic tension, but white was unable to make anything of his space. In Ivanchuk-Grischuk, white trotted out a Catalan variation, but got nothing substantial and black equalized rather quickly. GM Daniel King stated that it was a psychological strategy for everyone to get on the board.
Video by GM Daniel King.
Official Site: https://london2013.fide.com/
Photos by Ray Morris-Hill: https://raymorris-hill.smugmug.com/
Drum Coverage: https://www.thechessdrum.net/blog/2013/03/15/2013-world-championship-candidates-london/