Carlsen still holds lead at Tata '13
Magnus Carlsen maintains the lead at the Tata Steel Chess Tournament after eight rounds with +4. His combination of resourcefulness and determination leaves him undefeated, but he has many challenges forthcoming. Viswanathan Anand is a half-point out with 5½/8 with Levon Aronian and Hikaru Nakamura in joint third with 5/8 or +2. All of these players have had timely wins including Carlsen's win over Sergey Karjakin, Anand's two brilliancies and Aronian's 3½/4 after the first rest day. Nakamura has cobbled together a solid performance beating both Chinese players.
One of the amazing stories of Wijk aan Zee is the performance of Jan Timman, the 61-year old chess legend. Timman is on +3 and shares the lead in the "B" group with Richard Rapport and Sergei Movesesian. He has surprised many with the sharpness of his play. In the "C" a very fierce battle is brewing between Sabino Brunello and Fernando Peralta. Both have scored an incredible five wins and are currently locked into joint first on +5. Brunello has the easier field in the last five rounds.
Highlight from Round #5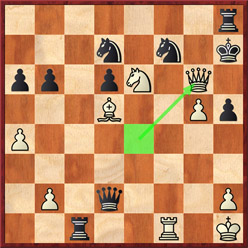 Harikrishna-Van Wely, white built up a strong attacking position and after 35.Bd5 was threatening demolition. After 37…Kh7 it appears as if black is wiggling away (diagram #1), but white squashed hopes of survivial with 38.Rf7+! Nxf7 39.Qxg6+! (diagram #2) It's mate after 39…Kxg6 40.Be4#. Very nice!
Standings after Round #8 (Group A)
1st: M. Carlsen, 6; 2nd: V. Anand, 5½; 3rd-4th: L. Aronian, H. Nakamura, 5; 5th-6th: P. Harikrishna, S. Karjakin, 4½; 7th-8th: P. Leko, F. Caruana, 4; 9th-10th: L. van Wely, H. Wang, 3½; 11th: A. Giri, 3; 12th-14th: I. Sokolov, E. L'Ami, Y. Hou, 2½.
Standings after Round #8 (Group B)
1st-3rd: R. Rapport, S. Movesesian, J. Timman, 5½; 4th: A. Naiditsch, 5; 5th-6th: D. Dubov, J. Smeets, 4½; 7th-9th: R. Edouard, S. Tiviakov, M. Turov, 4; 10th: R. van Kampen, 3½; 11th-12th: N. Grandelius, P. Nikolic, 2½; 13th-14th: A. Ipatov, S. Ernst, 2.
Standings after Round #8 (Group C)
1st-2nd: S. Brunello, F. Peralta, 6½; 3rd: D. Klein, 5½; 4th-5th: R. Swinkels, A. Kovchan, 4½; 6th-8th: K. Mekhitarian, H. Gretarsson, T.Burg, 4; 9th: O. Romanishin, 3½; 10th-11th: I. Bitensky, A. Goryachkina, 3; 12th-13th: M. van der Werf, M. Admiraal, 2½; 14th: L. Schut, 2.
* * *
Official Site: https://www.tatasteelchess.com/
Drum Coverage: https://www.thechessdrum.net/
Chessvibes (recommended for on site coverage): https://www.chessvibes.com/
Tata Steel (YouTube Channel): https://www.youtube.com/user/freshmenmedia/