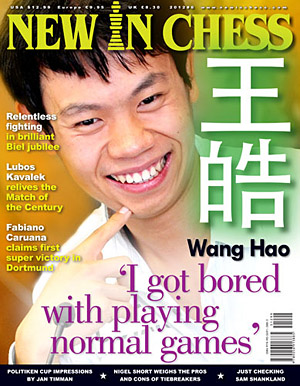 Wang Hao officially enters stardom gracing the cover of the latest New In Chess. While China is a rising power in chess, news on the rise of China is rather scarce. This story is a refreshing entry into news often dominated by the same faces.
Wang Hao is a phenomenon. Amongst China's 1.3 billion people, there is a very strong contingent of chess players the momentum is heading east. China is waiting for the big-time player to finally break the juggernaut of European domination and after the sensation of Bu Xiangzhi and more recently Wang Yue, no Chinese player has garnered the type of promise as Wang Hao. The friendly and unconventional player won the Biel Chess Festival over luminaries such as Magnus Carlsen, Hikaru Nakamura and Alexander Morozevich. In fact, Morozevich had to withdraw from the tournament to be replaced by Viktor Bologan.
This is the one of the strongest tournaments won by Wang Hao, but of course bias kicks in when chess fans complained about the football scoring which would have awarded Carlsen the victory. However, every player knew the rules beforehand and Wang Hao set out a strategy which resulted in "high-risk, high reward" chess. He tallied six wins, three losses (two to Carlsen) and only one draw. He was not playing the classical format which everyone else was. Carlsen went an undefeated four wins and six draws being edged by one point in the end. The issue has a number of very exciting games including Carlsen's crushing win with white over Wang Hao and Wang Hao-Nakamura in a Sicilian Polugaevsky… pieces flying everywhere.
The issue contains a very interesting interview of Wang Hao by Dirk van ten Geuzendam. It is strange that when asked about his future plans Wang is a bit coy in his answers saying that he does not know whether or not chess will be his path. He admits that he had to change the mode because he was not enjoying chess as much, but during his university studies he places great importance on socialization and making new friends. He was seen at the Istanbul Olympiad wading rather easily with all types of chess players conversing well in English.
What will happen after he finishes his studies in 2014 remain vague to him. "That is the question. I may not necessarily work in advertising. I have other interests as well. We'll see. When I look at it now. I may still opt for chess. Because right now I don't see what other job I could do where I can make good money."
This issue also has a very interesting story Fabiano Caruana's first supertournament win in Dortmund just shy of his 20th birthday. The American-born Italian features a very nice win over the unconquerable Vladimir Kramnik.
Speaking of American prodigies, the magazine features an interesting art on Bobby Fischer as has become a tradition as of late. Lubomir Kavalek, a Fischer contemporary wrote about the 1972 World Championship match in Reykjavik, Iceland and some of the intriguing political dynamics behind the scenes. There was the usual discussion of the Soviet pressure on Boris Spassky, but a lighter part speaking on Fischer's love for soul music.
"I like mainly soul groups," he said. "What they call the Motown Sound. Stevie Wonder, The Four Tops, The Supremes, The Temptations, Marvin Gay(sic). I also like the Beatles, Bob Dylan. I have a tremendous selection."
Fischer's favorite tune?
"All kinds of tunes from the Temptations like 'Get Ready' and others. Or 'Yesteryou, Yesterme, Yesterday' from Stevie Wonder."
Other interesting stories in this issue are Hou Yifan's turn to form after winning the FIDE Women's Grand Prix, Nigel Short's provocative article titled, "Symbiosis". He provides his views on the draw question that has dogged the game for decades… a debate he carried into the General Assembly in Istanbul. In fact, he writes about the Wang Hao victory in Biel as an example of why efforts at preventing draws have their inherent flaws. He makes a compelling argument in his essay… a must read.
CONTENTS
NIC's Café
Your Move
Wang Hao's sixpack
Interview: Wang Hao
Dortmund King Caruana
'Get ready, 'cause here I come'
Hertan's Forcing Moves
Hou Yifan wins FIDE Grand Prix
Symbiosis
Be prepared!
Through the Luking Glass
Dancing dervish
A fine tradition
Just Checking
Link: https://www.newinchess.com/New_In_Chess_2012_6-p-483.html