2012 Chess Olympiad: Round #11
Top Boards (Open)
Ukraine 3-1 China
Hungary 1½-2½ Armenia
Russia 3-1 Germany
Poland 1½-2½ USA
Argentina 1-3 Netherlands
GM Levon Aronian. Photo by Daaim Shabazz.
Armenia wins their third gold in the last four Olympiad as they stormed to victory over Hungary. Matched with China's devastating 3-1 loss to the Ukraine, Armenia edged Russia on tiebreaks. Russia was trying to sneak into the gold position, but their 3-1 throttling was not enough. This makes the second silver for Russia and the the gold drought continues since 2002.
Levon Aronian lead Armenia with 7/10 and 2849 performance. Vladimir Akopian got 7½/10 with 2803 performance. It appears that the winning formula for the gold is having at least players with 2800 performance. Armenians will be celebrating once again and the rich simply get getting richer.
China's collapse repeats some of their famous falls in recent team events and they fell short once again. In today's match, they fell behind quickly after Wang Hao was totally destroyed by Vassily Ivanchuk. Black was actually facing mate with his king in the middle of the board. Devastating loss for China had scored the important win over the USA.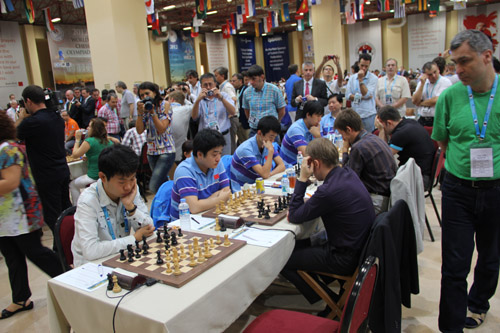 China suffered a devastating loss at the hands of the Ukraine and "Vassily the Vanquisher" (right). Ivanchuk crushed Wang Hao mercilessly.
The USA was edged out of medal contention and came in fifth. According to Hikaru Nakamura, the USA had a good run with the Nakamura, Kamsky, Onsichuk and Akobian and they had put in a valiant effort losing only one match, albeit a critical match to China.
Medal Standings (Open)
GOLD-Armenia



SILVER-Russia



BRONZE-Ukraine

Armenia… 2012 Olympic Champions!
* * *
Top Boards (Woman)
Russia 4-0 Kazakhstan
Bulgaria 1½-2½ China
Ukraine 3½-0½ Germany
France 1½-2½ India
Poland 1½-2½ Armenia
Russia came from behind to win their second consecutive gold medal with a 4-nil flogging of Kazakhstan. Kazakhstan had played China to a 2-2 draw and there was some caution in facing this tough team. In the press conference Russian captain stated that Kazakhstan is underrated and have played strongly in other events. The comment made was that Russia had strong players at every board and that no other team matches this formula. This can be debated since Russia had the same team while losing to China 4-0 in the World Team and also missing the gold.
China could only scrape by Bulgaria narrowly allowing Russia to slip by for the gold. China showed a somber mood at the closing ceremonies at both teams were shut out of team medals. Photos by Daaim Shabazz.
On the other hand China did almost everything right, but the could not get past the pesky Kazakhstani team and they would have to face a tougher Bulgarian team in the last round. Ju Wenjun lost badly to an opponent rated 247 points lower, but China was able to win on boards two and four. The one-point victory was not enough and Russia got by on tiebreaks. Finally the Ukrainian women beat Germany 3½-½ to slip into the bronze position matching their male counterparts.
Medal Standings (Women)
GOLD-Russia



SILVER-China



BRONZE-Ukraine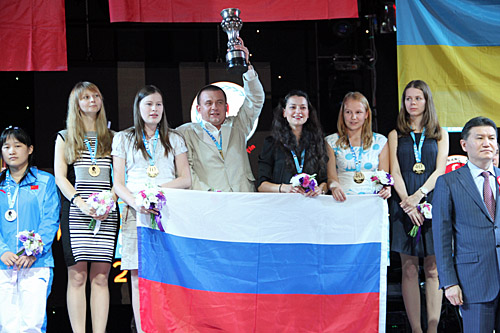 Russia… 2012 Olympic Champions!
* * *