2012 Chess Olympiad: Closing Ceremonies
The 40th Chess Olympiad came to a close on Sunday evening as the medal ceremonies crowned a number of winners. The crowning moments came at the end when both the Armenian men and the Russian women climbed the podium for the gold. If this Olympiad has told us nothing else, we have seen the playing field leveling a bit. Many unheralded teams were able to nick much stronger opponents for as many as 1½ points. There was a time when strong teams could count on resting the top players in the first two rounds and winning 4-nil. No more. The individual board upsets are now taken into consideration because these points can be crucial later on. Nevertheless, the favorites were there in the end.
Armenia perhaps benefited from the bloodbath created between Russia-China-USA. Russia beat China… USA beat Russia… China beat USA. This allowed Armenia to slip through along with the Ukraine. China was in the lead after 10 rounds and looked sure to medal. The Chinese women were still in first place despite being held by Kazakhstan. However, disaster struck when the Chinese men were beaten handily by the Ukraine and the women won by the slimmest of margins against Bulgaria.
Turkish pop singer Sertab Erener put on an energetic performance.
While most of the chess crowd was subdued, there were some lively fans! 🙂
The ceremonies were well-done and featured the traditional remarks by officials including Ali Nihat Yazici, Kirsan Ilyumzhinov and a stunning performance by Turkish pop star Sertab Erener. She did a mini-concert showing wide versatility in her musical talent. Many in the crowd were appreciative, but chess crowds tend to be a bit reserved. Erener sashayed about the stage in a evening gown and even came off the stage to interact with FIDE's top brass.
The Category prizes were first, but no one has been able to give a good explanation of these awards. They are based on rating blocks. The USA seemed surprised to received such an award and I heard muttering, "What are we going up here for?" Nevertheless, the lower categories were pleased to receive these awards. The continent of Africa started the evening with Nigeria, Ethiopia and the Sudan taking Category E for the open section and other categories are found for both Open and Women.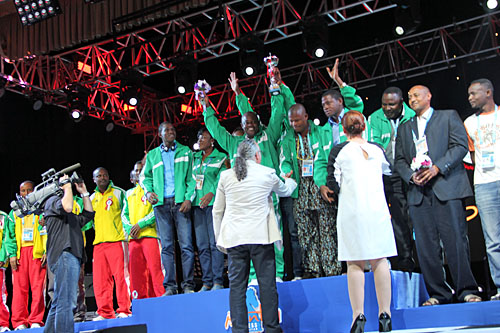 While Ethiopia had arguably the best uniforms… Nigeria took the prize in Category E with Ethiopia and the Sudan getting silver and bronze. African nations had what was the most successful Olympiad in recent years.
Team Prizes
Category A
(Men: China, USA, Netherlands; Women: India, Romania, Armenia)
Category B
(Men: Sweden, Denmark, Philippines; Women: Iran, Belarus, Uzbekistan)
Category C
(Men: IBCA, Turkey 2016, Paraguay; Women: Indonesia, Mexico, Venezuela)
Category D
(Men: Puerto Rico, Tunisia, Algeria; Women: Tajikistan, Turkey 2016, Malaysia)
Category E
(Men: Nigeria, Ethiopia, Sudan; Women: Chinese Taipei, Nigeria, Thailand)
IM Tania Sachdev of India won a gold for 9.5/11 on board #3, but also got some unofficial honors in the beauty department.
The board prizes are again based on performance ratings which favor the top players. It is now impossible for a player from a lesser nation to win an individual medal because his/her rating will be to low and the competition will not yield a high performance. However strength is relative. While a GM may look at a 2000 player with an 8/10 score and say "they beat weaker players" those players are not weak for them! They are playing within their strength level.
A player of GM caliber is expected to have a high performance against other GMs, but why is it not possible to honor a player from a weaker nation who may have scored a prodigious 9/10 or 10/11 against his own peers? In the 2002 Bled Olympiad, IM Robert Gwaze scored 9/9 and 2600 performance, but that score would not have received any mention today. However, this is what Garry Kasparov and the GMs want… more honoring of professional players… and less honor for obscure nations. Is this what the Olympiad is about?
The best performer of the 2012 Olympiad was Azerbaijan's Shahkriyar Mamedyarov with 8.5/10 for a 2880 performance on board #3. David Navara of the Czech Republic got 9.5/11 for 2869 on board #2 and Levon Aronian of Armenia who scored 7/10 with a 2849 performance on board #1. For the women it was Kosintseva Nadezhda with 8/9 and a 2693 performance on board #3. Hou Yifan scored 6.5/9 with a 2645 performance on board #1 for the gold medal.
Levon Aronian draping himself in Armenia flag as an admiring Hou Yifan looks on. Both won gold medals on board #1.
While China had a number of individual medals, it was apparent that they were not happy with their performance. The men did not appear for the top Category A prize and while the Chinese women congratulated Russia in a show of class, they jumped hurriedly from the silver podium before group pictures could be taken. It was a somber mood in the Chinese camp. Nevertheless, China's day is coming and it will not be long before they put together a Soviet-style run of gold medals not seen in decades.
Armenia… 2012 Olympic Champions!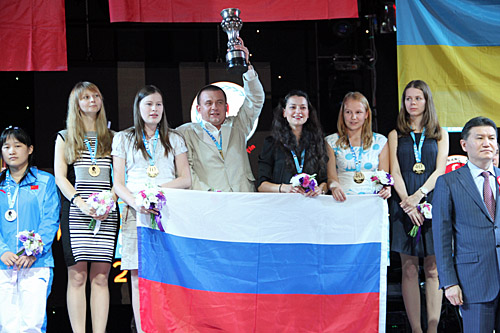 Russia… 2012 Olympic Champions!
It was a very interesting Olympiad with many nations such as Vietnam, Philippines and Cuba increasing their positions. African nations also scored many board upsets and took home honors and FIDE titles. The world is catching up in chess… and that is a good thing. GENS UNA SUMAS!
All photos by Daaim Shabazz, The Chess Drum.