Jamaica's 'Magnificent Chess' making mark!
If you have ever been within earshot of Ian Wilkinson at a chess event, you would believe he was discussing a delicious dessert of a five-course meal. He speaks with the passion of a connoisseur, historian and a most notably, a rabid fan. Wilkinson has decided to take his passion and spread it on the island of Jamaica. His "Chess-in-Schools" initiative is one that he sees can make an impact far beyond the sporting element. He is attempting to shift the focus of chess as a social and educational catalyst with his organization, Magnificent Chess Foundation.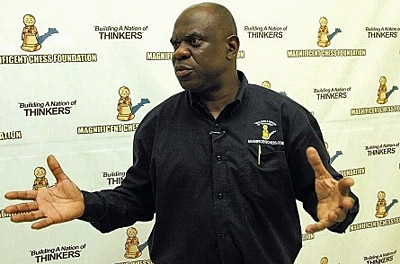 Attorney Ian Wilkinson explaining his vision.
Photo by Joseph Wellington.
The Jamaica Observer ran an article by Vernon Davidson about Wilkinson's vision which included a tour of his facility. Looking smart in his black oxford shirt with Magnificent Chess logo affixed, Wilkinson was asserted,
We at the Magnificent Chess Foundation are building a nation of thinkers in Jamaica, and we'd like to extend it to the Caribbean because we realise that this is the way forward to economic development and a great way of life for the Caribbean people. At the end of the day, life is about thinking, and if you can't think, you can't progress. It's as simple as that.
A class in rapt attention in one of the sessions.
Photo by Joseph Wellington.
What is amazing is not that Wilkinson has done this out-of-pocket, but that he balances the gargantuan taks with being a husband (to lovely wife Shawn Steadman Wilkinson), father, President of Jamaican Chess Federation and the President of Jamaican Bar Association. His efforts have reached 30 schools islandwide. Wilkinson is realistic about what chess can do and cannot do, but stated that the success stories yield much more value than any financial incentives. He is looking for sponsors to help further the initiative.
Read article in Jamaican Observer!