Update on the Young Lions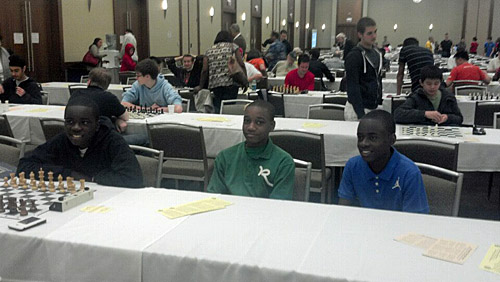 National Masters Justus Williams, James Black, Jr. and Josh Colas
Photo by Guy Colas.
Coming off of credible performances at the Chicago Open and heading into the the summer circuit of tournaments, three young scholastic stars seem to be coming of age in the U.S. chess scene. Justus Williams (14), Josh Colas (13) and James Black, Jr. (13) have all been developing in virtual lockstep for the past several years and all three have virtually the same rating.
All have desires to be Grandmasters and if one takes a look at their games, it is obvious that the talent is there. All have bolted to the top of scholastic chess winning national titles and representing the country in international competitions. Now the stakes are higher and the young stars are vying for title norms.
Justus Williams (2343) has been in the news lately leading his school I.S. 318 to national championships in both the Junior High and High School competitions. He scored 5/9 in the Chicago Open including a sparkling win against IM Vishnuvardh Arjun. He will take his talents to Bronx School of Math and Science in the fall. (see Williams @ Chicago Open)
A week earlier Josh Colas (2345) had beaten GM Mikheil Kekelidze (2664) at the Marshall Chess Club so he was in form. At the Chicago Open, he was going for an IM norm. In the last round, he needed to be paired and win against a 2450+ player. Unfortunately, he didn't get the pairing. Nevertheless he scored 50% against an all-titled field for a performance of near 2400. (See Colas @ Chicago Open)
James Black, Jr. (2349) was also a member of I.S. 318 has collected an impressive slate of national individual titles. His blitz prowess is well-known, but he has improved in other facets of play. He got the chance to play GM Michael Adams, losing a thrilling battle! He ended on 5/9 at the Chicago Open and his last-round crush of IM-elect Farai Mandizha shows promise. (See Black @ Chicago Open)
Upcoming tournaments the three may compete in are New York International, Philadelphia International, World Open and DC International. All are norm opportunities. While it is not known which of the tournaments the three will participate in, all three will most likely be competing in the World Open, the biggest stage for U.S. chess.