"Drum Beat" Vol. 1, No. 5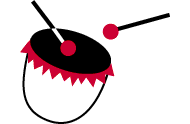 In the fifth "Drum Beat" segment (June 7th), we present a special issue highlighting the World Championship and its aftermath. We will discuss the match, the result, the reaction and the response from the champion, Viswanathan Anand. One may argue that Boris Gelfand had the better preparation.
There were a number of different comments made during and after the match criticizing the spirit of play. Garry Kasparov, Vladimir Kramnik, Peter Svidler, Gata Kamsky, Nigel Short and Suat Atalik were amongst the Grandmasters making critical comments about the match. A few are recounted here.
The World Championship ended on May 30th and apparently got superb organization and widespread media attention. The official website was able to provide timely reports with accompanying videos and excellent photos.
Check out the entire segment below (31:50 minutes). Enjoy!!
Drum Beat (Vol. No. 5)