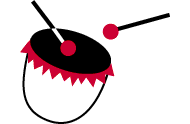 In the fourth "Drum Beat" segment (May 7th), we present an extended issue highlighting the U.S. Championship, the World Championship and upcoming tournaments. The latest news on The Chess Drum include the national championships of IS-318 (Brooklyn) in both the High School and Junior High and also a historic visit by Magnus Carlsen. The team is currently the subject of a documentary titled, "Brooklyn Castle". There are other stories covered such as the newly-launched ACE magazine out of Trinidad. It is a vehicle for highlighting news in the Caribbean region.
We visit a number of other sites including "The Full English Breakfast" and checked the summer calendar of U.S. tournaments. There are several strong tournaments on tap. We browse Twitter and get the latest scoops! On Facebook, we visit a couple of groups to get morsels not found on main websites. Facebook and Twitter seem to be the quickest way to get information out.
The World Championship which starts in two days on May 10th. The official website has been released as well as the world championship cycle on the FIDE site.
Check out the entire segment below (26:36 minutes). Enjoy!!
Drum Beat (Vol. No. 4)
One Response to ""Drum Beat" Vol. 1 No. 4"
You also over-counted the number of countries chess tourist, Sergey Tiviakov, has visited 🙂 Yesterday, on FB, he told me the number was "about 75" – still someway behind my 99 (I will make in my century in Peru later this month) 🙂

Nigel.
On 12 May 2012 00:16, Daaim Shabazz wrote:
Nigel,

In the segment where I mention your Africa article on ChessBase, I think I undercounted your visits to Africa. Anyway, interesting interview!

Good job in Moscow!

Daaim
Leave a Reply!