The Rise of 'Asian Dragons', Part 3
For centuries, Europe has dominated the tables of chess. Over the past 20-25 years, the balance of power has slowly turned eastward. Europe remains the center of chess with its elite tournaments, professional leagues and stellar conditions. However, "Asian Terror" is beginning to take the world by storm as the charge is led by World Champion, Viswanathan Anand and followed by a large contingent of talent notably from China, India, Vietnam and the Philippines.
Viswanathan Anand – World Champion
Photo by ChessBase.com
Each of these nations have produced world-class talent and have young juniors who are first-class. Looking at the four top Asian countries we will take a quick survey:
CHINA



China has produced five 2700-level players and is now led by the atypical Chinese Wang Hao who plays more swashbuckling chess and is now sitting on 2733 ELO. Li Chao has risen rather quickly and has recently broken the 2700 barrier making him the fifth Chinese to do so.
Wang Yue is a fixture of elite tournaments and is incredibly tough to beat. He recently climbed back over 2700 after suffering a slump. It seems like yesterday that Bu Xiangzhi became the world's youngest Grandmaster, but that was more than a decade ago! Ding Liren (2660) is a two-time national champion and Yu Yangyi also waiting in the wings.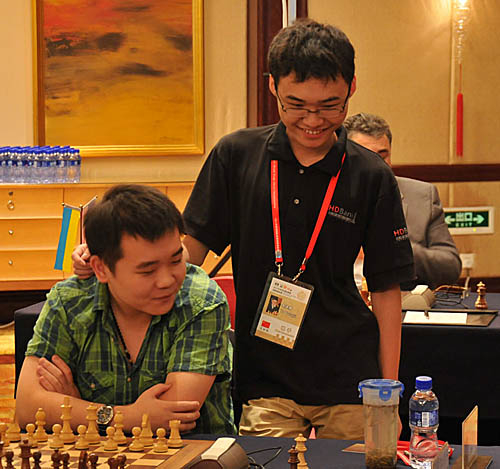 Yu Yangyi being encouraged by Li Chao. Cameraderie is one of the recipes of traditional success for China. Many of these players evolved as schoolkids together. Photo by Wang Liang, sports.sina.com.cn
The Chinese women have thoroughly dominated women's chess in the past 20 years with five World Champions (Xie Jun won twice, Zhu Chen, Xu Yuhua, Hou Yifan), four Olympiad gold medals (ten medals out of last eleven Olympiads… four gold, two silver, four bronze), three consecutive gold medals in World Team. They also have a talented core of players led by Hou Yifan who at 17 is the reigning women's champion. She recently defeated Judit Polgar at Gibraltar putting an exclamation mark on her crown.
GM Hou Yifan along with other top finishers (WGM Ruan Lufei, GM Koneru Humpy, GM Zhao Xue) with Dr. Lutfu Savas (Mayor of Antakya), Ali Riza Tütüncüo?lu (Director of Youth and Sports of Hatay), Kirsan Ilyumzhinov (President of FIDE) Ali Nihat Yacizi (President of Turkish Chess Federation) and hostess. Photo by wwcxc2010.tsf.org.tr.
Zhao Xue is back in form and Ju Wenjun continues to improve rapidly and is now the #2 Chinese woman. While Russia, Georgia and Armenia are still competitive nations, the Chinese appear to have an abundance of rising talent and is able to field a number of combinations for team events.
INDIA
Spurred by the pioneering efforts of Anand, India is a certified chess power. Holding the World Championship and the third highest-rated women's player, they are poised to make a dent in the upper echelons of chess. The nation has only one bronze in the Men's World Team, but has garnered a number of individual accolades including World Champion (Viswanathan Anand), World Junior Champion (Anand, Pentala Harikrishna, Abhijeet Gupta), World Girls Champion (Humpy Koneru, Dronavali Harika, Swaminathan Soumya).
GM Krishnan Sasikiran
Photo by Daaim Shabazz.
While Krishnan Sasikiran is back over 2700, Pentala Harikrishna is hopes to reclaim the 2700 plateau. Surya Ganguly served on Anand's championship team and is still a solid player, but perhaps the new age will belong to players such as Parmarijan Negi, former World Junior Champion Abhijeet Gupta, G.N. Gopal and new sensation Baskaran Adibhan. India, along with China, routinely dominate youth tournaments and in 2008 took both the boys and girls World Junior titles.
GM Koneru Humpy
Photo by Anastasiya Karlovich for FIDE.
The Indian women are led by Humpy Koneru who still maintains the third-highest rating of all women and was once within 100 ELO points of Judit Polgar. Dronavali Harika, who recently earned her GM title, is over 2500 and is increasing her frequency in strong tournaments. She had a poor showing in Tata Steel tournament, but she is young and is a strong fighter.
VIETNAM



Asia is rising! Vietnam's Le Quang Liem and the Philippines' Wesley So represent a bright future in Asian chess. Photo by chessvibes.com
Perhaps the fastest rising nation in Asia. Le Quang Liem has catapulted in the upper echelons of chess in a short time frame. The 20-year old won the powerful Aeroflot Open (Moscow) two years in a row. While he had a recent setback to drop him below 2700, he will be ready to shine at the Olympiad. Vietnam had a couple of very strong juniors to make breakthroughs and will be a strong team for many years to come. Nguyen Ngoc Truong Son, 22, burst on the world scene and became one of the world's youngest Grandmasters.
PHILIPPINES
This country has quite a legacy in chess with the charismatic FIDE President Florencio Campomanes helping to spur a chess revolution in the country and secure the World Championship between Anatoly Karpov and Viktor Korchnoi in Baguio, Philippines.
Wesley So
Photo by Frits Agterdenbos, ChessVista.
Since then the country has produced 15 Grandmasters including a rising talent in Wesley So. Years ago, some felt that Mark Paragua was going to be the top Filipino for many years, but So has quickly become the sensation and earning the highest ELO (2674) in Filipino chess history. Other young talents include newly-minted GM Oliver Barbosa (22) along with GMs Julio Sadorra (now living in Singapore), Joseph Sanchez and John Paul Gomez.
---
Synopsis: Look for Asian countries to continue to push talent upward into the upper echelon. The fact that there is such a massive talent pool means that there will be bright talent shining through. Of course numbers are not everything (i.e., Armenia, Azerbaijan, Iceland). As far as individual talents, China seems to have the best program for harnessing the talent while India has corporate backing.
Vietnam has raw talent, but they are mostly left to their own devices as far as improvement. Since Eugenio Torre put the Philippines on the chess map, the country has produced quite a few notable players. Wesley So will break 2700, but the question is whether he will have sustained improvement or end up stagnating as so many players seem to do.
One thing that is certain… Asian chess is rising and while Europe will remain the center for the time being, major tournaments will become regular and in perhaps 10-15 years Asian will be the centripetal force in the growth of chess. Major tournaments are already poised to move eastward. Stay tuned!
---
"The Rise of the 'Asian Dragons', Part 2," 2008.
"The Rise of the 'Asian Dragons'," 2001.
---