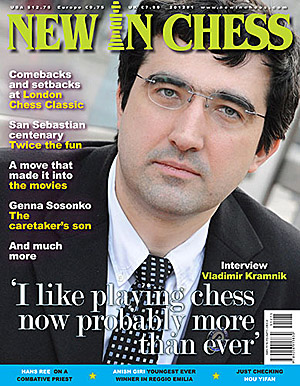 The latest New In Chess has the likeness of Vladimir Kramnik on the cover and included a lengthy interview. Kramnik weighed in on his future, views on Garry Kasparov, the future of chess and Russia's hope to reclaim its dominance. The eight-page interview makes for excellent insight into the Russian icon.
Hikaru Nakamura's break with Garry Kasparov was breaking news in the last few months given the fanfare in which it originally announced.
Nakamura seems to have bounced back from a poor showing at the London Chess Classic with a solid result at the Tata Steel Chess Tournament. His relationship with an unlikely trainer in Kris Littlejohn is one of intrigue since this may be the first time that a top ten player has relied on a non-professional player.
Nakamura explained, "Kris and I communicate very well and are very much in sync, whereas with Garry I feel we were never really on the same page."
In the article, there was the implication that Kasparov may have been a slavedriver and difficult to please. There has also been Nakamura's admitted mistake of skipping the U.S. Championship at the advice of Kasparov. By all accounts, Nakamura began his turnaround almost immediately and finished strongly in Wijk aan Zee.
There is also a very interesting story on Tigran Petrosian showing his most human side. The article title, "The Caretaker's Son" was a fascinating look into the life of the former World Champion. The article was not so much about chess as it was about the personality that made a chess champion.
CONTENTS
NIC's Café
Kramnik Lets England Shake
Interview Vladimir Kramnik
A Move that Made it into the Movies
Two Games and Twice the Fun
Don't Fear the Reaper
The Caretaker's Son
Hertan's Forcing Moves
The Art of the Composer
A Combative Priest
Jan Timman
Just Checking
Preview: https://www.newinchess.com/New_In_Chess_2012_1-p-478.html