Hip-Hop Chess kicks off 2012!
FOR IMMEDIATE RELEASE
Meko Gaborski
(323) 335-4497
---
Rapper Asheru from Boondocks & MMA Fighter Ralek Gracie Team with Hip-Hop Chess Federation for Nonviolence

HHCF Celebrates 5 Year Anniversary With Youth Tournament, Jiu Jitsu Exhibition and Live Performances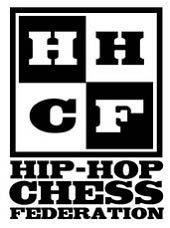 January 4th 2012- San Jose, CA – The Hip-Hop Chess Federation (HHCF) is proud to announce it will be hosting its 5 year anniversary youth chess tournament February 11th, 2012 at the Alum Rock Youth Center in San Jose, CA. Entitled V-DAY, the event is to honor thier five year anniversary, as well focus on life strategy themes like, Victory. HHCF founder Adisa Banjoko stated, "A lot of people have no idea what a gifted, competitive chess community we have in the Bay Area. It's a perfect storm of good organizations, great kids and dedicated coaches, many of whom have been crucial to the HHCF's growth," Banjoko continues "Expect V-Day to be a powerful fusion of chess gaming, jiu jitsu exhibitions and epic panel discussion. Kids, parents, educators and rap fans will be buzzing all over."
In addition to the youth chess tournament, there will be separate jiu jitsu workshops for youth and adults by Heroes Martial Arts instructor Alan "Gumby" Marques. At the conclusion of the workshops there will be two jiu jitsu exhibition matches. Additionally, for the first time ever, an HHCF event will host LIVE PERFORMANCES. The full line up will be announced shortly!
---
"On V-Day, the HHCF celebrates the children who love the immortal game of chess and our friends who have supported us for the past 5 years!"
---
The HHCF has attracted a lot of attention in the press for its outreach to at-risk youth. By being the worlds first organization to fuse music, chess and martial arts to promote unity, strategy and nonviolence they have caught a global buzz. Some of those news outlets include Good Morning America, New York Times, Rolling Stone, Los Angeles Times, SF Chronicle, KALW, XXL and Vibe Magazine.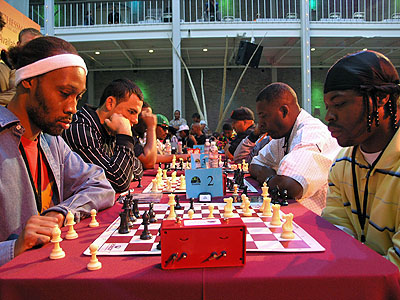 Ralek Gracie is scheduled to participate in "V-Day". Gracie is seen playing GZA (center). RZA beat Monk to win the HHCF King's Invitational in 2007. Photo by Daaim Shabazz.
Special guests for V-Day include rapper Asheru, known around the world for the Boondocks Theme Song as well as MMA fighter Ralek Gracie. Asheru is also founder of Hip Hop Education Literary Program (HELP) in Washington DC and a respected scholar of urban education. "I'm excited to come out and be a part of it," said Asheru. "I love the idea of coming from the East Coast and share ideas with my friends out West. I hope to be able to exchange some concepts and bring some things back to the kids I work with here in DC."
MMA Fighter Ralek Gracie is the grandson of the founder of Gracie Jiu Jitsu. Outside of his fighting career, Ralek has promoted his families Bullyproof anti-bullying program and just released his solo rap debut album, "Ginagi."
"I learned about HHCF through my friend and jiu jitsu student Rakaa Iriscience from Dilated Peoples. I had a great time playing chess and exchanging philosophical ideas with Adisa, RZA and Josh Waitzkin. Enriching the youth is very important to my family."
Ralek Gracie will host a jiu jitsu seminar at Heroes Martial Arts the night before V-DAY in San Jose. For those interested in attending, contact Heroes Martial Arts at (408) 288-8857.
V-Day, like all HHCF events will be FREE to the public and an all ages event. HHCF tournaments are frequented by families from all over the state. There is a small fee for those interested in participating in the Rated Chess Tournament. The Alum Rock Youth Center is located at 137 N. White Rd. in San Jose, CA. A full schedule of the days events will be posted shortly at www.hiphopchess.blogspot.com or follow HHCF on twitter @hiphopchess. "On V-Day, the HHCF celebrates the children who love the immortal game of chess and our friends who have supported us for the past 5 years!"
Registration online for the V-Day chess tournament opens January 6th 2012, 5 PM PST at www.hiphopchessfederation.org

ABOUT HHCF: The HHCF is the worlds first organization to fuse music, chess and martial arts to promote unity, strategy and non-violence. The HHCF currently operate out of the San Francisco Bay Area and Romania ( Yunus Ionut). They have hosted events to promote peace that have included RZA and GZA from Wu-Tang Clan, Josh Waitzkin, Ryron Gracie, Rener Gracie, Ralek Gracie, author Marylin Yalom, Immortal Technique, Conscious Daughters, Def Poet Amir Sulaiman, DJ Pam The Funkstress, T-Kash, Daaim Shabazz, Casual, Opio and Tajai of Hieroglyphics, Zion I, Balance, Rakaa Iriscience, DJ QBert and Nancy Cartwright (the voice of Bart Simpson).
CONFIDENTIALITY NOTICE: This electronic message is intended to be viewed only by the individual or entity to which it is addressed. It may contain information that is privileged, confidential and exempt from disclosure under applicable law. Any dissemination, distribution or copying of this communication is strictly prohibited without our prior permission. If the reader of this message is not the intended recipient, or the employee or agent responsible for delivering the message to the intended recipient, or if you have received this communication in error, please notify us immediately by return e-mail and delete the original message and any copies of it from your computer system.
###