FOR IMMEDIATE RELEASE:
December 10, 2011
Zachary Ramsay, The Jamaica Chess Federation
Cameron Chess Open



When: Saturday 17th December, 2011 and Sunday 18th December, 2011.
Where: To be announced
Format: Six round Swiss open tournament
Schedule: Three rounds each day
Time Control: Open Section (1600 and over): Game in 61 minutes with 30 second increments on each move | Intermediate Section (1200 – 1599): Game in 80 minutes | Amateur Section (unrated to 1199): Game in 30 minutes
Registration: This will be possible until Friday 16th December. Players may register at the MAGNIFICENT CHESS FOUNDATION at 10 Swallowfield Road, Kingston 5. Registration will take place within the hours of 8:30 a.m. – 4:30 p.m. at the above address or at 968-0513/ 382-5449. Registration closes off at 4:30 p.m. sharp on Friday, 15th December 2011.
Late Registration: This will take place from 8:00 a.m. – 10:00 a.m. at the venue on Saturday December 17, 2011. Any player who uses the late registration option will not be paired for the first round. NO EXCEPTIONS! Late entries will not be permitted after round three. NB: Half (½) point bye available only for first round and will only be allowed after proper registration. "PROPER REGISTRATION" means paying the relevant fee in addition to completing and submitting the registration form within the time stipulated. ENTRY FEES: Players with international titles – FREE Females: FREE Adult males: $1,500 (Late Registration $2,500) Students/Juniors: $1,000 (Late Registration $2,000) NB: All players must be paid-up members of the Jamaica Chess Federation. MEMBERSHIP FEES: Adults: $2,000 per year Juniors: $1,000 per year
Guaranteed Prizes: To be announced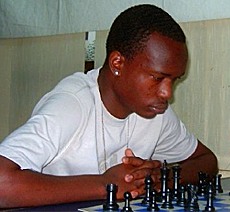 Damion Davy
Defending Champion and National Chess Champion of Jamaica
# # #
For more information, please send an email to jamaicachesspr@gmail.com and follow our website for further updates at this link: tinyurl.com/cszyex7

2 Responses to "2011 Cameron Open (Jamaica)"
on 21 Dec 2011 at 7:01 am

1

Andrew Kayonde

Who won the event? How many players participated in the event?

Not sure. I have not seen reports yet. I'm out of the country and Internet is expensive here.
Leave a Reply!