Chess has become part of Jamaica's island culture since the 70s and continues to make strides to bring chess to more of the 2.7 million inhabitants. Six-time national champion FM Warren Elliott is one of Jamaica's finest sons of chess and is embarking on a meaningful venture to pass the legacy onto the next generation.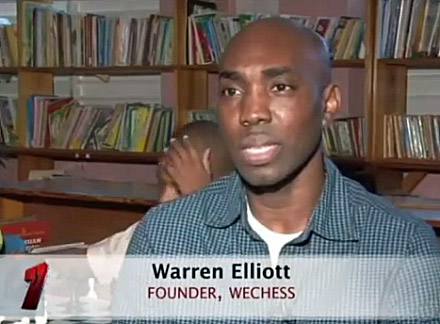 Jamaica's CVM TV ran a news segment on Elliott's organization, aptly called "WECHESS". Elliott approached Vaz Preparatory School five years ago with a proposal to have chess as part of the curriculum. Karlene Bisnott, the Principal at Vaz Prep, has seen an improvement in the learning attitude of the student. Many of the students lament on the benefits to aid in thinking and analytical abilities.
The Ministry of Education has also got on board with this new island-wide development. Elliott, originally from Montego Bay, is based in Kingston and plans to have activities throughout the island in order to revolutionize pedagogical framework for education.
3 Responses to "Warren Elliott's WECHESS featured!"
on 09 Dec 2011 at 3:58 pm

1

Kean Smith

Daaim, Warren is doing a fine job in Jamaica. The energy that he and Ian has brought to chess in our region is appreciated and continues to "bear fruit". Congrads!

on 17 Dec 2011 at 6:00 am

2

robert ali

daaim, there's a radio host, streaming, wbai. org. who is jamaican. he loves chess. i called in to his show to talk about youth in chess. he, habte selassie would like to interview the threeamigos plus one or two. james black et al. i think he would also like to talk jamaican chess as well as africa. his show: labbrish airs satmorning from 2-4am. of course taping is good for the youngsters. would you be in on it as well. there are no commercials the station is listener supported. and there's another hoston the station saida mcgarret her show sports qualified, did an interview on african american ice hockey leagues in nova scotia. she's a friend of sabio, (oxford gambit) as well

can we talk? :-)) bob ali sec'y kingsmen chess club

I suppose that is fine. I am leaving the country for a couple of weeks, so I will not be available. You can contact Guy Colas (father of Josh Colas) and he will get in touch with the other boys. Guy's e-mail is Guy Colas [gcolas@verizon.net].
Leave a Reply!