Warren Elliott's WECHESS featured!



Chess has become part of Jamaica's island culture since the 70s and continues to make strides to bring chess to more of the 2.7 million inhabitants. Six-time national champion FM Warren Elliott is one of Jamaica's finest sons of chess and is embarking on a meaningful venture to pass the legacy onto the next generation.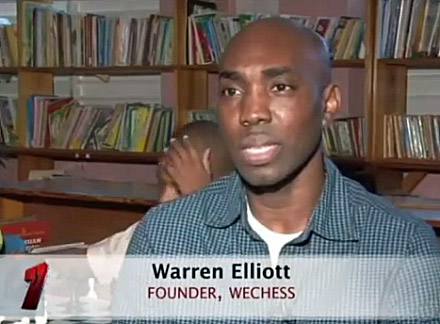 Jamaica's CVM TV ran a news segment on Elliott's organization, aptly called "WECHESS". Elliott approached Vaz Preparatory School five years ago with a proposal to have chess as part of the curriculum. Karlene Bisnott, the Principal at Vaz Prep, has seen an improvement in the learning attitude of the student. Many of the students lament on the benefits to aid in thinking and analytical abilities.
The Ministry of Education has also got on board with this new island-wide development. Elliott, originally from Montego Bay, is based in Kingston and plans to have activities throughout the island in order to revolutionize pedagogical framework for education.