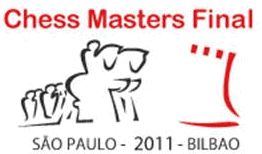 The Bilbao Chess Master Final will begin on September 26th with the first round. Six of the world's top Grandmasters with take part in a partnership event that will be divided between two venues… Brazil and Spain. The field features the 2800 trio of Magnus Carlsen, World Champion Viswanathan Anand and Levon Aronian plus World Championship qualifier Vassily Ivanchuk. Hikaru Nakamura and Francisco Vallejo-Pons round out the double round robin event which will invoke the Sofia Rules which includes the modified scoring of three points for a win and one point for a draw. The primary time control will be 40 moves in 90 minutes followed by 60 minutes with 10 seconds increment.
2011 Bilbao Grand Slam Masters
September 25th-October 1st, 2011 (São Paulo, Brazil)
October 6th-October 11th, 2011 (Bilbao, Spain)

Participants

#

Name

Title

Federation

Flag

Rating

1
Carlsen, Magnus
GM
Norway

2823
2
Anand, Viswanathan
GM
India

2817
3
Aronian, Levon
GM
Armenia

2805
4
Ivanchuk, Vassily
GM
Ukraine

2765
5
Nakamura, Hikaru
GM
USA

2753
6
Vallejo-Pons, Francisco
GM
Spain

2716

Official Site
Games: https://www.thechessdrum.net/palview5/grandslam2011.pgn
26 Responses to "2011 Bilbao Chess Grand Slam"
Leave a Reply!