Garry Kasparov in 2005 after retiring from professional chess.
Since Garry Kasparov bolted from FIDE, there has been the question of whether a player should be both the highest-rated player and the declared World Champion. Although Kasparov forfeited his official crown, he continued to have credibility as the world's strongest player and was able to stage a championship match against a hand-picked Vladimir Kramnik in 2000. Surprisingly Kasparov lost the controversial match while still at the height of his powers. Despite this setback, Kasparov's #1 ranking still held high credibility.
The debate resurfaced as Kasparov continued to dominate tournaments, but without the official title of "World Champion". While FIDE held the official championship, their staged tournaments did not have credibility because the community knew that Anatoly Karpov, Alexander Khalifman, Viswanathan Anand, Ruslan Ponomariov and Rustam Kasimjanov were not the strongest players at the time of winning the "FIDE World Championship". However, Tigran Petrosian was not considered the strongest player while he was World Champion. The difference was that he was part of a cycle where the strongest player competed.
While he had become the second player to reach 2800, Kramnik was certainly not the dominant player that Kasparov had been. Attempts at a rematch were unsuccessful. In frustration with the unification process and the Ruslan Ponomariov debacle, Kasparov abruptly retired after the Linares tournament in 2005. The chess world was still divided on who was the rightful holder of the World Championship. This was the second time Kasparov left the chess world.
In 2005, Veselin Topalov triumphantly hoisting his championship trophy in great splendor for all to see. Photo by ChessBase.com.
With Kasparov retired and the championship still divided, ratings seemed to carry tremendous weight. Veselin Topalov begin to gain more attention while winning every tournament in sight. Meanwhile, Kramnik's title was losing luster rapidly. He finally defended his title in unconvincing fashion against Peter Leko, needing a win in a last game to tie the match and keep the title.
Eventually, with Topalov rising, he eclipsed 2800 and bolted to the top of the FIDE rating list. As part of the ongoing negotiations to unify the FIDE cycle, a championship tournament was held with eight of the top players. Kramnik refused to participate since he felt the championship should involve a classical match.
Topalov won FIDE championship by virtue of his victory in Mexico in 2005. Thus the #1 vs. World Champion was still a very murky issue. Kramnik still claimed to be the rightful holder, but his rating had dropped to #5 on the FIDE rating list. A year later, Topalov had even scoffed at the idea of playing Kramnik because the rating difference.

There's a big difference in our ratings. In chess 60 Elo points means a different class altogether. If Vladimir was offered to play against someone 60 Elo points below himself he'd simply burst out laughing.
At this time, Kramnik was battling rheumatoid arthritis and was certainly struggling in tournaments. Despite the trash-talking, Topalov agreed to play Kramnik and lost in the famous "Toiletgate" match in 2006.
Topalov and Kramnik playing the famous 'Toiletgate' match.
Kramnik had then reclaimed the classical title, but he was still outside of the official cycle. Fast forward… after many negotiations, they decided to have a World Championship tournament in which eight players would vie for the world title.
Viswanathan Anand won the title in 2007 in Mexico and soon after eclipsed 2800 once again. HOWEVER, Anand's crown still was tainted since had never won the championship in the traditional match system. Kramnik even doubted the authenticity of his title even though Anand had followed all the rules set forth. It appears that both Topalov and Kramnik lacked the grace of Anand when they belittled accomplishments of their peers. However, the title was consummated when Anand beat both Kramnik and Topalov convincingly in separate matches to win the unified world championship.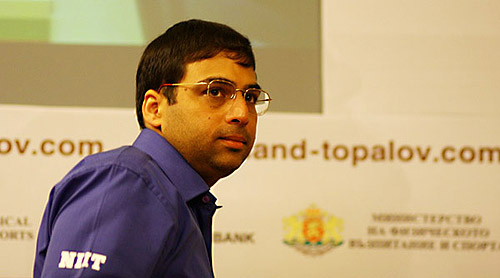 Anand during his match with Topalov in Bulgaria.
Photo by Europe-Echecs.com.
Today we have another shooting star in Magnus Carlsen, who held the number one spot for most of 2010 after winning tournament after tournament. However, he has not had the history of championship matches, nor has he been at the top of the list very long.
In November 2010, the Carlsen management team announced that he would not compete in the Candidates' Cycle. His decision has been met with a lot of criticism from fans and players alike. The reasons given by Carlsen's management team were based on Anand being seeded directly into the final as opposed to playing as a candidate as well. One speculation is that Carlsen's lack of match experience was part of the issue.
GM Magnus Carlsen, world's top-rated player.
Photo by ChessBase.com.
Who has the most leverage now… #1 or World Champion? While most of the top players had been critical, Teimour Radjabov has supported Carlsen's move with these statements,
I think that Magnus Carlsen was absolutely right to act as he did. He's number one on the world rankings, he's won a large number of super-tournaments (often with a big gap over second place), so he has the image of the strongest chess player in the world.
Does being the number one player give one that right ? In Kasparov's case, he was a dominant player, had held the championship for 10 years and was the #1 player for 20 years until he retired. Kramnik, Toaplov and Anand have been at the top of elite chess for decades and all have held some form of championship.
Currently, Anand has all the leverage having defended his title twice and having won in every format (knockout, tournament, match) and having followed all the rules of the cycle. It appears that one's lengthy tenure in the elite, past world championships and length of rating in the top five provides the most leverage. Carlsen has not yet reached this status.
Will Carlsen ever get a chance to face Anand in a World Championship? Photo by Gérard Demuydt (Europe-Echecs).
Many have stated that Carlsen was naive to leave the cycle and that his rating (only four points more than Anand) did not provide enough leverage to demand those actions. There were some very interesting discussions on several of the top chess sites including Daily Dirt and Chessvibes.
With the Candidate's tournaments coming in April, Carlsen will be watching very closely, but time will tell whether he will have his regrets for not playing. While many believe he has championship potential, there is no guarantee that he will be able to negotiate in the future having twice abandoned the process. His leverage seems to hinge on his number one status, but of course there will be many suitors vying for the crown.
6 Responses to "What Matters… Champion or #1?"
Interesting comment from Teimour Radjabov,

Besides, I don't consider ratings an absolute indicator of strength. In my opinion chess ratings are less important than the World Championship title, the number of super-tournaments won, the number of wins against super-grandmasters, and so on. Another indicator of a player's strength, of course, is consistently being in the top 10, the top 5 or the top 3 in the world rankings. At the moment, however, we're witnessing a high degree of rotation in the world top 10. A sportsman briefly makes the top 10, but then only a month later he's down to the top 30 and someone else takes his place. So the correlation between the true strength of a player and his live rating is now quite blurred. That's how I understand ratings. Many average chess fans, and tournament organisers, are in thrall to the magic of ratings.

Full English Breakfast #6

There is a brief discussion on World Championship Cycle including the Carlsen decision and the importance of his #1 ranking. The FEB is a new show with chess commentary and a bit of levity. Macauley Petersen is on the team with Stephen Gordon and Lawrence Trent.

https://www.chessvibes.com/announcement/the-full-english-breakfast-6-the-super-gm-cycle/#more-33901

Anand: Title over Ranking
https://www.dnaindia.com/sport/interview_prefer-titles-to-ranking-viswanathan-anand_1514331

on 15 Dec 2016 at 5:59 am

4

Tom

Winning tournaments (and the margin of victory) and winning a series of matches are two different things.

A player may be tremendous at winning tournaments with big scores, and so achieve a very high rating, yet may lose a match to a lower rated player that does not score so well in tournaments … perhaps because they are more likely to agree a draw with the tail-enders, or perhaps they don't win many games, but are almost impossible to beat!

Another difference is that in tournaments you encounter a variety of styles and opening repertoires, but in a match you meet one particular opponent and, irrespective of rating, they might play exactly the ttype of ches and openings that one finds difficult to handle.

For Topalov to say that 60 rating points advantage puts a player "in a different class" is complete nonsense, and makes him look stupid outside of his undoubted ability in playing chess. Even if ratings measured absolute chess strength (whatever that might be!) a 60 point difference predicts only that the higher rated player is likely to score 58%-42%. That hardly constitutes a difference of class, and lucky results in one or two games of a short match could see the "weaker" player winning.

It's an interesting question. If we fast forward five years, we see the #1 player holding the world title. Many would say this proves that Carlsen is the best. That is a good argument, but Karjakin held him in 12 classical games, so it becomes a bit more fuzzy. In fact, Carlsen is less than 20 Elo ahead of Caruana now. It appears Carlsen is losing a bit of interest after only a few years as World Champion. While he is still winning most tournaments, his match play against Karjakin was unimpressive. I believe his 2889 peak is a function of figuring out the small circle of players he plays. Note… during Olympiad tournaments he typically doesn't fare too well against lesser GMs. He seemed a bit more motivated at Baku Olympiad, but one wonders if Ponomariov's statements bear a tinge of truth in saying that Carlsen has stopped improving. I would only say that maybe he lacks some motivation. He needs a fire under his seat.

on 15 Dec 2016 at 12:42 pm

6

Guy

Tom's point begs for a second reading! The great Muhammad Ali was such because he had the ability to extinguish any type of boxer that came in front of him; Tall, short, muscular, brawler, etc. Without having that characteristic it is very difficult to become a world champion. Is Magnus really losing interest?
Leave a Reply!