The Chess Drum Beats in Africa!
On May 15th, I left Chicago's O'Hare airport for a long journey to Africa. I finally set foot in Africa on May 18th in Johannesburg, South Africa. My trip was delayed two days because of a passport issue. I finally got my passport corrected, boarded my flight and flew a smooth 15 hours over the Atlantic Ocean, Namibia and Botswana.
I was amazed at the wide variety of movies on the entertainment system. I settled for "Blind Side", "Fight" and Arabic language movie "Ameerika". I landed at Oliver Tambo Airport in Johannesburg at around 5:20pm and a driver came to pick me up. World Cup fever was in full force as the airport was festooned with all types of paraphernalia of the pending football tournament.
World Cup fever is everywhere in Africa!
After a 40-minute drive from the airport, I arrived at the Garden Court Hotel, a nice accommodation sitting across from the Nelson Mandela Court. Since I was delayed two days, my plans to meet with officials in CHESSA, the official federation of South Africa, fell through. I had informed Rista DeBeer of CHESSA that I would miss our scheduled meeting. I had intended on meeting International Master Watu Kobese, but it turns out he would be in Angola for BCI tournament. I did make contact with a Ph.D. classmate who has lived in South Africa for 12 years. That would be the only night I spend in the city.
My group consisted of thirty professors from around the U.S. on a "Faculty development Tour". They already had visits to Vodocom, Chamber of Commerce and the University of Pretoria. Before heading to Kenya, we visited Soweto, the Mandela Museum and the Apartheid Museum before catching the five-hour flight to Nairobi, Kenya.
Soweto is always a historic treasure to visit as there are many landmarks to commemorate the successful struggle against apartheid. This was my second time to South Africa and while I did not see the squatter camps this time, these landmarks are reminders that the struggle continues (a luta continua).
The flight to Nairobi was uneventful and we set down in Jomo Kenyatta International Airport at around 7:30pm. As we exited customs, we were met with a crush of people waiting for other travelers. After accounting for all 30 in our group, we boarded the vans and then set out on the dark roads of Nairobi. Artistically arranged billboards dotted the roads with the illuminated lights overhead. As a frequent traveler, I have learned not to spend time talking to fellow travelers instead of silently taking in the new scenery. Interesting view.
We arrived at the famous Stanley Hotel, reputed to one of the best accommodations in Nairobi. The lobby is one of the most important features of a hotel and the Stanley lived up to its billing. Prior to my trip I had posted messages on the Kenya Chess Forum and made contact with the chess players via e-mail. They stated that the hotel is in the middle of the commercial section and that I would be close to the chess club.
After a couple of grueling days visiting Kenyan businesses and traversing the streets of Nairobi, I arranged with some of the local players to visit the chess club. The days were very interesting as I was able to get an idea of the pace of Kenya. In one instance, I experienced the stifling Nairobi traffic. Once I got to the hotel it had begun to rain a bit. This means that traffic would intensify. There are so many potholes in Kenya that one has to be careful not to land in a water-filled crater. I finally made contact with the Kenya players and was picked up by Mehul Gohil and Kim Bhari during the rainy evening.
Daaim Shabazz signing a Wilbert Paige booklet for Githinji Hinga.
Daaim Shabazz with Mehul Gohil and Kim Bhari.
The club resided in an office building on the 2nd level and the room resembled a small lounging area. There were several tables arranged and there were players engaged in blitz battles. I presented club members with several copies of the Wilbert Paige Memorial booklet and dozens of monogrammed ink pens. After taking several pictures I played a round of blitz games with several players. The games were interesting apart from a few blunders and sluggish play on my part. I was well-received at the club and it was a wonderful evening.
On the next morning, we took a drive from Nairobi to Arusha, Tanzania. It was a tortuous road filled with massive potholes and in total disrepair. Our driver weaved as if he were navigating an obstacle course in a sports competition. Apart from the weaving and bobbing, the scenery was idyllic… beautiful plants and flowers, tropical trees, huge termite mounds and sights of the Maasai herding their cattle were common on the four-hour journey. There were stretches of the road that were paved with brand new black top. The Chinese have been making quite a bit of progress in improving the infrastructure and they could be seen on the road in their hard hats.
Idyllic view of mountains in Tanzania.
Arriving to Tanzania, we were shown Mount Kilimanjaro in the distance. It is a handsome structure that was partially covered by clouds on our Nairobi-Arusha drive, yet it yielded an imposing presence. We saw many of the beautiful man-made mud structures that are characterized in racist literature, but that are absolutely stunning and ingenious. We arrived in Arusha, but our hotel had a power outage on a few of the floors, so we have to change venue.
Tanzania is a country that shows a lot of character and not the typical commercialization that strips the cultural uniqueness. The streets were bustling and in the outskirts there were countless road markets. The country is very lush with all types of foliage, gardens on the roadsides and miles of coffee and corn plantations. In the city, there were hawkers everywhere and if you step out of the hotel, they were ready to sell you an array of overpriced souvenirs.
In one episode, one gentleman wanted to sell me a ski cap and and a bracelet for 55,000 shillings. Of course it is overpriced, but I told him I wanted the ski cap with the Tanzanian flag. He said 45,000 shillings. I asked him for a calculator and quickly showed him that the cap he was trying to sell me was about US$34.00. "That's not a good price," I told him. The same cap I can get for US$5.00 in the states. I eventually gave him 10,000 shillings (US$7.00) for it. The price haggling was good fun.
After spending the night in Arusha, we took a road trip to Ngorongoro. As we drove, the acacia trees were a staple in landscaping and children were seen fetching water and being industrious. There were also a number of schools off in the distance. The Maasai warriors were never too far out of view. We stopped for bathroom breaks, but many were urged not to photograph the locals unless permission was granted.
We finally arrived at the Ngorongoro Lodge which set on a coffee plantation. It couldn't help to think about my coffee plant of 19 years. The official at the plantation gave us a complete tour and explained the processing from nurturing the trees to the fermentation, drying and roasting process. Another connoisseur came and invited us to sample the different blends. The whole experience gave me a new appreciation of coffee.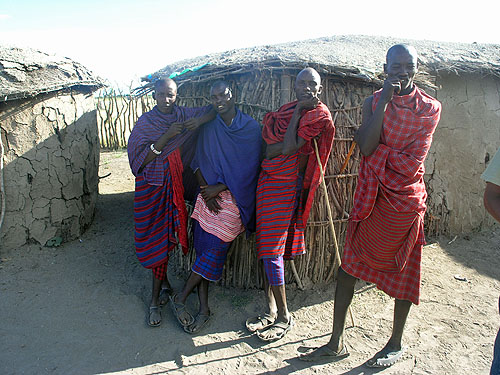 Young Maasai apprentices
The thing that I most remember about Tanzania is its greenery. There were plots of plants and flowers along the road for miles. Animals were grazing just short of cars and trucks whizzing past. We were sometimes stopped by a caravan of cows crossing the road. We visited a large coffee plantation and were given a tour of how coffee is produced from the tree to the roasting. We also visited a lush banana plantation which gave us an opportunity to understand why people in Africa sometimes live off US$1.00 a day.
There were rows and rows of banana trees at different stages of development. We also ran into other fruits such as passion fruit, papayas, avocados and limes. There were also a pumpkin patch and a rice plantation. We got quite an extensive explanation of banana processing and how they were harvested. While I knew about the nine-month gestation period for bananas, I never knew how they sprouted and that they bore a pretty, purple bulbous flower at the end of the stem.
We visited a volcano crater, the home of a abundant array of wild animals. We saw wildlife in all its magnificence… wildebeest, zebras, warthogs, gazelles, bucks, elephants, lions, cheetahs and baboons. The most exciting part of the trip was at the end when we climbed 4,000 feet back up the crater on a precipitous slope of mud. We stopped once or twice to get a fantastic view of nature's creation. However, there was nothing guarding us from a fatal tumble over the cliff. Nothing but a skillful driver. It was nerve-wrecking for some of the passengers as the wheels were only a few feet from the edge.
Stunning view of the crater!
On our second visit to an animal conservation, we saw a lot of giraffes and many of the animals mentioned. We rode by a colony of baboons and for about 10 minutes, we watched them socialize in their human-like ways. The giraffes were the most interesting and I was exposed to their "necking" ritual in which two males compete for a mate. On the third animal safari, we went on foot and came within 30 meters of animals. As we approached a herd of buffalo, they watched us closely for about 10 minutes. We were able to walk the trails of the animals and to see how they managed their habitat and co-existed. Fascinating!
Crested Crane, national bird of Uganda
On the walking safari, we came face-to-face with the animals.
No introduction is needed here. By the way, this was a zoom shot. I was definitely not fifteen-feet away. 😐
The handsome Superb Starling.
In this set of pictures to follow, I have chosen approximately 140 photos for this segment. The last set is dedicated to Tanzanian wildlife and nature. Links to all the pictures are also included if you'd like to take the time to view them. The total is close to 600. Enjoy!
Proceed to Photo Galleries
All photos property of Daaim Shabazz.