Reflections… Black History of Chess
February is deemed "Black History Month" for the celebration of important figures in African Diaspora. Originally "Negro History Week" the commemoration was created by Carter G. Woodson in 1926 who wanted to honor the accomplishments of Blacks. The month has primarily focused on those born in America, but there are those who extend it to the Diaspora. The Chess Drum is one such entity.
Chess is a venerable sport played by millions around the planet. There are different versions on the origins of chess, but what is undisputed is that the form we have accepted is enjoyed by all and has become the obsession of many. Long thought of as a game for a particular segment, there is growing proof that this version of the game has found appeal in practically every country and ethnicity.
For Blacks, the game has had appeal since the days of the Moors (711AD-1492AD) whose depiction is seen in many ancient transcriptions and paintings. However, in American contemporary times, James McCune Smith (born 1813), was the first Black chess enthusiast of note.
James McCune Smith
Perhaps known best for being the first Black in the U.S. to practice medicine, he wrote a poignant essay about his chess thoughts of the day. This example of erudition gave an account of the chess scene in those days and it was certainly an activity for the well-heeled socialites.
Since then, many Black pioneers have sat behind the 64 squares to engage in royal battle. Theophilus Thompson (born 1855) was a chess enthusiast who published a book of chess problems and has several tournament games on record including the famous game against Blood.
In the early 1900s, there was a man by the name of William E. Griffin, a Missouri-born chess player born in 1874. He had apparently achieved some tournament success and was featured in the February 1905 edition of American Chess Bulletin, these words were uttered by Griffin.
I play chess because of the pure intellectual discipline and high aesthetic pleasure which the game affords. I do not know a great many of my race who are devotees of the Royal Game. In this city, however, it is the favorite pastime of a certain class, but I am not familiar with conditions in other cities. Wherever I go I introduce the game and find that it is taken up readily.

~William Griffin on page 101 of The Rice Gambit by H. Keidanz (New York, 1905).
Griffin may not have known his predecessors and he probably would not have imagined how chess would take hold in the Black community. Fast forward to the 1950s. A young teenage talent by the name of Walter Harris placed 5th in the U.S. Junior Open with 6-3 and was the top Expert-class player in the 1959 U.S. Junior Championship (Omaha, Nebraska). Shortly thereafter Harris became the first Black national master in the U.S.
---
"… adventurous hearts are ten times bigger, but my head was ten times bigger."
~Walter Harris after loss in 1959 U.S. Open
---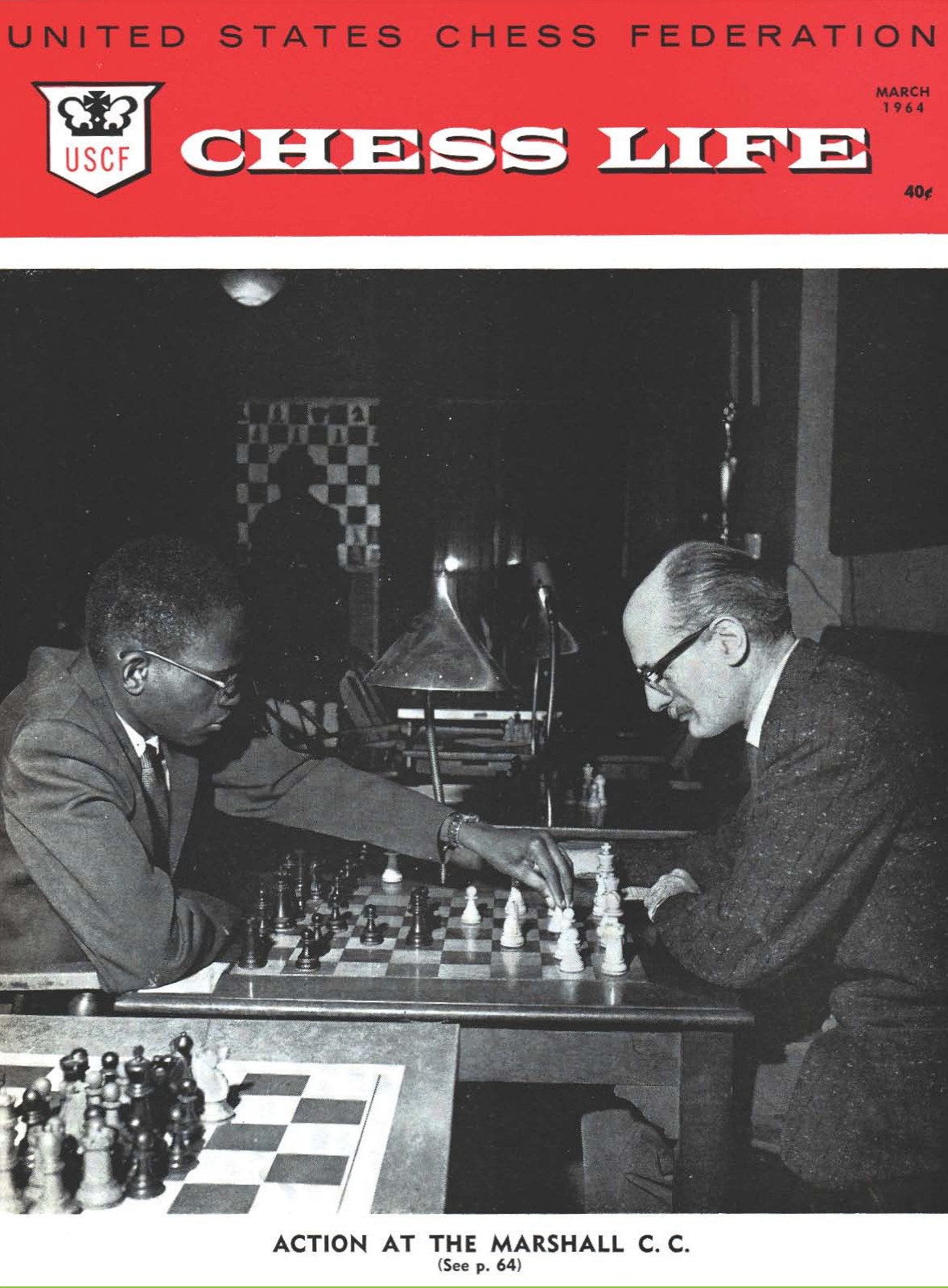 Walter Harris
1st Black National Master
It is ironic that Harris told The Chess Drum in a 2004 interview, that his prize-winning 7-5 result was actually a failure because he started out 7-2 including a win over Raymond Weinstein. After losing to IM James Sherwin, he lost to IM Dr. Hans Berliner after declining a draw. Harris stated that, "adventurous hearts are ten times bigger, but my head was ten times bigger" alluding to the fact that he was overconfident.
It is interesting to note that Harris played in the 1959 U.S. Open with another giant in Black History. Rogelio Ortega, the Afro-Cuban national champion of 1966 was also playing in the 1959 U.S. Open and scored 8.5/12. To this day, there is an annual Rogelio Ortega Memorial tournament held in Havana.
Polanica-Zdroj, 1967. Seated (L-R): Furman, Flohr, Euwe, Uhlmann, Hort. Standing (L-R): Arlamowski, S. Witkowski, Graetz, Horbacki, Orbaan, J. Schmidt, J. Adamski, R. Ortega, Kalarow, Filipowicz, Suttles, Liebert, Sliwa, Kuszewski, Kozlowski, Kostro, Turski.
It would not be until the late 21st century that we would see our first Black Grandmasters. Maurice Ashley (USA), Pontus Carlsson (Sweden) and Amon Simutowe (Zambia) have raised the bar in standard of play for Blacks. Each of these men have stories of overcoming tremendous obstacles in reaching the most coveted title in chess.
Black Queen of Chess… Baraka Shabazz's demure pose is a testament to her confidence and poise. This photo was featured in Chicago Metro News, December 4, 1982 as part of Tony Brown Journal segment.
Where would history be if we did not mention female pioneer in Baraka Shabazz? Her story may not be widely known outside of American circles, or even outside of Black circles, but her stellar rise brought a gleaming light where it had never shone before.
Bursting onto the scene in the late 70s and experiencing a meteoric rise, Shabazz was the latest chess sensation of the country. She received a lot of media attention and there were high expectations… perhaps too high.
As quickly as her star rose, it came plummeting to earth with a loud thud. At age 17, she was ranked 6th in the country but, she came in dead last in the 1981 U.S. Women's Championship. The was a breaking point. Devastated and perhaps succumbing to pressure, she quit and wanted nothing to do with chess thereafter. It was a sad ending, but her place in history is established forever. Baraka Shabazz made an indelible mark in Black History and hopefully other girls (and boys) would appreciate her sacrifice.



Cuba's Oleiney Linares Napoles winning a silver medal at the 2008 Chess Olympiad in Dresden, Germany. Photo by Daaim Shabazz.
One of the strongest Black women in history is Cuba's WGM Oleiny Linares (2375). She won a silver medal at the 2008 Chess Olympiad in Dresden, Germany with 9/10 and played second board in 2010 Olympiad in Khanty-Mansiysk and scored 5½/9. She hails from the Santiago region of Cuba, a region with a large concentration of Afro-Cubans. She benefits from a very rich chess culture in Cuba. There have been some other standouts in Raphaelle Delahaye of France who was once one of the top female players in the country.
In Africa, there are struggles to maintain activity amongst women. There are women who have earned titles such as WGM Tuduetso Sabure, but had few opportunities to reach an international standard of play in terms of playing strength. Given the dominant role women play in the labor economy in Africa, it is no surprise that there are so few who maintain contact with chess.
Nevertheless, chess remains popular in the African Diaspora and that is wonderful news for the chess community at large. History is being made each day and with rising talent emerging in the name of Justus Williams, Josh Colas and James Black, Jr., we can expect to see more history written in coming years.