The President of the Spanish CF Javier Ochoa visited the city of Kinshasa, capital of the Democratic Republic of Congo (former Zaire) from 2 to 8 December invited by the Spanish Embassy in the frame of the Embassy's cultural activities.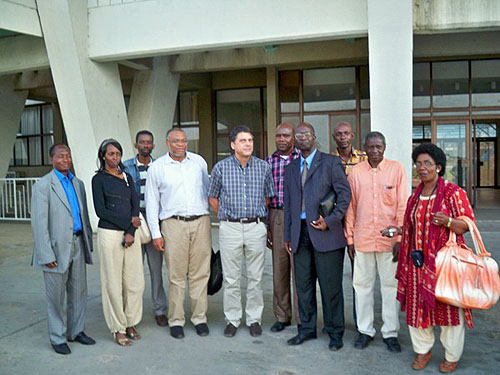 Spain's Chess Federation President Javier Ochoa with Congolese chess officials.
The Embassy initiated its program of cooperation with the Chess Federation of Congo in 2008 by providing financial support via Mel Carbajo and Felix Costales Artieda, Ambassador of Spain in Congo, for the 1st Tournament "Ville de Kinshasa".
This year the project made a step forward and in addition to the 2nd tournament in which participated more than 60 players and was won by Gaspard Mashala (who is also president of the Katanga Liga) a chess workshop was organized where, following the request of the CF of Congo, Javier Ochoa explained some details and ideas of the Sveshnikov variation of the Sicilian Defense and gave simultaneous exhibitions, some of which with time control, in order to estimate the level of the local players and to comment of various technical issues.
In the simultaneous exhibitions only Eustache Kazadi of Kinshasa managed to beat the master, while Gaspard was the only one to make a draw in the games with time control. A. Kabangu was another challenger in the games with time control.
Javier Ochoa plays a round of blitz in full view of Congolese kibitzers.
A few hours after his arrival at Kinshasa the President of the Spanish CF organized a meeting with his colleague Guy Esungi Botetsi and the executives of his Federation in order to review some issues of mutual interest and help them organize a future working plan.
The Spanish Embassy also scheduled during those days two important meetings with the Ministers of Sport and Education which were also attended by the President of the Spanish CF and the Spanish Ambassador, Guy Esungi Botetsi, President of the CF of Congo.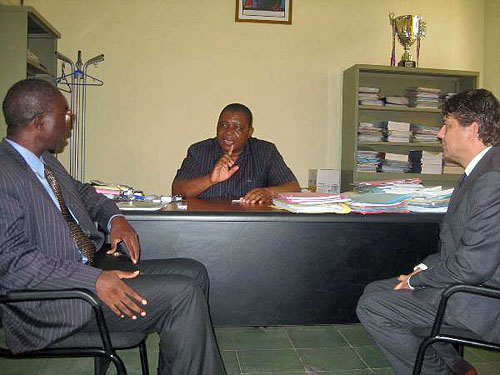 Ochoa meets with with Guy Esungi Botetsi, President of Congo Chess Federation.
The outcome of the meetings was the support and the official commitment that Congo will participate for the first time in the 2010 Olympiad and a promise that the Ministry of Education will support the Project of Chess in Schools as presented by the President, Guy Esungi. During the meeting the Small Fritz, one of the working tools that Spanish CF uses for the Spanish project, was presented to the Minister and various units of the device were donated to the CF of Congo. The Spanish CF also donated a chess board fresco.
The local CF was in charge of the organization of the tournament, while Felicien Betu, Karl Yale, Pierrot Kayemba and Odon Zanga acted as Arbiters assisted by Angela María Rivera Yepes of the Spanish Embassy who had been preparing everything for months.
Javier Ochoa de Echagüen expressed his gratitude to the Ambassador Felix Costales for this excellent initiative.
Source: https://www.fide.com/component/content/article/15-chess-news/4234-chess-in-the-democratic-republic-of-congo
Friday, 18 December 2009 07:07