Spirit of St. Louis Chess!
Photos by Daaim Shabazz
(Round #8)
Following are images from the Chess Club and Scholastic Center of St. Louis. This venture was financed by Rex Sinquefield a retired investor and chess promoter. In the words of Robert Hess, this is arguably the best chessclub in the U.S. No quarter was spared in giving chess its honor and glory and every detail of the club is first-rate. The hardwood floors, the wall art, chess motifs and other aesthetics, make this club truly a marvel and a place befitting of a place worthy enough to hold such a prestigious event. Below are some images of the venue during the U.S. Chess Championship. Enjoy!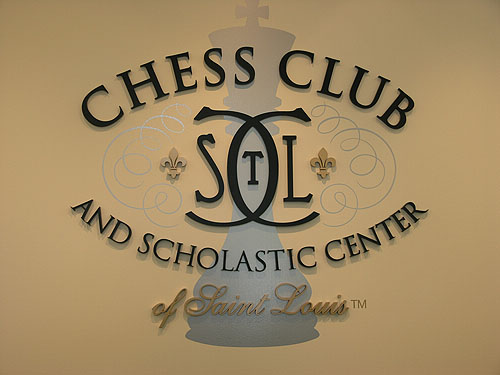 Chess Club & Scholastic Center of St. Louis
Sidewalk view of the CCSLCC (Maryland Boulevard)
This is the reception desk greeting all guests who enter the club. It makes quite an impression!
Macauley Peterson, the person behind the excellent videos.
IM Enrico Sevillano
Games in Action!
GM Gata Kamsky in a pensive pose while Alexander Onischuk ruminates.
IM Michael Brooks in battle versus GM Hikaru Nakamura.
GM Larry Christiansen checks out the games while
Tyler Hughes is on the move.
Hikaru Nakamura at the Press Conference after his victory over Brooks.
Local legend Charles Lawton interacting with kids.
Despite a poor showing, Lawton was in good spirits and was a crowd favorite.