Photos by Daaim Shabazz
(Round #8)
Following are images from the Chess Club and Scholastic Center of St. Louis. This venture was financed by Rex Sinquefield a retired investor and chess promoter. In the words of Robert Hess, this is arguably the best chessclub in the U.S. No quarter was spared in giving chess its honor and glory and every detail of the club is first-rate. The hardwood floors, the wall art, chess motifs and other aesthetics, make this club truly a marvel and a place befitting of a place worthy enough to hold such a prestigious event. Below are some images of the venue during the U.S. Chess Championship. Enjoy!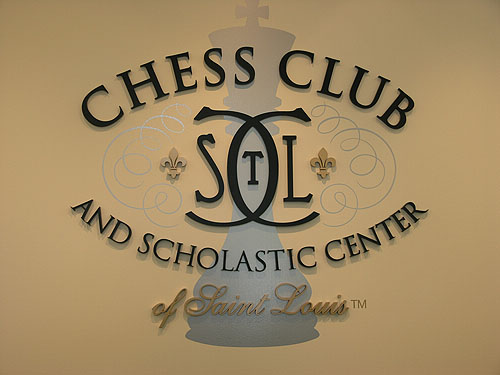 Chess Club & Scholastic Center of St. Louis
Sidewalk view of the CCSLCC (Maryland Boulevard)
This is the reception desk greeting all guests who enter the club. It makes quite an impression!
Macauley Peterson, the person behind the excellent videos.
IM Enrico Sevillano
Games in Action!
GM Gata Kamsky in a pensive pose while Alexander Onischuk ruminates.
IM Michael Brooks in battle versus GM Hikaru Nakamura.
GM Larry Christiansen checks out the games while
Tyler Hughes is on the move.
Hikaru Nakamura at the Press Conference after his victory over Brooks.
Local legend Charles Lawton interacting with kids.
Despite a poor showing, Lawton was in good spirits and was a crowd favorite.
5 Responses to "Spirit of St. Louis Chess!"
Tremendous contribution!

Photos by Daaim Shabazz
(Round #9)

Another day at Chess Club & Scholastic Center of St. Louis

Daaim Shabazz and John Henderson (ICC) in the press center.

GM Hikaru Nakamura vs. GM Josh Friedel

GM Gata Kamsky

IM Irina Krush vs. NM Charles Lawton

IM Irina Krush taking a quick break.

Commentary by WGM Jennifer Shahade and GM Emil Sutovsky.

Brana Giancristofaro, creator of Monroi System.

Chris Bird, Assistant Arbiter.

GM Jaan Ehlvest

GM Varuzhan Akobian




GMs socializing… GM Varuzhan Akobian chatting with GM Yury Shulman. GM Gabriel Sargissian (seated left) came to St. Louis with Akobian and IM Anna Zatonskih (seated right) relaxing after recovering from surgery.

Daaim Shabazz and National Master Charles Lawton

Great pics. I saw you there taking them. My daughter is the one in the yellow chess shirt getting Lawton's autograph.

I loved watching the chess players sitting outside socializing and looking at the boards for the remaining games.

great blog- I love the photos- that facility looks INCREDIBLE! It has to be the best place in America to play chess, and I'm saying that as a resident of NYC.

[…] covered the 2009 U.S. Championship in St. Louis, I had seen the club in all its classic splendor. However, the World Chess Hall of Fame had just […]
Leave a Reply!