Diamond goes 7-0 at Polgar Open!
Ohio's Diamond Abdus-Shakoor scored a stunning 7-0 result at the Susan Polgar National Open and earns an automatic invitation to the Polgar National Invitational for Girls in July. She will be the representative for the state of Ohio. Diamond also won three trophies, a laptop computer and a digital clock. Her father Abdul told The Chess Drum,
Diamond was the only African American for boys and girls at the whole Tournament (200-400) students. I am a humbled father.
Diamond is a second-grader at Columbus' Deshler Elementary and has been playing chess for less than a year. She will have her work cut out for her in the Polgar Invitational. If you would like to help her on her journey or support the Community Properties Impact Corporation (CPIC), please contact Lou Seipel at 614-253-0984.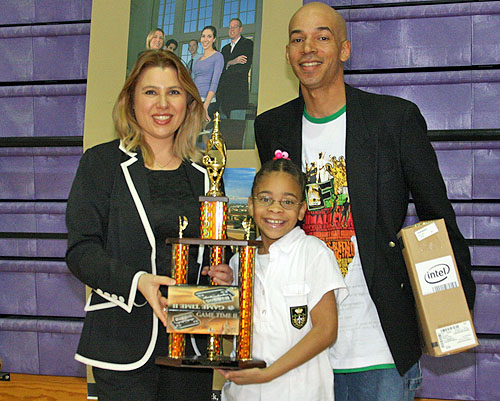 GM Susan Polgar, Diamond Abdus-Shakoor
and father, Abdul Abdus-Shakoor.
Photo by Paul Truong.