2008 Chess Olympiad: Round #11
Men Final
The Armenian men repeat, Israel second… the USA wins bronze!
China 1½-2½ Armenia
USA 3½-½ Ukraine
Israel 2½-1½ Netherlands
Russia 2-2 Spain
France 1½-2½ Azerbaijan
Women Final
Georgian women edge Ukraine for the gold…
USA women match men's performance, power over France to bronze!
Poland 1½-2½ Ukraine
Georgia 3-1 Serbia
USA 2½-1½ France
Netherlands 1½-2½ Russia
Romania 2-2 China
Pregame Analysis: China will look to win the gold on the shoulders of Wang Yue, who has played solidly on board #1 and a 2777 performance. China will face the powerful Armenia. It appears as if Wang Hao will not be in the lineup. He has not played the last three rounds after his loss, so he may have fallen ill. Li Chao is in form and has won three in a row. This matchup will produce the most appropriate final between 2006's gold and silver medal winners.
The bronze medal will be firecely contested between the USA (who needs a miracle), and the Ukraine (who needs a win for the gold). Vassily Ivanchuk will have completed every game this tournament, but he will have a challenge to beat Kamsky. Hikaru Nakamura looks to beat on Sergey Karjakin the way he did in the match years ago. It's a different day… Karjakin is looking for revenge, but Nakamura is even stronger than before! Israel can also snatch a medal from one of the other teams with a win over the Netherlands. Maxim Rodshtein has played well.
Spain-Russia will close out the tournament only to play for pride. Russia was hurt by poor match strategy. Anatoly Karpov made mention of the issue of Vladimir Kramnik playing to draw with black and win with white. The problem these days is that Kramnik is not winning with either color. He is on +1 with 7/8 drawn games. Jakovenko has arrived. He will certainly be one of the building blocks of Russian chess.
In the women's field, this will be a much more contested final with Ukraine going up against a Polish team who has played steady (apart from the 3½-½ loss to China). The Ukraine has not lost any matches, but a first round draw forced them to climb back into contention. It has taken them ten rounds to do it. This will be a great matchup. Georgia should beat the Serbian team, but will that be enough for a medal? Yes.
The USA can win another medal by beating France. Russia (again) will be playing for pride against the Netherlands and will rest Alexandra Kosteniuk. China is also closing out a tournament below expectations. Hou Yifan and Zhao Xue have played every game and that may have been a mistake. Both players lost their last round against Georgia and Zhao has lost two in a row. Shen Yang continues to shine, but the reserves (Ju Wenjun and Tan Zhongyi) for China have not provided the strength in key matches.
Round #11 Analysis: Armenia was a fit of stability the entire tournament and losing only two games in a 2½-1½ loss to Israel. As the balance of power begins to sift, the crown will remain the Armenia a couple more years… deservedly so. They were the most consistent team and prove that both the game point or match point system rewards the most consistent team. Israel takes the silver after beating the Netherlands for their first chess Olympiad medal in history. The USA finished strong with a convincing win over the Ukraine for the bronze.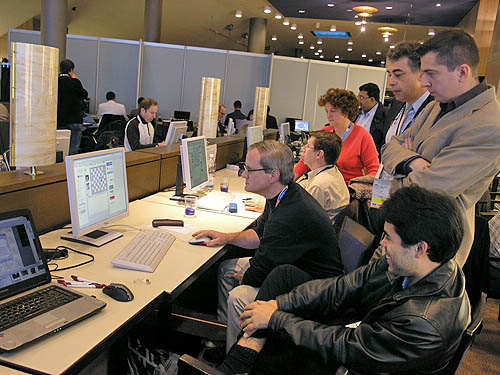 John Donaldson with USA team members calculating the tiebreaks. Yasser Seirawan, Alexander Onischuk and Hikaru Nakamura (sitting) give input. Photo by Daaim Shabazz.
The Georgia women won the gold medal winning in tiebreaks over the defending champions Ukraine. Led by Maia Chidurdanidze's 7½-1½ performance, Georgia won their last four matches and win their first gold medal since 1996 and first medal of any kind since 2008. The Ukraine was the only undefeated team in the entire tournament (men and women), but their tiebreaks were not in their favor due to the number of draws. The USA women repeat their bronze medal performance of 2004. Strengthened by incredible performances by IM Anna Zatoniskih (8/10) and WGM Goletiani Rusudan (9/11), the USA suffered only one loss to a surging Poland, but beat Russia in a key match.
WIM Oleiny Linares-Napoles of Cuba wins silver medal for 9/10 performance on board #4! Photo by Daaim Shabazz.
African Diaspora: Moses Kawuma scored 9/10 and has the highest percentage in the tournament. As was reported before, Uganda forfeited two boards until round nine when Shadrack Kantinti showed up. Zambia forfeited two board throughout and both GM-elect Amon Simutowe (7.5/9) and Daniel Jere (8.5/10) had two of the highest winning percentages. Egypt and South Africa were the top African teams with 12 points. The top Caribbean teams were Cuba followed by Jamaica. Cuban WIM Oleiny Linares Napoles had 9/10 for a silver medal on board #4.
Teams of the African Diaspora suffered a number of forfeits and controversy. Ethiopia, Uganda and Angola suffered visa problems, but one of the most controversial issues was the automatic time forfeture metted out by arbiters.
In yet another case today, Gabon's Jean-Pierre Moulain was on 8.5/10 and had arrived on time to play the match against the U.S. Virgin Islands. The Chief Arbiter Ignatius Leong announced the match would begin in one minute. Moulain met his opponent at the board, they shook hands and he went to take a quick bathroom break. When he returned he had forfeited.
Moulain protested that he was at board on time. Smith, who had shaken hands with Moulain, insisted that the rule be enforced and that Gabon forfeit on board #1. Smith never acknowledged that Moulain had been at the board prior to the forfeit. Gabon decided to forfeit all the boards in protest. Smith would get his first win in 11 matches (+1 -9 =1). Gabon was told to pay a sum of money to file an appeal. If Gabon wins, the money is returned; if Gabon loses, FIDE keeps the fee. Gabon could not afford the fee and decided to forfeit the boards.
The Gabon – U.S. Virgin Islands dispute.
Photo courtesy of Barthelemy Bongo Adanga Ndjila.
Jean-Pierre Moulain (tan suit) discussing with arbiter while Michael Smith (middle) argues his point. Photo courtesy of Barthelemy Bongo Adanga Ndjila.
The Chess Drum interviewed Barthelemy Bongo Akanga Ndjila, the Gabonese board #2, and he felt that this was a bitter experience and felt the U.S.V.I. player should have been honest. The automatic time forfeit rule was discussed at the FIDE General Assembly and will be revisited. There were mixed views on its application to chess.
Photo Gallery
All photos by Daaim Shabazz.
Boitumelo Keinyatse of Botswana speaking with one of the arbiters.
Bu Xiangzhi and Wang Yue could not bring the gold home for China.
Ukraine vs. USA
Hikaru Nakamura watches Yury Shulman's game
while his opponent Sergey Karjakin is thinking.
Varuzhan Akobian is also attentive.
Hungary faces Poland in the final.
Georgia overtook both teams for the gold
Norway's Magnus Carlsen on the move against Egypt's Ahmed Adly. Other Egyptian players from right are GM Bassem Amin, IM Frhat Ali and FM Khaled Abdel-Razik.
Krishnan Sasikiran (India)
Shane Matthews (Jamaica)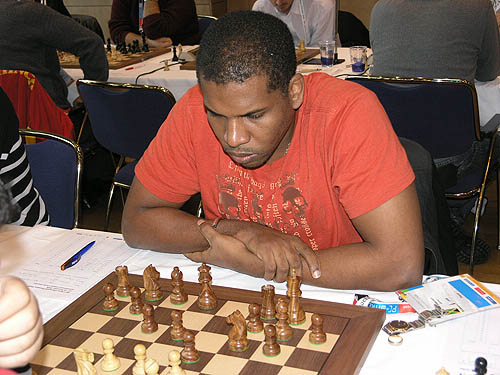 Jomo Pitterson (Jamaica)
Shadrack Kantinti (Uganda)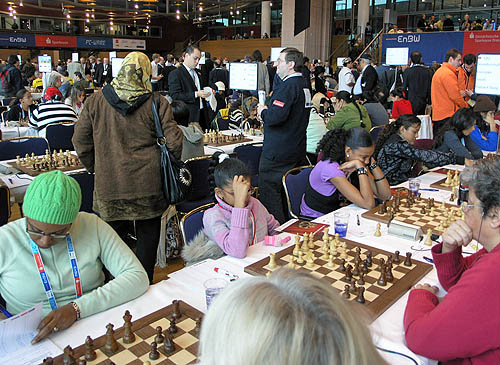 Trinidad & Tobago (women)
---
All Round #11 photos here!
---