Jamaica's Jomo Pitterson earns FM title!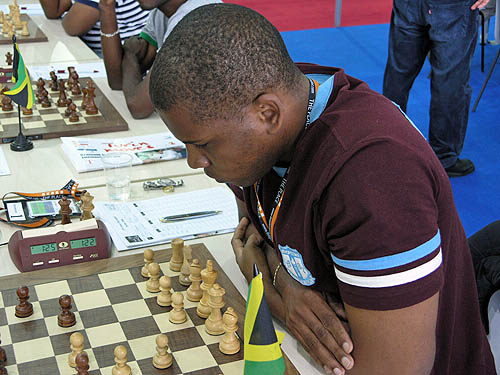 Jomo Pitterson (Jamaica)
Photo by Daaim Shabazz.
Jomo Pitterson of Jamaica clinched the FM title after drawing with IM Basheer Al-Qudaimi. He has earned the requisite six points and becomes the third Jamaica player to earn the title after Grantel Gibbs and Warren Elliott who both earned there titles at subzonals. Jamaica also won the match 3-1. Jamaica President Ian Wilkinson stated, "This is a good day for Jamaican chess."
The Jamaican team has had a disappointing tournament, but Wilkinson said that the victory over Yemen and Pitterson's IM title will give rising youngsters Stuart James and Zachary Ramsey motivation. Pitterson has by far been the most steady Jamaica player in international competitions having solid performances in Curacao and Trinidad and Tobago.
Certainly the "land of wood and water" will be celebrating in the sunshine and be able to tell about the blustery snowy days in Dresden, Germany.