2008 Chess Olympiad: Round #9
Top Boards
Armenia 1½-2½ Israel
Poland 2-2 Germany 1
Russia 1½-2½ Ukraine
Serbia2½-1½ Azerbaijan
France 1-3 China
Round #9 Analysis: Before the tournament, practically every chess pundit and journalist picked Russia to win the gold medal primarily because of the powerful individual players with an average rating of over 2750. Even others who did not pick Russia for the gold, felt they would at least win a medal.
Peter Svidler and Vladimir Kramnik failed to save Russia's medal hopes.
Photo by Daaim Shabazz.
After Russia's loss to Ukraine and virtual elimination in the medal race, Anatoly Karpov mentioned that there is something missing in Russian chess. Of course, it is not the players, but it is a void of leadership according to the former World Champion. It is apparent that the "board stacking" of putting Alexander Morozevich (2787) on board #4 has not paid off. Russia was in trouble early, winning by the slimmest of margins and faltering in the second half of the tournament.
The federation will have to rebuild around Dmitry Jakovenko, Alexey Alekseev and Ian Nepomniachtchi. As for the Russian dominance… it is dead. When asked about the tradition of Russian/Soviet dominance, GM Alexander Khalifman stated in the press conference that perhaps it is good not to have one dominant nation since that chess gains from a shifting of balance of power. Certainly that is happening.
Armenia had gone into today's match without losing a game, but Boris Gelfand of Israel took care of that with a win over Levon Aronian. This would serve as the margin of victory and now Israel sits atop the field by a point. They'll get Ukraine tomorrow.
In another turn, Azerbaijan was virtually eliminated from medal contention with another loss, this time to a solid Serbian team. Azerbaijan has not had good chemistry and internal tension continues to damage one of the most talented teams in the world. China has put itself in a wonderful position to play for the title, after smashing France. In the press room, the Chinese could be seen happily checking the progress of the other games in order to gain a match strategy for tomorrow and the last round. They will play England, who they destroyed in the China vs. England match last year.
In the women's tournament, a turn of events has occurred. The Ukraine has come roaring back to take the tournament's lead after beating Romania 3-1. After drawing in the first round, the Ukrainian women have clawed their way back into contention while the others have beaten each other up. China suffered its first loss today after falling to a determined Serbian team, 2½-1½. Both Serbian teams are exceeding expectations.
Poland crushed the USA 3-1, a team coming off of a huge win over the Soviet Union. The Polish and Serbian teams are in a virtual tie for first place. China drops a point off the pace and will have the toughest test when facing Georgia tomorrow. What is interesting is that only two points separate the top ten places. With two rounds remaining, medals are there for the taking. One medal for the taking is Oleiny Linares Napoles of Cuba who is 8.5/9!
African Diaspora: IM Watu Kobese of South Africa continues to have a solid showing with a win over GM Eduardo Iturrizaga of Venezuela. He may have a chance for a GM norm. Egypt's Bassem Amin has been the star of the Egyptian team, but the real killer has been Khaled Abdel-Razik who is on 7/7! His performance rating is a gaudy 2929! These are two bright spots in addition the brave stand Zambia is making in defending each match beginning 0-2. Both Amon Simutowe and Daniel Jere have 6.5/8.
African-Caribbean scores (by board #): Cuba 2-2 Hungary; Bosnia & Hergozovina 1½-2½ Egypt; Dominican Republic ½-3½ Italy; Venezuela 2½-1½ South Africa; Puerto Rico 2-2 Algeria; Sri Lanka 1½-2½ Botswana; Luxembourg 3½-½ Nigeria; Tunisia 3-1 Jamaica; Kenya 2-2 Wales; Netherlands Antilles 2-2 Malta; Trinidad & Tobago ½-3½; San Marino 1½-2½ Mozambique; Cyprus 1-3 Barbados; Angola 2-2 Andora; Malawi 2-2 Macau; Jersey 1-3 Mauritius; Suriname 2-2 Zambia; Uganda 1½-2½ Chinese Taipei; British Virgin Islands 1-3 Aruba; Ghana 2-2 Gabon; Madagascar 1-3 Namibia; U.S. Virgin Islands 2½-1½ Rwanda; Bermuda 2½-1½ Seychelles
Photo Gallery
All photos by Daaim Shabazz.
IM Kenny Solomon (South Africa)
IM Amon Simutowe of Zambia sits
after arbiter (right) forfeits Suriname's Roger Matoewi.
Cuba's GM Lenier Dominguez (World Blitz Champion)
Fashion at Olympiad
Yemeni women always come to the Olympiad with impressive uniforms.
Here is a front view!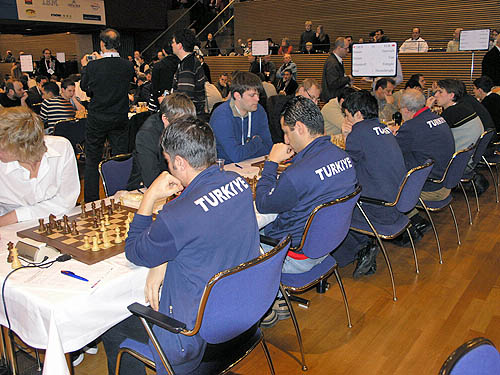 The Turkish men are a bit more casual than in 2004
when they wore smart blazers.
Columbia women proudly displaying the colors.
Libya's Khawla Elfelo looking fashionable in the hat!
Barbados Juanita Garnett shows the "Bajan" spirit
with the blue and gold braids.
The darling of photographers in 2006, UAE continue to set the fashion trend.
Essa Khaloud had henna on her hands in 2006.
This year she's rockin' a Burberry hijab.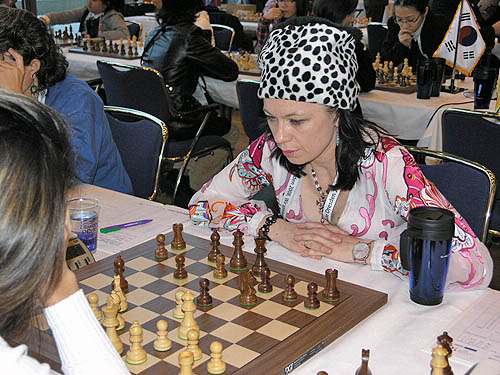 Fun hat! 🙂 Una O'Boyle (Ireland)
GM Pontus Carlsson has the hip-hop style goin' on!
Back to Business
WIM Oleiny Linares Napoles of Cuba is on her way to a gold medal…
she's on 8.5/9!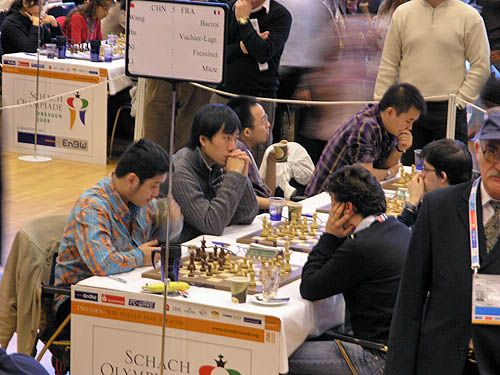 China enroute to beating France 3-1.
Notice the different expressions from China.
---
All Round #9 photos here!
---