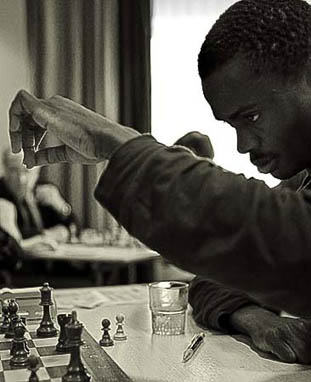 Amon Simutowe earned his last required norm at the Stimulans tournament last year. He has recently added an extra norm in Italy after scoring 6.5/9 at the Riviera dei Cedri tournament. He scored 2.5/3 from three Grandmasters and played five players over 2500. His performance rating was 2570.
The "Zambezi Shark" feels that his play is sharpening and hopes to close the lid on the rating requirement. There is common wisdom that says if you need rating points to earn a FIDE title, pretend as if you still need norms. That way you are showing that you are worthy and the points will come naturally. There is no doubt that Simutowe is headed in the right direction.
Here are two games from the event against two of the GMs.
Simutowe (Zambia, 2458) – GM Nikita Maiorov (Belarus, 2535), 1-0
GM Igor Naumkin (Russia, 2502) – Simutowe (Zambia, 2458), 0-1