King and Queen Indians win World Junior!
David Howell (England) battling Abhijeet Gupta (India) for the title. Arik Braun (Germany) battles Parimarjan Negi (India) on board #2. Gupta would beat Howell to claim the title and Negi would place second after drawing with Braun. Photo courtesy of wjcc2008.tsf.org.tr
In perhaps the most exciting World Junior is recent memory, GM Abhijeet Gupta won the Open Championship by beating GM David Howell of England in the last round. He becomes the 3rd Indian to win the World Junior and perhaps marks the first time in many years that the top two players were from the same country. Not to be outdone, India brought home another gold medal when IM Dronavali Harika (pictured below) clinched her Queens title with a draw in the last round. Such a dominating performance by Harika as she led throughout the contest.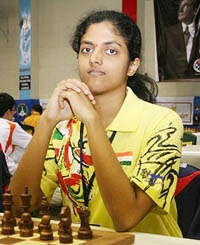 This evidently bodes well for India and Viswanathan Anand's work has paid dividends. Indian has perhaps the largest collection of young talent in the world only rivaled by China. Anand started a national chess craze by winning World Junior in 1987 as a virtual unknown. Humpy Koneru, the second highest female player in history, won the girls title in 2001. Harika is the latest of phenomenal female talents to rise out of India. She has a chance to go even further than Humpy given her focus and raw talent.