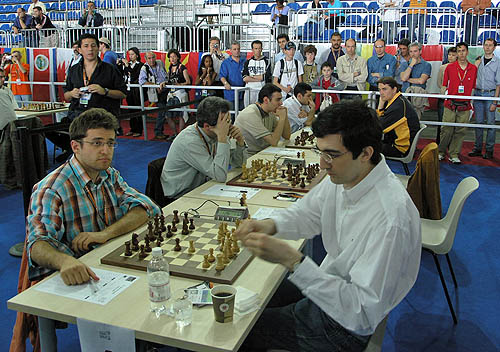 Armenia takes on Russia with Levon Aronian, Vladimir Akopian, Karen Asrian and Gabriel Sargissian. Vladimir Kramnik of Russia gets set for a battle. Alexander Morozevich is at the far end. Asrian, 28, died yesterday. Photo by Daaim Shabazz.
Today I heard of the death of Armenian Grandmaster Karen Asrian who died at the age of 28. It is always a sobering moment when one learns of a young person dying of unexpectantly. Asrian was one of Armenia's top Grandmasters and he won a gold medal at the 2006 Chess Olympiad as part of the nation's squad.
Over the years, I have interviewed Armenian Grandmaster Levon Aronian and Armenian-born Grandmaster Varuzhan Akobian. They are both very friendly and I feel their genuine support of The Chess Drum. After the interview during the Olympiad, Aronian told me, "keep the drum beating."
This attitude may come from the pride of a strong chess tradition of World Champions Tigran Petrosian and Armenian-born Garry Kasparov. I picked Armenia to win the gold medal in 2006 because of what I noticed in their cohesion and spirit of play. With Asrian he gave them stability in the middle of the lineup with Smbat Lputian sitting out the last few rounds. It was a crowning moment.
Armenian Men hoist national colors after winning gold medal at 37th Chess Olympiad. Seated are: Vladimir Akopian, Karen Asrian, Gabriel Sargissian, Levon Aronian. Photo by ChessBase.
The point here is to cherish these times that we live and take time to appreciate the contributions that your acquaintance have made to chess. In the past year, we lost Bobby Fischer, arguable the greatest player ever to sit behind a chessboard. Here in The Chess Drum community, we remember the recent losses of R.O. Mitchell (USA), Wally Zabasajja (Uganda) and Malupande Lungu (Zambia). The loss of these men left a void in these respective communities, but behind them was left memories of their smiles, laughs, games and mannerisms at the board.
Smbat Lputian announced the death of Asrian at a blitz tournament in Yerevan, Armenia, site of 1996 Olympiad. FIDE will certainly have a period of mourning for GM Karen Asrian. (see article)