Jamaican Chess Federation Vice President Peter Myers reports on summer activities in Jamaica including the 2008 Wheeler Open, 2008 Western Open and the Olympiad qualifier. The latter two are still in progress with Sahir Abbas (3/3) and Shane Matthews (4/5) leading respectively. Below is his report on the Wheeler tournament.
* * *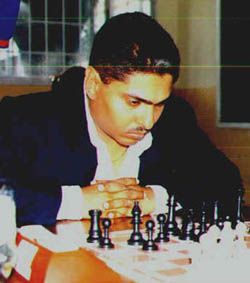 Seven-time National Chess Champion, National Master Shane Matthews (pictured right) and Montego Bay Community College student Oneil Hall walked away winners of the Open and Amateur sections respectively, of the 2008 staging of the Robert Wheeler Chess Open held at the Campion College Auditorium from April 19-20, 2008.
Matthews secured the Open title after scoring a perfect six points from as many games. Second place went to rising junior star Stuart James of Wolmer's Boys, who ended on 4.5 points while third was shared by four players, Sahir Abbas, Daren Wisdom, National Master Geoffrey Byfield and Peter Myers, each of whom secured four points.
The Amateur section for players with a Jamaica Chess Federation (JCF) rating below 1600, was won by Montego Bay Community College student Oneil Hall, who scored an unbeaten five and half points from six games. Second place was shared by Wolmer's Boys' Chad Lawrence and Campion College's Jevonne MacIntosh who each ended on 5 points.
Special age group prizes were awarded to Chad Lawrence for being the top player under 14, to Andrew Folkes for being the top player under 12 and Douglas Byfield for being the top player Under 10.
Jordan Chen was adjudged the best new player, Melisha Smith walked away with the best female award and Sahir Abbas took home the best rural player prize.
This, the sixth staging of the tournament, was sponsored by Axis Jamaica Limited and the JCF. The tournament is held each year in honour of National Master Robert Wheeler, for his outstanding contribution to the sport of chess in Jamaica on and off the chess board. Wheeler acted as Arbiter for the 2-day event.

One Response to "Update on Jamaica Chess!"
Dear JCF Members and Supporters

Please be advised that the 40th Annual General Meeting of the Jamaica Chess Federation, will be held at 1.00 p.m. Saturday, June 14th, 2008. The venue will announced at a later date.

Matters to be dealt with include the Election of the Nomination Committee for the 2009 Executive Council. See attachments for further details.

The awards ceremony for 2007 will follow the AGM at approximately 3 p.m. and will recognise the winners of tournaments and other top performers during 2007.

Everyone is invited to attend.

Peter Myers
For JCF Secretary
Leave a Reply!