NM Ignacio Pérez 2nd in Washington!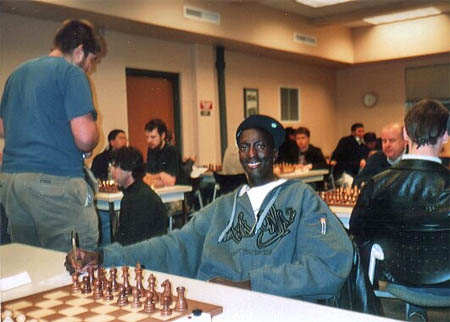 Ignacio Pérez at 2008 Washington State Championship.
Photo by Hanniegn Pitre.
Ignacio "Nacho" Pérez went into the 2008 Washington State Championship as the defending champion. Last year, the Cuban native dominated the field and scored an impressive 7-2. This year the field was strengthened by the addition of GM Gregori Serper (2576 USCF) who met Pérez (2281) in the final round. Here is how Hanniegn Pitre described the action:
The ten player round robin came down to the final round in which Serper was 1/2 point ahead of Perez, and they were facing each other with the white pieces in Perez's hands. No quick draw here? Serper had to turn back Perez's sacrificial and tactical onslaught, and he did.
So Pérez took clear second on 6½-2½ while IM Giorgi Orlov (2573) and FM Slava Mikhailuk (2435) was 2nd-3rd on 6-3. Perhaps the shining star in the tournament was 14-year old Michael Lee (2277) who got a lot of media attention during the tournament. He scored a robust 5½-3½ points including a win over Orlov. Lee has recently been featured on websites around the country as one of the top juniors. He has received training from IM Orlov and GM Gregory Kaidanov and has represented the U.S. in World Youth Championships.
(Note: The tournament took place in Seattle, Washington… the birthplace of Jimi Hendrix, home of Starbuck's Coffee fame and of course a close neighbor of Bill Gates' Microsoft. Nacho has been living in Washington State for many years and I remember meeting him when I went to cover Maurice Ashley and Stephen Muhammad for the 2003 U.S. Championship in Seattle. I visited a very impressive music museum by the Space Needle… a must see!)