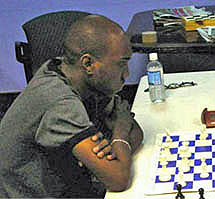 FM Warren Elliott 



The 2007 edition of the Jamaican Championship has come down to the last three rounds. FM Warren Elliott leads the pack with +5 on 6½-1½. The four-time Jamaican champion was upset in the 8th round by Mikhail Solomon while Equitable Brown has won six consecutive games to pull to within ½-point on 6-2. Seven-time Jamaican champ Shane Matthews has battled back after two upset losses in the first two rounds and is 1½-points off the pace.
Drum Coverage here!
2 Responses to "2007 Jamaican Championship"
on 02 Oct 2007 at 8:03 am

1

Peter Myers

2007 LASCO CHESS CHAMPIONSHIPS HEADING FOR EXCITING FINISH

With only one round remaining, the 2007 LASCO National Championship will be decided in the final round, as tournament leaders FIDE Master Warren Elliott and National Master Equitable Brown, won both of their games on the weekend.

Elliott defeated National Master Andrew Mellace and Daren Wisdom while Brown defeated seven-time champion National Master Shane Matthews and rising junior star Stuart James. These results left Elliott at the top of the standings on 8.5 points followed closely by Brown on 8 points.

The final round which takes place on Saturday at 12 pm at the Norman Manley Law School, will see Elliott with a tough assignment against Matthews, while Brown faces National Master Mark Holness.

While the two leaders battle for the top position, the minor places are all still up for grabs. In third place are National Master Russel Porter and Matthews each on 6 points, followed closely by Mikhail Solomon on 5 points in fifth, and rounding out the top six is Holness on 4.5 points.

In seventh place are James and Mark Henry on 4 points, while four players are tied in ninth on 3.5, they include Peter Myers, Zachary Ramsay, Wisdom and Mellace. As only the top six will get a share of the LASCO prize fund, the bottom six will not only be seeking to stay clear of last place, but also to finish in the money.

ELLIOTT TAKES LASCO CHESS CHAMPS

Jamaica?s number one internationally ranked player FIDE Master Warren Elliott, won the 2007 LASCO National Chess Championship, after scoring a final round victory over seven-time champion National Master Shane Matthews at the Norman Manley Law School on Saturday. Elliott finished with 9.5 points from eleven games to claim his fifth hold on the National Champion title.

In second place was National Master Equitable Brown who defeated National Master Mark Holness to finish on nine points, while third place went to National Master Russel Porter who ended on seven points after dispatching Mikhail Solomon.
Leave a Reply!