Wilbert Paige Memorial: Round #4
Wilbert Paige Memorial
(14-23rd of July 2001, Harlem NY, Hotel Theresa)
Round #4 (Tuesday, 17 July 2001)
Pre-game analysis: Colding will get his second "Black Bear" in a row. These two native New Yorkers have been playing chess together since their youth, but the friendship will end at the board. Both Colding and Morrison will press hard to break into the win column. . . look for some excitement! Simutowe has Solomon's number, having beaten him several times in African tournaments. Solomon may be able to catch Simutowe napping, but one must still give the Zambian national an edge. Simpson will attempt to keep his streak going with attacking chess. Kobese will try to steer the game in more quiet terrain and stifle Simpson crazed attacking style. Look for some type of gambit. Schleifer-Muhammad features the two front runners of the tournament (2½ points). This is a critical game for Muhammad who is looking for his 1st norm. The battle-tested Canadian is a very stubborn and strong-willed and may be Muhammad's biggest test yet. Rogers-Nsubuga will be interesting in that Rogers will probably go after Nsubuga's throat. "Pete" Rogers has lost two straight games and will come out blazing with the white pieces. Grace is undefeated thus far. Both players have a lot of stamina and could be a 60-mover if Pete is unable to penetrate Grace's solid style.
Analysis of Colding-Morrison game. (L-R) FM Stephen Muhammad,
NM Ernest Colding, FM William Morrison and FM Ronald Simpson
Colding-Morrison, 0-1
Simutowe-Solomon, 0-1
Simpson-Kobese, 0-1
Schleifer-Muhammad, ½-½
Rogers-Nsubuga, 1-0

Post-mortem analysis: Colding-Morrison was a very interesting struggle which saw two very active kings. Morrison took the initiative and penetrated Colding's position only to allow counterplay in the end. The move 47. Rd5 was the right idea, but Morrison grabbed the exchange and was able to stop Colding's menacing pawn which was headed for a touchdown. Simutowe-Solomon featured two "African Lions" scrapping and fighting it out until a time scramble. Solomon played actively and wrestled the initiative as Simutowe's pieces lacked mobility. Solomon penetrated the position, won an exchange, and ended the game with a deadly pin, netting white's last piece.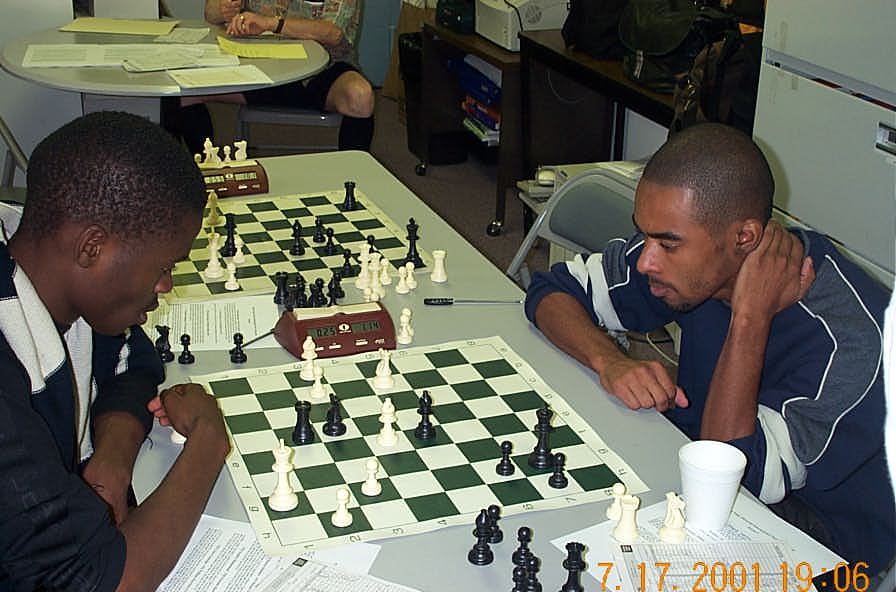 IM Amon Simutowe in post-mortem analysis with FM Kenny Solomon
Photos by Daaim Shabazz
Simpson played inspired chess by attempting to mix it up and make the game tactical. He succeeded, but the complications did not net him an advantage. Attempting to capitalize on Kobese's shortness of time, Ron pressed forward, but blundered horribly and the game came to an abrupt finish. In Schleifer-Muhammad, the Canadian IM built up a powerful position with pieces placed aggressively and a kingside attack looming. Muhammad fended off the attack by going into a defensive mode. Trying to find a win, Schleifer ran short of time and with less than four minutes left, he allowed three-fold repetition. Nsubuga selected the toothless Philidor defense and Rogers soon built up a powerful position. Nsubuga's went into unfavorable complications and his position ended up like Swiss cheese. Rogers exploited practically every single weakness, and finished the game with a direct attack on the exposed black king.