2018 World Chess Championship: Game #3
2018 World Chess Championship
Holborn, London, England (November 9th-28th)


Game 3

Caruana

Carlsen

Match Score: 1½-1½

Official Site: https://worldchess.com/
2018 World Chess Championship: Game 3
Monday, 12 November 2018
Caruana gets nothing against Sicilian… another draw
Weather has been awful in London since the match began, but hopefully there would be some light shone on the battle field. There was a bit of a psy-ops battle going on today in the 3rd game of the world championship match. Caruana was not afraid of an improvement by the Carlsen team but what he got was unexpected. After Caruana deviated from Game 1 with 6.h3 (instead of 6.Re1), Carlsen uncorked 6…Qc7!? which brought on a quizzical look from Caruana.
Fabiano Caruana after the slightly obscure 6…Qc7. Good luck reading that. pic.twitter.com/XCSVfTNi1O

— Olimpiu G. Urcan (@olimpiuurcan) November 12, 2018
The main line after 6…Nf6 had been essayed over 100 times. Caruana admitted being somewhat surprised at the move which hadn't been seen in top level… at least in recent memory. The idea was to bolster the impending blockade on the dark squares. Just like Game 1, Caruana was not able to get any pull from the position and mentioned 16.Bd2 was an inaccuracy because he mixed up a move order.
Thereafter, Carlsen had no problems equalizing and may have been slightly better. Black's bishop dominated the knight even though knights usually have an advantage in closed position. Unfortunately, there was not much mobility for the white knight to manuever. Caruana was not in great danger of losing and sacrificed his knight to liquidate the position and split the point.
Annotations by GM Amon Simutowe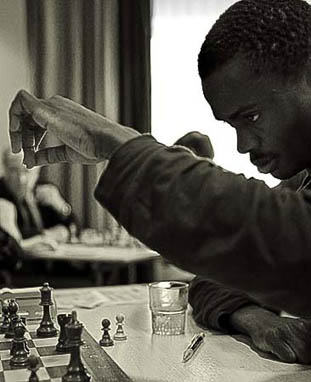 Photo by Fred Lucas
Video by GM Daniel King