"Triple Exclam" now in paperback!
FOR IMMEDIATE RELEASE
Contact: Daaim Shabazz, The Chess Drum
P.O. Box 7663
Tallahassee, FL 32314-7663 USA
webmaster@thechessdrum.net
(850) 296-9494

ISBN-10: 0998118024
ISBN-13: 978-0998118024
Shipping Weight: 1.6 pounds
Publisher: The Chess Drum, LLC
Paperback: $27.00 (full color)
Triple Exclam!!! The Life and Games of Emory Tate, Chess Warrior hit the market last year on March 1st with great anticipation and was well-received. Now there is a paperback equivalent on sale. It is also featured in a bold full-color format with a non-gloss finish. There have been minor corrections from the original hardback version. This collector's item goes for $27.00 and is available at The Chess Drum. The paperback version is poised to reach a wider audience with a lower price point and bulk discounts of 10% are available at five or more copies.
In the past year, I have made additional discoveries of Tate's legacy and perhaps these will become a topic for a more comprehensive work on chess in the African Diaspora. Hopefully, Triple Exclam will be the beginning of a series of books highlighting the unique contributions made by unheralded players overlooked in the history of chess.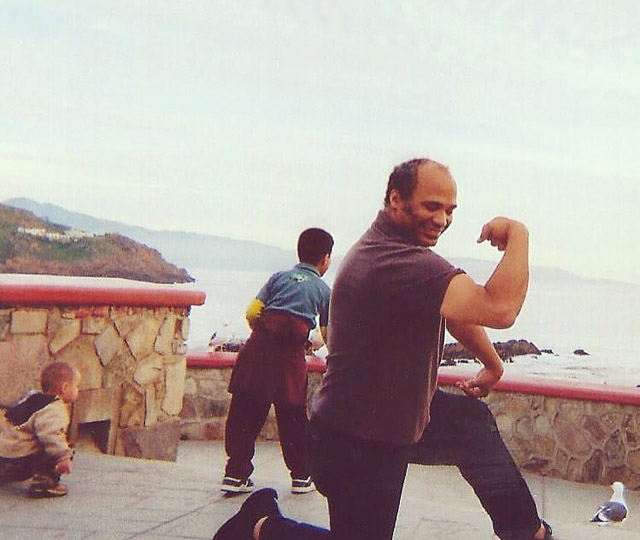 Emory Tate vacationing in Mexico
Photo by Ed Lewis
You can purchase the book by following the Paypal button below. A Paypal account is not needed. Buying in bulk cuts per unit and mailing costs, so for groups of friends, chess clubs, and vendors seeking volume discounts (for the purchase of five or more), click here to request an invoice!
International rates are currently prohibitive unless ordering quantities in multiples of five (U.S. Postal Service flat rate box). The Chess Drum is looking for international distributors to make the book accessible to a wider audience. An e-book version of Triple Exclam is forthcoming.
Some customers many be skittish about ordering online. In that case, contact me at webmaster@thechessdrum.net with number of copies needed and I'll send an invoice. Mail orders are completed with money orders only. Also available for book signings. Make sure you add this handsome book to your collection!
Update: The paperback has sold out, but there are plans to print a black and white version of the book. Stay tuned for further updates. Thanks for supporting the Emory Tate project!
# # #
The Chess Drum, LLC is a publisher of chess news content and literature. The organization's website has continued to demonstrate the universality of chess by covering a variety of topics through news stories, essays, interviews, and photos since 2001. Visit The Chess Drum at thechessdrum.net and follow the beat on Facebook and Twitter!