2017 World Open receives Triple Exclam!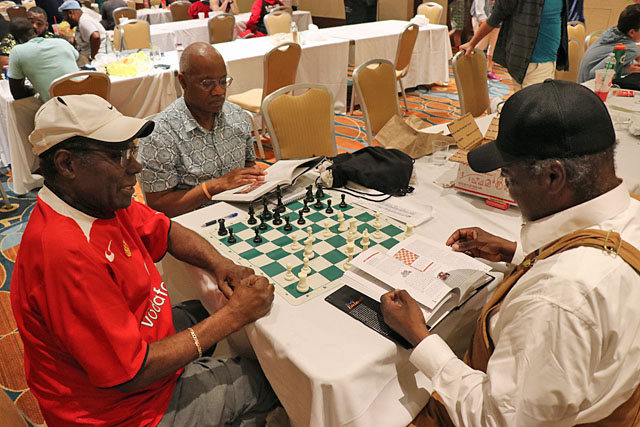 New York players looking through Triple Exclam during the 2017 World Open.
As the summer heat is in full swing, many chess players are choosing a variety of ways to stay cool. Sometimes the best way is to stay inside and play chess. The World Open is the largest open tournament in the U.S. routinely drawing 1,000-1,300 players every July 4th holiday weekend. Of course, Philadelphia is an ideal place since it is a festive time of the year. It is this environment that generally will bring out the best in players. It was such the case for IM Emory Tate who notched many memorable victories at the tournament including the six that appear in the book, Triple Exclam!!! The Life and Games of Emory Tate, Chess Warrior.
---
"Thanks again for doing such an amazing service to the chess community. This book will be enjoyed for generations to come!"
~Dr. Ani Deshpande
---
Tate's biography Triple Exclam has been well-received from the chess public reaching across the land and extending into the Caribbean, South America, Europe and Africa. Tate made a presence in many of these places and of course was an icon in the American chess scene. His melodramatic portrayals of his games were a staple activity in the skittles room. Also his confident swagger and glaring eyes showed a man in search of his next adventure over the board. While Tate missed the last five World Opens before he passed away, his games live on through Triple Exclam.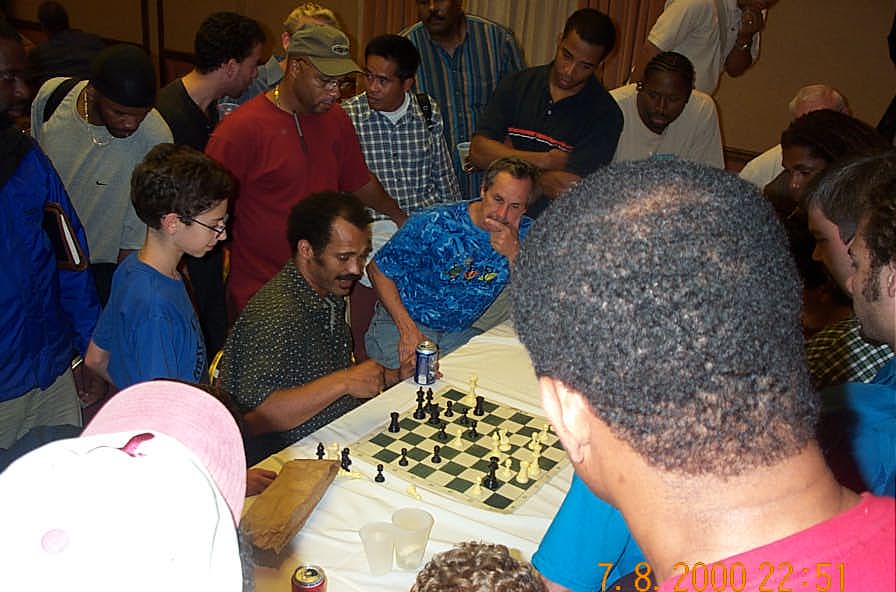 Tate showing Kudrin-Tate at 2001 World Open at the Adams Mark Hotel.
Photo by Daaim Shabazz
A moment of tranquility at 2006 World Open
Photo by Daaim Shabazz
(L-R): Daaim Shabazz, Glenn Umstead, Kamanyala Bior and Emory Tate at 2009 World Open. Photo by Daaim Shabazz
The book was brought to the iconic tournament where many players were able to purchase a copy. There were many photos taken with the limited edition book and players could be seen going through the games. There are only 50 copies left of the hardback book, but plans are underway for an e-book and possibly a softcover version. The e-book would enjoy global appeal and would avoid the exorbitant postage fees that only the most faithful have paid.
I would like to take time to thank all of those who have supported the book project and for the kind comments. Even in cases where one book was printed upside-down, everyone has been very patient. Thanks Salvador! Please feel free to write a review at Amazon, The Chess Drum or the media outlet of your choice. Last but not least, thanks to my copy editor Dan Shenk, designer NM Neil Fairclough, proofreader NM Frederick Rhine, Estalita Slivoskey of Potomac Indexing and Dorothy Herbowy of Rose Printing for helping to immortalize Emory in such a way. He was deserving!
Triple Exclam at the 2017 World Open
Jerome Works (Philadelphia, Pennsylvania)
Dr. Ani Deshpande (South Bend, Indiana)
Glenn Umstead (Atlantic City, New Jersey)
Italy's Davide Nastasio … "At sushi in Philadelphia! Great book, more publishers should follow your amazing quality level!" Photo courtesy of Davide Nastasio.
https://www.facebook.com/media/set/?set=a.1484542954942406.1073741899.165797893483592&type=1&l=a8a69cae9a
FOR PURCHASING 5 OR MORE COPIES, click here!
FOR PURCHASING 1-4 COPIES
The Chess Drum, LLC is a publisher of chess news content and literature. The organization's website has continued to demonstrate the universality of chess by covering a variety of topics through news stories, essays, interviews, and photos since 2001. Visit The Chess Drum at thechessdrum.net and follow the beat on Facebook and Twitter!