DC Girls Chess…Queens Rule!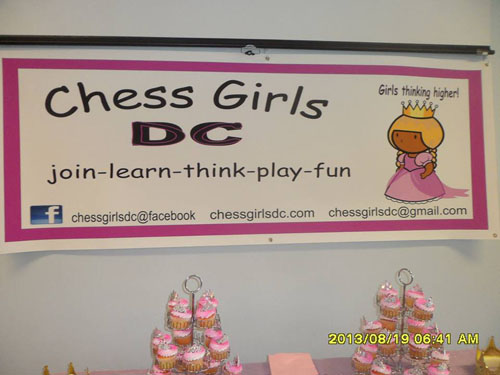 If you stop by the B-Café for a bite to eat on Saturdays around three in the afternoon, you will see a trail of young girls making their way to Chess Girls DC, a nonprofit founded by Robin Ramson to get more girls interested in the game. Her daughter Sarah, age 4, has been playing for more than a year. Ramson sought to create a community for her daughter, while also increasing the participation of girls in STEM-related endeavors such as science, technology, engineering, and mathematics.
"Chess incorporates right- and left-side brain function among many things. Children learn the immediate consequences of their actions," says Ramson. "Children learn the benefits of carefully observing and concentration and to imagine a sequence of actions before it happens. Chess strengthens the ability to visualize by training the children to mentally rotate the chess board and pieces. Chess trains the children to think abstractly. Although they see the immediate facts, they must consider the bigger picture."
In an intellectual sport usually male-dominated, Chess Girls DC brings out all things frilly. From the pink chess boards and chess pieces to the tiaras and doll babies, Chess Girls DC clearly communicates that this program belongs uniquely to the girls.
Jennifer Muhammad, a busy mom with three sons and active sports schedules, carves out time each Saturday to drive from Southeast DC so that her daughter Nailah can participate. "I was looking for a positive activity that centered around girls and cultivating them to meet their full potential," says Muhammad. "Nailah has three brothers and I'm always looking for anything girl-oriented. Chess Girls DC is very structured and gives her an opportunity to participate in an almost academic program that is more like a game. I also like that Chess Girls DC cultivates the feminine side."
Parents of DC Chess note that chess has an immediate impact on their children. Muhammad says her daughter feels she is a part of something positive and looks forward to it each week. "There is actually a place for her at the table and it is not just for her brothers. There is also a positive association between chess and math. She started learning the coordinates. Her brothers would tell her about them, but attending Chess Girls DC helped it take on a new meaning. She wants to do her best. I got this book from the library and handed it to her and she sat at the table, pulled out the chess pieces, set up the board, and was mimicking what she saw in the book and had a game with herself." Muhammad says her daughter has grown leaps and bounds. "She used to be a tag-along, but Nailah has come a long way. She knows how to checkmate people, and this would not have happened without Chess Girls DC. She did not have a real interest before. She would do it because everyone else is doing it. Now she takes ownership."
Focus!
Girls playing during an interview by local FOX TV affiliate.
Chess brings smiles! 🙂
Carolyn Solaru also drives from Southeast DC to participate. Her 7-year-old daughter Kennedy, who plays chess with her male cousins, couldn't find any girls to play chess with until she joined Chess Girls DC. "We started playing last summer and within a week or so she had picked up the game very well. Chess Girls DC has an awesome tutor," says Solaru. Recently Solaru installed the chess app on her iPad and now her daughter plays daily. Solaru says that chess has also affected Kennedy's behavior. "Her thinking skills improved, as well as logic. So she thinks about the impact of her behavior before she does something."
Chess Girls DC started out at Woodridge Library in the spring of 2013. At that time girls were less than 5 percent of the participants in the free chess programs offered through the library. Ramson approached the public library to partner with the chess instructor to designate a special hour for girls. Chess Girls DC transformed the atmosphere of the room with splashes of color, colorful chess equipment, and refreshments. Girls' attendance skyrocketed. After the transformation the gender ratio in class rose to 50-50. Chess Girls DC was asked to continue the program during the summer of 2013 and through the winter months. Surprisingly, attendance for girls remained higher than normal during the winter, when attendance drops off for most programming because of the weather.
Winners!!
Closing of the Woodridge Library for renovation led the program to move to space next door to the B-Café. Though the aim is fun and to generate interest in chess, the larger goal is to improve STEM outcomes for girls. According to a 2012 study from the Department of Education, in 2009-10 females made up less than 25 percent of participants in science, technology, engineering, and math programs. Ramson says Chess Girls DC serves to create a support system for girls K-12 by using chess as a tool to improve STEM learning. "Understanding spatial relationships between pieces is critical for winning at chess. Spatial visualization is a factor that is important to thinking in many disciplines of science, engineering, technology, mathematics, medicine, and geology to name a few," says Ramson. Chess Girls DC hopes to include chess tutors for girls who want to compete at the scholastic level. Long-term goals include creating scholarships for high school girls who want to apply to colleges with strong chess teams.
Ramson keeps things lively at Chess Girls DC with field trips and special guests. Participants recently visited the Martin Luther King Jr. Library to learn about 3-D printers. There they also explored spatial relationships through an old-fashioned game of double-dutch. Master jump-ropers from DC Retro Jumpers demonstrated how spatial awareness translates into maneuvering between two ropes in order to jump, double-dutch style.
Monica Z. Utsey, a freelance writer and editor, is president of the Southern DC Chapter of Mocha Moms Inc. and co-founder of the Sankofa Homeschool Community.
Video: https://www.myfoxdc.com/Clip/10894155/chess-girls-dc
News Link: https://www.capitalcommunitynews.com/content/chess-girls-dc
Facebook: https://www.facebook.com/pages/Chess-Girls-DC/